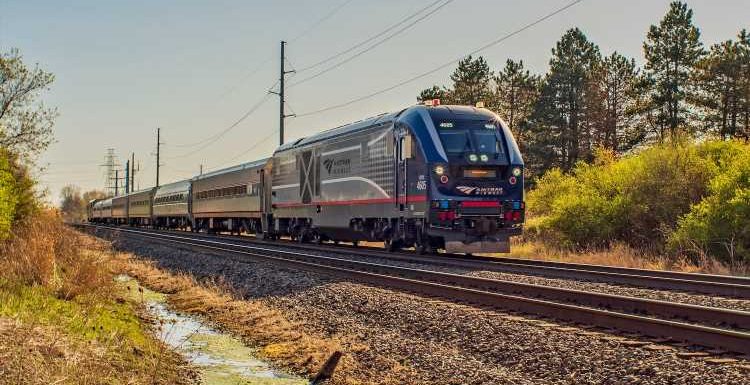 Load Error
Many travel loyalty programs generously extended points and miles during the pandemic, but some didn't. A few programs aren't extending their pause on points expiration any longer.
I got a notification recently that my Amtrak points would expire soon. So, I checked whether Amtrak planned to extend its pause on points expiration. Unfortunately, Amtrak's website still notes it's "continuing to pause the expiration of points through June 30, 2021."
I initially decided my points balance wasn't large enough to care about extending. But as I spoke with the TPG Points and Miles team earlier this week, I decided it would be fun to look into how I could extend my Amtrak points. Here's what I found.
Get the latest points, miles and travel news by signing up for TPG's free daily newsletter.
In This Post
Amtrak points expiration
In early 2019, Amtrak altered its terms and conditions to show that Amtrak points would expire after 24 months of inactivity (instead of the previous 36 months). Now, section D of Amtrak's terms and conditions states the following:
Subject to these Program Terms and Conditions, points earned under the Program will not expire as long as the Program continues and the Member's Program account is active. "Active" means that the Member earns and/or redeems Program points using his or her Membership Number within a 24-month period. If no Member initiated qualifying activity is recorded or reported within 24 months for a Member, the Member's points will expire.
Amtrak has paused points expiration multiple times during the coronavirus pandemic but these extensions are seemingly coming to an end, according to Amtrak's Updates page:
To allow you more time to use your points and to keep your account active, we are continuing to pause the expiration of points through June 30, 2021.
I expect Amtrak would have announced a further extension by now if it planned to do so. As such, it's worth taking a few minutes before July 1 to determine when your Amtrak points will expire and what you should do about it.
Related: The best credit cards to use for train travel
How to see when Amtrak points expire
If you log into your Amtrak Guest Rewards account and look around, you won't see an expiration date for your points anywhere. The solution? A slightly convoluted workaround.
After logging into your account, click on your name and points balance at the top of the window. Then, click on "My account overview."
Doing so will load your account overview. Next, click on "My transactions" on the left sidebar.
The page that loads will show your recent Amtrak Guest Rewards activity. Change the "from" date to July 1, 2019 and click "search."
My most recent account activity was in March 2019, when I rode the rails from Portland to Chicago in an Amtrak Roomette. With my points set to expire, I needed to generate Amtrak activity quickly to save my balance. After all, based on TPG's valuations, 1,792 Amtrak points are worth $45.
Related: How to keep your points and miles from expiring
How I kept my Amtrak account active
Amtrak's terms and conditions note that any earn or redemption activity on my account would keep my points from expiring. However, my points will expire in just a few days. So, most of the methods Amtrak members typically use to keep their points from expiring — like clicking through the Amtrak Guest Rewards shopping portal or booking a car rental or hotel through Amtrak Hotels & Cars — likely wouldn't post quick enough to prevent my points from expiring.
Next, I considered buying Amtrak points. There's even a bonus right now but buying 500 points (the minimum number for sale) would cost me $18.85, which comes out to 3.77 per point. Frankly, I didn't feel confident my small balance was worth paying $18.85 to save.
I also considered transferring my Amtrak points to Audience Rewards ShowPoints. After all, you can convert 1,000 Amtrak Guest Rewards points into 1,000 Audience Rewards ShowPoints. But, when I clicked through to learn more, I found that transfers take six to eight weeks.
At this point, I almost gave up and let my points expire. But then I remembered that Amtrak reward travel begins at just 800 points. So, I considered booking a throw-away reward ticket between Newark Liberty International Airport (EWR) and Penn station for 800 points to save my other 992 points.
I saw a note on the 800-point award about "refundability options." So I read Amtrak's refund and cancellation policy and found the following on one-way reward tickets:
A 10% points penalty is assessed for any refund (redeposit) to the Member account. If canceling a non-sleeper ticket within 24 hours prior to departure, or a sleeper ticket within 14 days prior to departure, an additional "close-in" penalty of 10% of the points redeemed will be collected (waived for Select Executive and Select Plus members).
So, I redeemed 800 points for this throw-away ticket and the redemption immediately showed up in "My transactions."
Thanks to Amtrak's cancellation policy for awards, I'll only lose 10% of the 800 points — which is 80 points — if I cancel at least 24 hours before departure. Since I have no intention of traveling on this award, I went ahead and canceled my ticket and got 720 points refunded.
Of course, there's the potential that Amtrak won't count this activity since I quickly canceled the award. So, it would be better to book an award you may want to take and then wait until closer to your scheduled departure to cancel. In my case, it made sense to book and cancel the ticket now.
Related: How I leveraged a hotel partnership to extend expiring hotel points
Bottom line
It's essential to stay on top of your points and miles expiration dates, especially as some programs begin allowing points to expire again. It's typically easiest to earn a few points or miles by clicking through a shopping portal. Or, you could make plans to earn or redeem points on travel before they expire. But even if you wait until your rewards are about to expire, there's often a way to generate account activity quickly. And for many programs, account activity is all you need to maintain your reward balance.
Featured image by Katie Genter/The Points Guy.
SPONSORED: With states reopening, enjoying a meal from a restaurant no longer just means curbside pickup.
And when you do spend on dining, you should use a credit card that will maximize your rewards and potentially even score special discounts. Thanks to temporary card bonuses and changes due to coronavirus, you may even be able to score a meal at your favorite restaurant for free. 
These are the best credit cards for dining out, taking out, and ordering in to maximize every meal purchase.
—
Editorial Disclaimer: Opinions expressed here are the author's alone, not those of any bank, credit card issuer, airlines or hotel chain, and have not been reviewed, approved or otherwise endorsed by any of these entities.
Source: Read Full Article