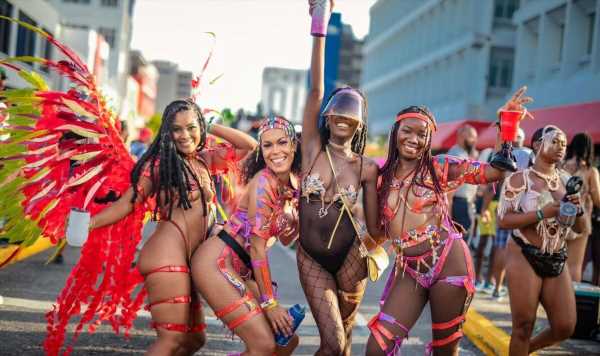 It's got a vibe like no other – carnival in Jamaica is back and inviting visitors to experience the incredible atmosphere across the island during a week of celebrations kicking off on April 12. Revellers in Ocho Rios and Kingston can expect a sea of dazzling, show-stopping costumes, intoxicating music and sizzling street food stalls and for dance lovers it's non-stop paradise.
Partygoers can let loose and move to the rhythms of reggae, dancehall, soca and calypso, celebrating inimitable Caribbean music genres, while the main event, the Road March, will take place on the streets of Kingston on Sunday, April 16.
Carnival is a time when the island comes together, embracing a common spirit with weeklong parties and fetes from the Black 2 Blue Breakfast Party on April 13 to the XS Sunset Beach Cool Down on the 17th.
Mas bands, short for masquerade bands, are one of the biggest parts of the celebrations where masqueraders dress up and flaunt their magnificent colourful costumes adorned in feathers and glitter. Every year Mas Bands have a different theme and costumes to match.
Bands featuring in Carnival Jamaica 2023 include Bacchanal Ja, Yardmas, Xodus, Ochi Carnival, GenXs and Downtown Carnival – for all activities and updates click here.
So not to be missed and staying seven nights all-inclusive at RIU Negril in Negril Jamaica costs £1,589 per person, saving £276. Return flights with TUI are included, departing from London Gatwick on 13th April. For more information or to book visit TUI.
Also visit https://www.instagram.com/carnivalinjamaica/. To learn more about the fascinating island, visit https://www.visitjamaica.com/.  
Source: Read Full Article