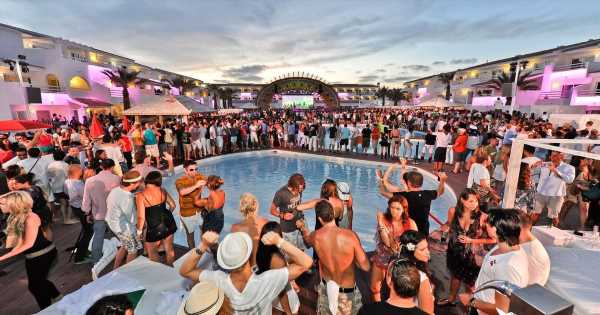 Brits love a good holiday and sunny Spain is one of our favourite countries to visit. It's little wonder when our continental neighbour is flooded with warm weather, beautiful beaches and party islands.
One of the best known party hotspots is Ibiza, in the Balearic Islands, which has attracted tourists of all ages for decades. All around the island are beautiful places to explore from the Old Town to the strip.
READ MORE: Full list of Ibiza's new rules for Brits – booze limits, smoking bans and party fines
Ibiza has been particularly popular with the 18 to 30s crowd due to its massive clubs like Ushuaia, Amnesia and Pacha. The massive venues regularly attract some of the biggest DJs in the world.
Plus, there are lots of lovely beaches and towns to explore in Ibiza. Thought, Brits should be careful not to break any rules like smoking on the beach or wearing football shirts that could land you with a fine.
Like all highly popular, sunny resorts Ibiza can be eye-wateringly expensive. Even if you manage to bag a cheap flight – which is possible with return flights from £96 in June – the hotel and drinks prices can set you back.
Thankfully, one lucky applicant will not only get to visit Ibiza, but they'll get paid to party there this summer. Southern Comfort has opened job applications for a role that's sure to be the job of a lifetime for some.
If you fancy partying at Ibiza Rocks and Bongo's Bingo, as well as living it up at the UK's buzziest bars and events for three months straight it could be for you. The job? Well you'll be the booze company's resident mascot.
SoCo's chosen worker must wear the famed Southern Comfort bottle mascot costume at key events throughout the summer. The resident bottle-fluencer will be paid to share their shenanigans on social media throughout the summer months, showing everyone what it is to have fun.
You'll also get to use be able to use a summer-long supply of SoCo tokens to use across Southern Comfort's partner bars in the UK. Those who think they have what it takes to be SoCo's inaugural bottle-fluencer can kick off their application process using the link here.
Applicants simply need to DM them a 30-second audition tape on Instagram, showcasing their best party trick. Plus they must explain why they'd be the best fit for the role. A a final selection will see two contenders going head-to-head at Ibiza Rocks to land the top spot. It's not the first time a company has offered Brits free travel.
Hotel brand Cook's Club recently recruited 'bagvertisers' – tourists who will be given free holidays in exchange for carrying hotel-branded luggage when they go away. Anyone who travels regularly by train or who fly to and from the Spanish Balearic Islands was able to apply. The new scheme was launched to celebrate the opening of the new Calvia Beach hotel in Majorca.
Plus, last year one Maldives resort hired a Brit to run their island bookshop. Georgie Polhill, from the UK, and Malsa Maaz, from Male, bagged their 'dream job' selling books and running workshops for the Soneva resorts in the Maldives.
Always drink responsibly. If you're worried about your alcohol consumption please speak to your GP or access information at drinkaware.co.uk.
READ NEXT:
Brit tourists at Spanish hotspot will have to sign 'good behaviour pledges'
Sunbed wars kick off as tourists in Spain spotted battling to get loungers before 8am

Lad goes on 14-hour 'booze marathon' in party town with 80p pints – it ends terribly

Benidorm lad spills resort secrets – 88p pints, £2 fry-ups and getting drunk for 'nowt'
Source: Read Full Article