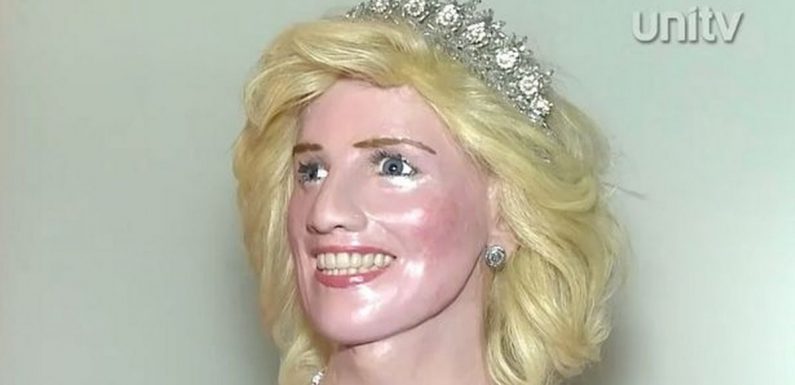 When visiting major cities there's often a wax museum that those fascinated by politicians and celebs flock to.
Madame Tussauds is perhaps the most famous establishment with a massive 2.5million visitors each year in London.
However, the unusual venues which feature life-like carvings of celebrities and other well-known people aren't always up to par.
READ MORE: Liverpool prices during Eurovision skyrocket with one house listed for £15k a night
While some museums let you take almost identical selfies with your favourite stars others have been less well rated over the years.
Frankly, some wax museums have been dubbed "creepy" and even "cursed" for their figurines.
It's surely bad enough to see a not-alive version of your favourite actors without them also looking like The Mask!
One such museum is LA's Hollywood Wax Museum.
Twitter user Wyatt Dunkin created a thread of what he describes as 'the most cursed figures' that were sold in the museum's stock-clearing auction."
The museum's advertising promises that there's "no denying the lifelike presence you'll feel when you walk straight up to every expertly-crafted wax figure."
However, many of the 170 exhibits apparently need helpful labels to remind people of who they represent.
Twitter user Wyatt Dunkin created a thread of what he describes as "the most cursed figures that were sold in this auction."
He pointed our that Michael Jackson, Marilyn Monroe and Princess Diana all looked like the same person…
Someone else noted that Ewan MacGregor look like the secret love child of Jeremy Renner and Sean Bean.
And, LA's museum isn't the only slightly barmy wax exhibit around.
A church in Brazil has reportedly opened its own tourist attraction but visitors are likely to be queueing up for all the wrong reasons.
Local news reports of the museum had prospective visitors giggling as prominent figures of the Catholic church are remembered beside the likes of Charlie Chaplin and Marilyn Monroe.
Unfortunately, Twitter users weren't impressed by the figures.
David Paxton shared the news footage from UNITV with the caption: "A Brazilian church decided to do its own mini waxwork museum.
"So the news turned up and did a piece. And now I've lost my s***. The commentary really makes it."
Some people said Princess Diana's statue was "more offensive than any debate about an episode of The Crown will ever be."
"My god these are bad. My jaw hit the floor on 'Elvis Presley" and I nearly fell over when she said 'Nelson Mandela'," another added.
A third wax museum that's caused a stir in recent months is in Krakow, Poland.
The Polonia Wax Museum in Krakow, Poland, has caught the eye of tourists for the wrong reasons.
Instead of viewing the waxwork version of Donald Trump, the 45th president of the US appeared to look more like Former UK Prime Minister, Tony Blair.
Unfortunately, the museum didn't do the late Queen Elizabeth II much justice either.
A twitter user likened the model to politician Grant Shapps rather than Her Majesty.
Another user mocked: "Wonderful. There needs to be a dedicated Twitter feed for craftsmanship like this."
Someone else shared: "Reminds me of the wax works museum I visited in Prague where the Angela Merkel looked exactly like Elton John."
On top of those in LA, Brazil and Poland some wax museum enthusiasts have listed Louis Tussauds in Niagara Falls as the "worst" option.
They noted that Madonna, Henry VIII and Harry Potter were all present but terribly done.
Lebanon's museum actually features silicone models – but they're "no less threatening", states Attraction Tickets.
What's the worst tourist attraction you've seen? Tell us in the comments…
READ NEXT:
Thorpe Park to re-open in March with brand new ride that's one of 'longest in UK'

First look inside Alton Towers' terrifying new ride The Curse where riders 'vanish'

Fry-up fans are absolutely fuming at Alton Towers' 'travesty' of a Full English

Inside nude holidays – from raunchy naked village to no clothes festival
Source: Read Full Article