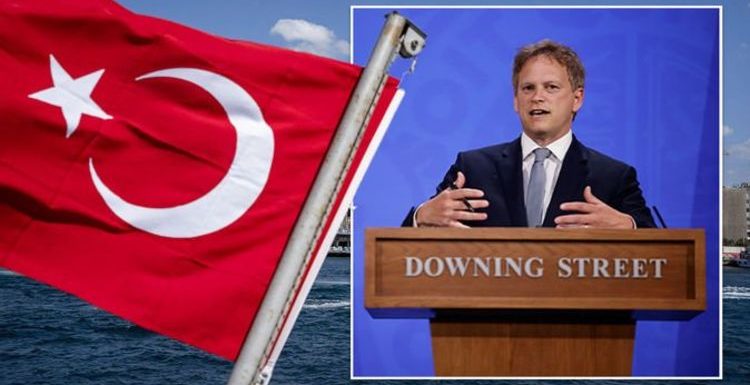 Travel: Calder predicts 'more positive than negative' changes
We use your sign-up to provide content in ways you've consented to and to improve our understanding of you. This may include adverts from us and 3rd parties based on our understanding. You can unsubscribe at any time. More info
Turkey is typically a popular holiday destination for Britons thanks to its soaring temperatures and vast sandy beaches. However, the nation has been on the UK's red list since the winter, pushing TUI, Jet2 and easyJet to cancel Turkey summer holidays.
With the next travel review anticipated in a matter of hours, experts have been predicting which changes they think could occur.
Although the Government has issued no clear indication as to which countries, if any, will move between colour-coded categories, Paul Charles, CEO of the PC Agency believes Turkey is making positive developments.
Could Turkey move to the amber list today?
The UK Government will not announce any changes until its official traffic light update.
This is expected to occur this evening, based on Secretary of State for Transport Grant Shapps's assurance that the traffic light review will take place "every three weeks".
Paul Charles believes Turkey has made a "strong case" to be moved to the amber list based on its latest data release.
In a Tweet, he said: "Encouraging to see Turkey now supplying substantial data to Global Initiative on Sharing Avian Influenza Data (GISAID) about infections and any variants.
"Its case to be moved to amber in Thursday's traffic light review is strong, especially in the context of India's move from red to amber earlier this month."
Last year, concerns were raised about the validity of the data on COVID-19 being shared by Turkey to official sources.
DON'T MISS
Enter this haunted Devon castle if you dare [INSIDER]
How to get Covid test for Cornwall holiday [ADVICE]
Plenty of time: How early to arrive at the airport amid COVID-19 [INTERVIEW]
What is the situation currently like in Turkey?
According to the data shared with GISAID in the previous 30 days, Turkey has shared 33,278 genomes and reported 640,666 confirmed cases of coronavirus.
Based on data from the European Centre for Disease Control and Prevention (ECDC), Turkey reported 332,761 cases of coronavirus in the 14-day reporting period, up to August 19.
By comparison, the UK reported 386,770 cases during the same time.
In terms of vaccination rates, Turkey has administered "at least 90,405,737 doses of COVID vaccines so far", according to Reuters data.
Reuters said: "Assuming every person needs two doses, that's enough to have vaccinated about 54.2 percent of the country's population."
What are the current travel rules for visiting Turkey?
As Turkey is currently on the UK red list for travel, trips for leisure purposes such as holidays are off the cards.
Only UK and Irish citizens and nationals are permitted to fly to the UK from Turkey.
They must then quarantine for 10 days in a Government-approved hotel.
This is at the expense of the traveller, with costs equating to £2,285 for one adult in one room.
See the latest Covid vaccine stats below and visit InYourArea for all the Covid vaccine latest
Turkey is allowing UK visitors to enter the country, but entry requirements remain in place.
According to the Foreign, Commonwealth and Development Office (FCDO): "Passengers from the UK require a negative PCR test, within 72 hours of arrival, to enter Turkey."
It adds: "All arrivals into Turkey will be subject to a medical evaluation for symptoms of coronavirus, including temperature checks.
"Arrivals may be subject to random PCR testing on arrival."
Source: Read Full Article