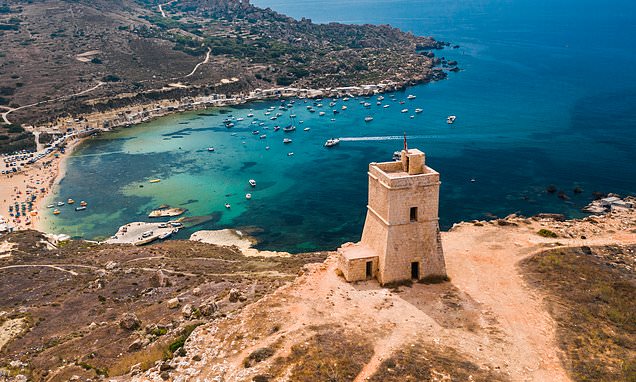 Year-round sun, a capital of culture and only 3 hours from the UK! 10 reasons why those in the know are booking a getaway to the Maltese Islands
Ad Feature by Visit Malta
For a truly unique getaway with an abundance of sunshine, the savviest of travellers know to book a break to the magnificent Maltese Islands.
The bewitching archipelago, comprised of Malta and its sister isles Gozo and Comino, has cool walled cities, divine gastronomy and a sun-drenched landscape that's built for adventure.
You're always close to the sparkling waters of the Mediterranean on the islands – one day you could be wandering through a Baroque palace or floating in the rooftop pool of a chic hotel, and the next you'll find yourself snorkelling past neon-coloured parrotfish and biking along a spectacular coastal trail.
For a truly unique break, visit the magnificent Maltese Islands, comprised of Malta and its sister isles Gozo and Comino. Above is picturesque Gnejna Bay on Malta's west coast
To make these idyllic islands all the more irresistible, they're just a short three-hour flight from the UK.
Young families, couples seeking romance, groups of friends and solo adventurers find that there's always more to explore on the islands – keeping them returning year after year. Here are 10 reasons why travellers who are in the know are making the Maltese Islands their next holiday destination…
1. YEAR-ROUND SUNSHINE
The Maltese Archipelago is blessed with 300 days' worth of glorious sunshine each year. Above is stunning Golden Sands
Visit Malta in any season and you're guaranteed to see blue skies and feel the warmth of the sun on your skin – it's blessed with over 300 days' worth of glorious sunshine each year.
Expect blissful Mediterranean heat all day long in the peak summer months, with the beautiful warm weather lasting right up to November. While it may be milder in the wintertime, it's still a sunny 15 to 17 degrees Celsius, ideal for outdoor adventures or a balmy city break. Come springtime, it's back to gorgeous sunshine and soaring temperatures – calling you back to the beach.
As a bonus, the sea temperature in the archipelago is higher than anywhere else in Europe, so slipping into the crystal waters for a swim feels like soaking in a warm bath.
Heaven.
2. CITIES THAT ARE RICH IN CULTURE
You can easily hop between cities on a getaway in Malta. Above is the beautiful capital city, Valletta 
Colourful architecture in Valletta 
A city break on the Maltese Islands doesn't limit you to just one city, thanks to the brilliantly compact size of the archipelago.
Instead, hop between cities, beginning with the capital of Valletta, an enchanting walled city and UNESCO World Heritage Site that was founded in the 1500s. 
Gaze at the splendour of St John's Co-Cathedral, home to Caravaggio's macabre masterpiece 'The Beheading of Saint John', admire the work of Maltese artists at MUZA Museum of Fine Arts and wander through the secret network of underground tunnels that held Britain's World War II headquarters at the Lascaris War Rooms. By night, feast al fresco at one of Valletta's many fine-dining restaurants and watch the sunset from the city's bastion walls, before retreating to the luxury of a boutique hotel.
Your next stop is the Three Cities, comprising Vittoriosa, Senglea and Cospicua, which lie across the Grand Harbour from Valletta. Each more picturesque than the last, they're peppered with ancient palaces, grand churches and fortifications. Explore the trio in an electric car on The Rolling Geeks tour, learning the eye-opening history of the spectacular walled cities as you drive.
Explore the ancient palaces, grand churches, and fortifications of the Three Cities (left) and the winding streets of ancient Mdina (right) 
What's next? Pay a visit to the extraordinary ancient city of Mdina, Malta's former capital. Set atop a hill, it offers a spellbinding panorama of the island from its perch. You'll feel as though you're in a timewarp here, as there are virtually no cars – earning Mdina the nickname of the 'Silent City'. Explore its winding streets by horse-drawn carriage and set your tastebuds alight with a meal at the Michelin-starred De Mondion restaurant in the spectacular Xara Palace. 
Finally, board the ferry to Gozo to visit the island's delightful capital, Victoria, named after Britain's Queen Victoria. Meander through the open-air market in Independence Square or go to see centuries-old etchings from former inmates in the Old Prison inside the old-city, Citadel. 
3. THE BEAUTY OF MALTA'S LESSER-KNOWN SISTER ISLES
Malta's lesser-known sister isles Gozo and Comino are filled with breathtaking scenery
Above is Gozo's spectacular Wied il-Mielaħ Window, a limestone natural arch
With lush landscapes and breath-taking coastlines, Malta's lesser-known sister isles Gozo and Comino are filled with hidden gems.
Just a short ferry ride away from Malta, laid-back Gozo is ideal for travellers who want to connect with nature – its natural, unspoilt terrain is studded with out-of-this-world caves, heavenly hiking routes and serene bays.
The island's Dwejra is a must-visit for scuba divers – here you'll find the Blue Hole, a mesmerising natural rock formation filled with cerulean waters, and the fallen Azure Window, a natural arch that has collapsed into the sea. Or visit the Inland Sea, a magical seawater lagoon reached through a narrow arch – Jacques Cousteau, the legendary pioneer of scuba gear, once said that it was one of his favourite dive spots of all time.
Another brief ferry trip will take you to charming Comino, a tranquil isle that's spread out over just 3.5 square kilometres. Meander through the garrigue, the low-growing vegetation that's sprinkled across the Mediterranean landscape, and you might spy wild rabbits, Mediterranean chameleons , a plethora of delicate butterflies including the vibrant swallowtail and painted lady varieties, and the harmless Maltese lizard, Filfola.
Off the coast, the vivid turquoise shade of the water of the island's Blue Lagoon has to be seen to be believed. Charter a boat to witness it in the light of the early morning, plunging into the water with your snorkel in hand, before exploring the inky darkness of the caves in the surrounding bay.
It's nature at its most beautiful.
4. ENCHANTING ANCIENT SITES
The Maltese Islands are steeped in over 7,000 years of fascinating history 
The gate leading to the ancient city of Mdina 
Dive into over 7,000 years of history when you visit Malta's ancient sites – the islands are steeped in history, hosting fascinating fortresses, underground burial chambers and remnants of Roman and Byzantine rule.
You can't miss the Megalithic temples of Malta, which are said to be the oldest freestanding tombs in the world. Pay a visit to the Tarxien Temples, the UNESCO-listed megalithic complex of temples that date back to between 3800 and 2200 BC, and you'll get a sense of the extraordinary history of these varied isles.
Other compelling ancient sites include the rock chambers in the underground burial complex of Hal Saflieni Hypogeum, the limestone Mnajdra and Hagar Qim temples and the echoing Ghar Dalam Cave, which shows the earliest evidence of human settlement in Malta.
Just outside the ancient city of Mdina, meanwhile, you'll find St Paul's Catacombs, which help to tell the story of early Christianity on the islands.
Getting up to date with more contemporary Maltese history, explore Fort St Elmo and the National War Museum where you can glance at the George Cross, together with aircraft wreckage, weapons, and various military vehicles. Alternatively, opt for a guided tour with a resident soldier at Valletta's Saluting Battery, where thundering gun salutes are still fired on a daily basis.
5. MOUTHWATERING LOCAL DELICACIES
Seafood lovers are in for a treat – dine on stuffat tal-qarnit, a delicious octopus stew that takes hours to perfect
Heaven for gourmands, Malta's gastronomy has been shaped by the many civilisations that occupied the islands over thousands of years, making for a melting pot of flavours and cultures.
There's a veritable feast of local delicacies to try. First up is fenkata – Malta's national dish – a moreish rabbit stew cooked with fragrant herbs, garlic and wine. Tuck into a bowl of bragioli, a hearty meat and tomato dish that will warm your bones, or stuffat tal-qarnit, a delicious octopus stew that takes hours to perfect. More must-try dishes include torta tal-lampuki fish pie, a springy loaf of 'hobz tal-malti' bread, and Gbejniet, a tasty cheese made from goat or sheep milk.
As you wander the streets, keep your eyes peeled for a pastizzi shop. If you spot one, drop everything and pop in to try a 'pastizz' pastry filled with light ricotta cheese or zingy green peas. Those with a sweet tooth will fall for imqaret, irresistible date-filled spiced pastries, and kannoli tal-irkotta, rolls of pastry filled with sugary, creamy fillings.
Make a day of it with a unique food-inspired outing – try a milk and cheese-making experience at the Ta' Rikardu farm, stop by Wardija Olive Estate to taste the estate's aromatic olive oil and plump olives, or learn to cook field-to-fork Maltese dishes at the restaurant Diar il-Bniet. In the summertime, drop by the Xwejni Salt Pans on Gozo to learn about the traditional harvesting of flakes of salt, or travel back in time at a Heritage Malta event, where a team of curators and chefs come together to recreate historic meals from the country's colourful past.
There's a plethora of superb restaurants to add to your itinerary too – most of which offer outdoor terraces and dreamy views. What's more, Malta has no less than five Michelin-starred restaurants, including Noni, where dishes offer an innovative take on traditional Maltese cuisine. 
It's an absolute delight for the senses.
6. MAGICAL BEACHES 
Make the most of Malta's unlimited sunshine and hit the beach. Pictured is pretty Ramla Beach on Gozo  
Malta is packed with picture-perfect beaches that go hand in hand with its endless sunshine, from rocky coves to honey-coloured stretches of the softest sand.
Sunsets are unforgettable at Golden Bay, a sandy beach on Malta's northwest coast that's tucked by a towering cliff face. Rent a sun bed for a day of lounging or gear up for an active afternoon of water sports. Little ones, meanwhile, will adore splashing around in the shallow waters of Mellieħa Bay in the north of the island. At 800m in length, it's also Malta's longest beach – perfect for building an unlimited number of sandcastles.
Love to snorkel? Immerse yourself in St Peter's Pool, a spellbinding natural lagoon with a rock base, or in the peaceful waters of the secluded Kalanka Bay. Balluta Bay, overlooked by the grand Carmelite Church of Balluta, is another hotspot for snorkelling and swimming, with its colourful marine life, iridescent waters and silvery seabed. Keep your eyes peeled for jellyfish, octopus, and the blue damselfish as you float through the surf.
Paradise Bay, meanwhile, lives up to its name, offering mesmerising views of the isles of Gozo and Comino. From here, take the ferry across to Gozo to stretch out on the clementine-coloured sands of Ramla Bay, popping into one of the cafes behind the beach for a chilled drink. It's a little tricky to get to the island's San Blas beach, which is nestled at the bottom of a steep road, but the journey is utterly worth it – the uncrowded red sand beach is a haven of tranquillity.
7. ENDLESS ADVENTURES IN THE GREAT OUTDOORS
Throw yourself into the wonderful array of water sports that await in Malta 
Hemmed in by aquamarine waters and dotted with rolling valleys, jagged stretches of coastline and caramel-coloured beaches, the Maltese Islands are a playground for outdoor adventures.
Go on a guided kayak excursion through secret sea caves, soar through the skies on a zipline, abseil down a cliff, or rent a quad bike and race around Gozo's winding roads.
Whether you're a professional or simply trying it for the first time, rock climbers of all levels of experience are spoilt for choice on Malta and Gozo, with more than 1,300 climbing routes to choose from in every season. Families and groups of friends will love learning the art of archery with a workshop at Falcon Archery Malta or teaming up for a duel with lasers at the Battlemaxx laser tag experience. 
Prefer a more laid-back holiday? Enjoy a slower pace of adventure on Malta's walking trails, with each twist and turn offering another sensational view. Explore the islands by bike, peddling along cycling trails that run parallel to the sea's sparking waters, or climb onto a Segway for a fun and quirky tour of the cities' streets. See Malta's beautiful beaches on horseback with Golden Bay Horse Riding or gallop through Gozo's rich rural landscape with Dreams of Horses.
You'll likely find yourself tempted by the warm, aquamarine waters of the Mediterranean – throw yourself into a wonderful array of water sports, from jet skiing and wakeboarding to kitesurfing and canoeing. The archipelago consistently ranks as a top spot for scuba divers, and it's no wonder. 
You can expect to discover incredible reefs, vibrant aquatic life and shipwrecks – such as the P29 wreck, an East German minesweeper – below the water's surface.
8. UNBEATABLE FESTIVALS AND EVENTS
Young travellers will love the year-round calendar of world-class festivals and events across the islands 
Malta has a year-round calendar of unique events and festivals to attend, with incredible music festivals and uplifting traditional celebrations on the horizon each season.
Families will love the colourful Malta Carnival, where locals dress up in brilliant costumes, parade on fantastical floats and celebrate for five days straight. The atmosphere is unbeatable.
Go to the Malta International Fireworks Festival to see the sky ablaze with light, or to Earth Garden, an art, music and culture festival for all the family that has everything from an enchanted forest to fun parks and stellar live acts.
Young travellers will make memories to last a lifetime at the island's world-class music festivals, which include Annie Mac's Lost and Found festival, the incredible free music event Isle of MTV, and Glitch Festival, which offers a heady mix of house, disco, techno and electro music.
Spend your days and nights listening to some of the best acts in music and then retreat to the islands' phenomenal beaches for some rest and relaxation. If you're still craving another burst of nightlife, head to Paceville in St Julians, known for its bustling club and bar scene, or to the cities of the islands, where sophisticated cocktail bars and captivating sunsets await.
9. CHARMING ACCOMMODATION
There are stunning accommodation options for every budget, from chic hotels to rustic farmhouses 
Wherever you stay on the islands, you'll find that the Maltese are the warmest of hosts, always ready to welcome a curious traveller with open arms. There are stunning accommodation options for travellers with every kind of budget, from families seeking proximity to the beach to young groups of friends hoping to find a stylish bargain stay.
Like your hotels with a pinch of history? Valletta is filled with fabulously historic stays, such as Casa Rocca Piccola, a 16th-century palace and museum, or Palazzo Consiglia, a grand townhouse-turned-hotel that has a rooftop pool with panoramic views. 
If you prefer to self-cater, stay at the boutique Carmelita holiday apartment and pick up fresh dinner ingredients at the local market.
Michelin-starred cuisine awaits at Iniala Harbour House in St Barbara Bastion – spend your evening indulging in creative gastronomy at the rooftop Ion – The Harbour restaurant. Enjoy yoga on the roof terrace at the stylish Locanda La Gelsomina in Birgu, or unwind in an avant-garde suite at Holm Boutique, near Balluta Bay.
If you're looking for a family-friendly spot by a heavenly stretch of sand, base yourself in St Julian's, which lies around the sensational Spinola Bay, or the charismatic resort of Qawra in St. Paul's Bay.  On Gozo, meanwhile, stay in a Gozitan farmhouse and get a taste of idyllic country life. 
You'll truly feel as though you're getting away from it all.
10. A BRILLIANT WINE SCENE
Tour the lush vineyards of Ta' Betta (above), where merlot, syrah and chardonnay grapes are planted among olive trees 
An odyssey awaits wine lovers, too. The island nation is carving out a name for itself as a wonderful wine region, with small, dedicated wineries creating a beautiful selection of white, red and rosé wines. There's one catch – the islands don't export wine, so you must sample a few glasses yourself during your visit.
Tour the lush vineyards of Ta' Betta, where merlot, syrah and chardonnay grapes are planted among olive trees and fig trees. Get acquainted with the family-run winery on the lovely San Niklaw Estate, or spend an afternoon tasting wines at the smallest winery in the archipelago, the boutique Tal-Massar winery in the Gozo village of Għarb.
If you like your wine vegan or gluten-free, make your way to Mar Casar, where sumptuous natural wines are lovingly produced in the highest vineyards in the country. 
Raise a glass to the Maltese Islands – a holiday destination like no other.
PLAN YOUR PERFECT, SUN-SOAKED MALTESE GETAWAY 
You'll find a wealth of inspiration for your dream holiday to Malta on Visit Malta. 
Click here to find out more.
Source: Read Full Article