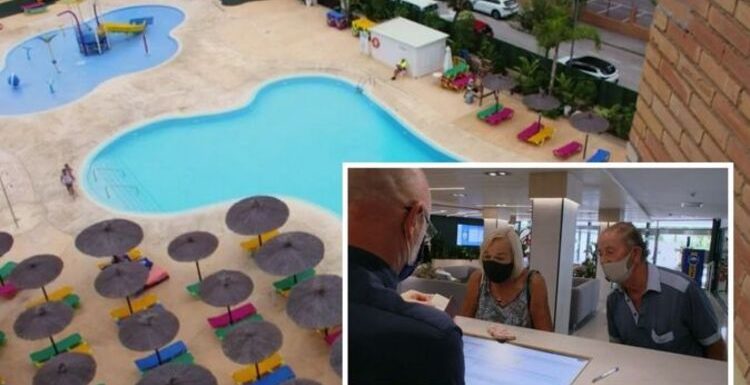 Hotel Benidorm: Show reveals surprising luggage facts
We use your sign-up to provide content in ways you've consented to and to improve our understanding of you. This may include adverts from us and 3rd parties based on our understanding. You can unsubscribe at any time. More info
Hotel Benidorm: Sun, Sea & Sangria, which airs on Channel 5, follows residents and visitors in the sunny Spanish town. Last night, the show saw many people check into the Rio Park Hotel, including one couple who have visited the hotel for the last 40 years.
Benidorm is popular with UK holidaymakers and expats due to the short flight and stunning weather.
Winters are mild in comparison to the UK, with the coldest month having an average temperature of 12 degrees celsius.
Speaking on the show, the narrator said: "At this time of year gone are the rowdy kids, there's a new clientele in town and they're looking for a good old time."
One couple who checked into the four star hotel during the quiet season was Margaret and Neville.
They have been visiting the hotel for the last 40 years, visiting on frequent occasions.
Checking in for another two week stay, Margaret called Benidorm "a home from home".
She said: "We have the same room as four weeks ago.
"It's so nice to be back, a home from home."
DON'T MISS:
British expats: Elderly Britons leaving Spain due to new rules [COMMENT]
Northern Lights UK: How to spit an 'intense' display in the UK [EXPLAINER]
'Impossible to relax' Cruise guest shares shocking holiday story [INSIGHT]
The couple headed to their room to unpack, where Margaret said she had packed way too many clothes.
The narrator explained: "On average, guests spend around seven hours packing their case, around half of us bring our own tea bags and around two thirds of us go home with six unworn outfits."
The Rio Park Hotel attracts thousands of Britons annually, and it is full to capacity for six months of the year.
The hotel is located within the centre of the popular holiday resort, just minutes away from a gorgeous beach.
However it isn't just Britons heading to the hotel, in the low season, locals also head for a staycation.
Monica and Angus, who live just seven minutes down the road, visited the hotel to relax.
The couple moved to Benidorm 25 years ago and have visited the Rio Park Hotel on several occasions.
Another hotel visitor explained the staff at the hotel made the visit special and said some of them were "better than family".
With thousands of Britons living in Benidorm, and thousands more visiting each year, it is essential for the hotel to provide home comforts.
Travellers can take advantage of the hotel's full English breakfasts, complete with sausages and black pudding.
What's more, there is even an English tea shop in the heart of the town.
In last week's show, travellers Lynn and Gaynor made sure to pack their teabags and favourite biscuits so they could have a cup of tea while soaking in the sunshine.
They said: "We've got our tea, and we've got our biscuits and we've got the hot weather."
Source: Read Full Article