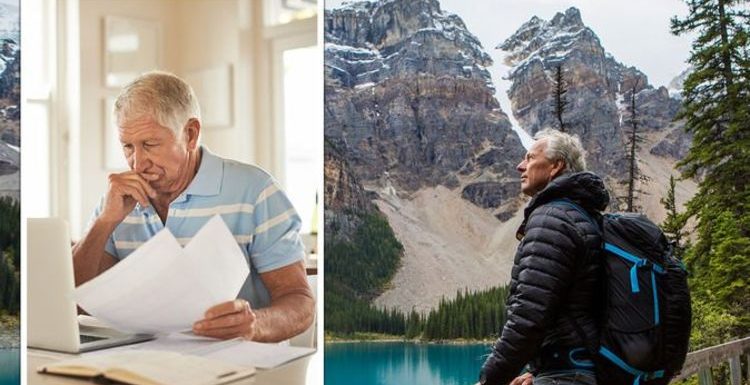 Brexit: British expat discusses difficulty of living in Spain
We use your sign-up to provide content in ways you've consented to and to improve our understanding of you. This may include adverts from us and 3rd parties based on our understanding. You can unsubscribe at any time. More info
New rules following the final stage of Brexit on January 1 this year meant people already living in the EU had new hurdles to clear. Some expats have ended up moving back home after ultimately losing eligibility, while others took the steps necessary to stay. Those likely to have the most trouble, according to experts, are retirees.
Chris Harber, head of immigration at law firm Boyes Turner, told Express.co.uk about the reality pensioners face post-Brexit.
He said most people living in one of the remaining member states pre-January 1, 2021, would be fine.
They have protection under the Withdrawal Agreement, which "guarantees British citizens broadly the same rights as they had before Brexit".
Anyone wanting to move to one now will need to do a little more before they can claim the same status.
Ultimately, while the EU is a single entity, countries still retain national rules decided by their respective governments.
People wanting to live in a new country will have to follow these, and they tend to vary between nations.
Retirees, on the other hand, will experience resistance that would make taking an extended holiday their best option.
Britons now visit the EU with a selection of attached rules, including a vacation limit.
Anyone wanting to travel into the bloc has to sign a variety of forms, and when they get there, they have just 90 days.
While this may seem significant, that annual total doesn't refresh with every new trip.
Prospective travellers have to either take a long three-month holiday or ensure multiple trips fit within the 90-day allocation.
After that, staying becomes a more complex affair, Mr Harber said.
Permanent stays require a visa, and all EU countries offer these to outsiders.
Mr Harber explained these primarily apply to "skilled or shortage occupations".
But those who want to stay in the bloc on a post-work retirement basis face a "very difficult" task.
Retiring in the EU comes down to cash wealth, something of which the average pensioner has little.
Mr Harber said they would need "a spare couple of million you are prepared to invest in the country you want to live in".
Much like moving for work, EU nations have varying rules when it comes to proving wealth.
Prospective retirees may need to prove anything between the local minimum wage to owned shared and investments.
In the end, Brexit has forced open a new chasm between rich and poor, where only the most well-off people can spend their remaining years in a new country full time.
Source: Read Full Article