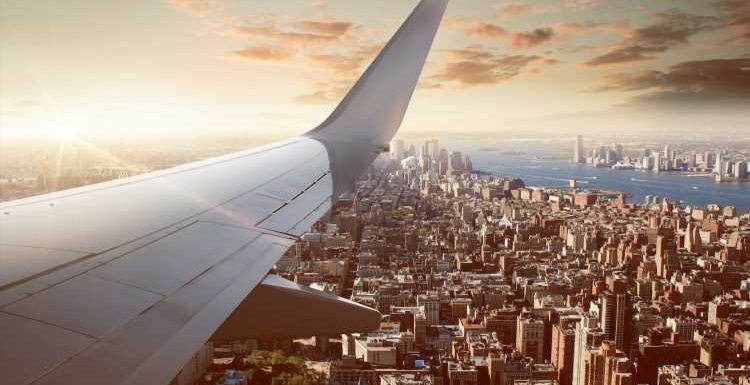 © Photo by Shutterstock
United Is Returning to New York's JFK Airport


Photo by Shutterstock United flights from JFK to San Francisco and Los Angeles are back.
Load Error
"There is more capacity at the airport than there used to be prepandemic," Josh Earnest, United's chief communication officer, said during a press call when United initially announced the move in November. "There has been some recently completed runway construction [at JFK] and that . . . combined with a pretty significant reduction in foreign carriers flying to JFK . . . has added a lot of [available] capacity."
Consequently, United was able to secure slots that allowed the airline to begin offering round-trip, nonstop flights between JFK and San Francisco International Airport (SFO) and JFK and Los Angeles International Airport (LAX) as of March 28, 2021. With this move, United now flies in and out of all three New York area airports, including Newark Liberty International Airport (EWR) in New Jersey (its current East Coast hub) and LaGuardia Airport (LGA) in Queens.
"The opportunity that we see here is to better serve those travelers who prefer JFK airport," said Earnest. United pulled out of JFK in October 2015 when it transferred much of its service to Newark in a move that has been described by travel industry publication Skift as a "head-scratcher" and one even United later admitted was a mistake in part because there are West Coast fliers who prefer to fly into the New York airport rather than New Jersey, Skift reported.
"I have been waiting a long time to say this—United Airlines is back at JFK," United CEO Scott Kirby said in a release about the return.
The new service will operate out of JFK's Terminal 7 and will take place on Boeing 767-300ER aircraft with 46 business-class flat-bed seats, 22 United Premium Plus seats, 47 Economy Plus seats, and 52 economy seats. United is currently flying one round-trip flight, five days a week, to each West Coast airport, with plans to increase the number of flights as demand grows. The flights are now available to be booked on the United website.
Video: United Airlines adds 26 new nonstop routes during the summer (CNBC)
Hapag-Lloyd CEO Rolf Habben Jansen on reopening of Suez Canal

CNBC


Two lawmakers debate reinstating SALT deduction

CNBC


Biden: 90% of US adults to be eligible for vaccination by April 19

CNBC


Archegos highlights market area that may need regulation: Investor

CNBC


How banks responded to the Archegos margin call

CNBC


Covid fraudsters target investment platforms

CNBC


Small landlords struggle as renters fall behind on rent

CNBC


Housing, rental market strong despite late rent payments, says economist Zandi

CNBC


ETF Edge, March 29, 2021

CNBC


'Stay in the game' — Cramer's advice to new investors after Friday's margin call

CNBC


Here's what we know so far about Friday's margin call

CNBC


Waller: Policy 'will not be conducted' to help finance federal government deficit

CNBC


CDC director: Extremely concerned about the U.S. Covid trajectory

CNBC


Duke Realty CEO on the new phenomenon in warehousing: safety stock, or inventory expansion

CNBC


100 Days of Vaccines: The head of University Hospital Newark gives a progress report

CNBC


Scott Gottlieb: US has a chance to prevent a fourth wave

CNBC


Hapag-Lloyd CEO Rolf Habben Jansen on reopening of Suez Canal
Rolf Habben Jansen, CEO of Hapag-Lloyd, joins


CNBC



Two lawmakers debate reinstating SALT deduction
Rep. Josh Gottheimer (D-NJ) testified in front of the House Ways and Means committee earlier this week regarding reinstating the state and local tax deduction, also known as SALT. Rep. Gottheimer and Rep. French Hill (R-Ark.) joined


CNBC



Biden: 90% of US adults to be eligible for vaccination by April 19
President Biden addresses the Covid-19 response before the nation. He is asking all governors to reinstate their mask mandates and urged citizens to continue to wear masks.


CNBC

United was able to secure the slots for flights through the summer and is working with the Federal Aviation Administration (FAA) and the Port Authority of New York and New Jersey to both extend the option beyond summer and potentially expand service into and out of JFK to other destinations, according to United executives.
"Our goal is to expand [our coast-to-coast] service first and then move on to our other gateways to be able to connect passengers through Chicago, Denver, Houston, in particular," said Ankit Gupta, United's vice president for domestic network planning.
While United intends to continue to offer service from JFK—and to ultimately expand that service—Gupta acknowledged there's no guarantee. It depends on whether the carrier will ultimately receive approval from the FAA and the Port Authority to have access to the necessary slots at JFK beyond this summer.
Demand for domestic and international travel is on the rise
The news follows the announcement that United is adding 26 new nonstop routes to its May schedule, including flights to popular vacation destinations in South Carolina (Charleston, Myrtle Beach, and Hilton Head are all on the list) and Portland, Maine. The flights will be offered from Cleveland, Cincinnati, and Columbus, Ohio; St. Louis, Missouri; Pittsburgh, Pennsylvania; Milwaukee, Wisconsin; and Indianapolis, Indiana. The airline is also planning new service between Orange County, California, and Honolulu, Hawaii.
Internationally, United is adding more flights to Mexico, the Caribbean, Central America, and South America.
"In the past few weeks, we have seen the strongest flight bookings since the start of the pandemic," stated Gupta in a March 25 update.
United also plans to resume flights between Chicago O'Hare and Tokyo's Haneda airport and to increase service from Los Angeles to Sydney and Tokyo Narita. The carrier will be resuming service between Newark and Milan and Rome in May, as well as between Chicago and Amsterdam, Munich, and Tel Aviv.
This story was originally published on November 10, 2020, and was updated on March 29, 2021, to include current information.
>> Next: The Best Interactive Maps for the Latest COVID Travel Restrictions
Source: Read Full Article