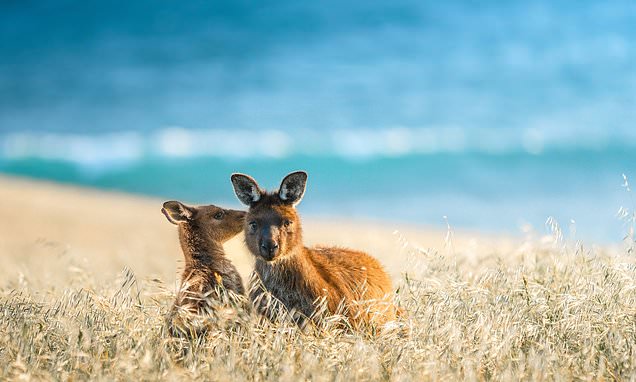 Sip wine, swim with dolphins and wake up to wildlife on your doorstep: Why Adelaide and Kangaroo Island make for the ultimate Australian escape
Ad Feature by South Australian Tourism Commission
It may be named for Australia's famous marsupial, but Kangaroo Island has a lot more to offer than that.
From rugged coves to gleaming white sand beaches, this wildlife sanctuary is the perfect place to spend a few days swimming with dolphins, sunbathing with sea lions and tracking echidnas through the bush.
In the beautiful state of South Australia, just an hour's ferry ride from Cape Jervis on the Fleurieu Peninsula, Kangaroo Island sits 130 miles from the wonders of the state capital, yet feels a world away.
Kangaroo Island sits 130 miles from the wonders of the state capital of Adelaide
It makes the island the perfect natural escape to complement your time in the vibrant city of Adelaide. Follow the coast south through the vineyards that unfurl away from the city's doorstep, then catch the SeaLink ferry to Penneshaw, the charming town perched on Kangaroo Island's Dudley Peninsula. Alternatively, enjoy a 30-minute scenic flight from Adelaide to the island's capital, Kingscote.
Wine and dine in Adelaide
Adelaide is where some of the best wines from Australia are produced 
Begin your journey by flying directly into Adelaide, the gateway to Australia's wine country, where some of Australia's most celebrated wines are produced.
This wine capital also happens to be one of only two cities in the world to have National Park City status, meaning you just might be sharing that buzz with rainbow parakeets at the Drunken Parrot Tree, in the city's Botanic Gardens.
And it's not just wine on the menu. After a day exploring the many nature reserves within the city or spending time by the beach, it's time to loosen your belt buckle and indulge in some hearty Adelaide cuisine.
Dine like a local, with raucous evenings spent at vibrant restaurants tucked away in the winding streets. Serving up delicious local produce, these so-called laneways offer some of the best food in the city.
With your appetite satiated and curiosity piqued, now's your chance to explore the iconic Kangaroo Island.
A zoo without walls or fences
Join a ranger guided walk on the beach at Seal Bay and get up close to a colony of rare Australian sealions
Whether arriving by short flight or ferry, stepping onto the ochre earth of Kangaroo Island is to fall into a dream. A solitary echidna rummages through the undergrowth, curious baby joeys cling to their protective mums, and raptors patrol the cerulean skies. Stay for a weekend or stay for a week; there's no end to the experiences to be had.
Swim with pods of wild dolphins off the sparkling shores of Emu Bay, accompanied by a marine expert who will fascinate you with information on these playful creatures.
Back on dry land, meet the rare Australian sea lions of Seal Bay with a stroll along the boardwalk. Join a guide to get up-close to the colony on the beach, and learn more about them at the Seal Bay Visitor Information centre.
Looking for more wildlife experiences? Why not join the world expert on Australia's mysterious egg-laying echidnas and track them on a bush walk. You'll see the Kangaroo Island kangaroo at every turn, plus keep your eyes out for koalas, wallabies and the endangered glossy black cockatoo.
Discover otherworldly landscapes
In Flinders Chase National Park, watch a stunning sunset at Remarkable Rocks
From snoozing on the sweeping white sands of Emu Bay to sandboarding down the gleaming dunes of Little Sahara, this island has the perfect pastime for everyone.
From the high coastal cliffs to the expansive limestone plains, the diversity of Australia's third-largest island means surprises around every corner. Set off alone and discover at your own pace, or join a local island guide to show you secret spots that remain off the map.
In Flinders Chase National Park, watch a stunning sunset at Remarkable Rocks, a geological landmark formed by millennia of being blasted by the wind, rain, sea, and sun. And the natural rock formation Admiral's Arch offers sea views of the Southern Ocean framed by stalactites and dotted with fur seals basking in shallow rock pools.
Once voted Australia's best beach, Vivonne Bay is a powdered sugar and pristine water delight, the perfect place to share a picnic of local island cuisine and watch the dolphins frolicking in the surf.
Savour delectable island cuisine
There is more to Kangaroo Island than picnics on picture-perfect beaches. This island is home to a thriving gastronomic scene, where the vineyards of the south meet traditional island influences.
Venture through the leafy entrance of the 120-year old Enchanted Fig Tree where it will open up for you to experience a magical feast of the senses
Try a late-harvest Riesling produced from juicy hand-picked grapes at Bay of Shoals Wines in Kingscote, opt for a French-owned Bordeaux wine at The Islander Estate Vineyards, or savour a drop of global award-winning Gin at Kangaroo Island Spirits.
Kangaroo Island's gourmet offering feels distinctly Mediterranean, with local honey, wine, olive oil and seafood in pride of place on every menu. Head to Cactus in Kingscote for rich and smooth coffee, and to Milly Mae's Pantry in Penneshaw for farm-to-fork dining in the shade of the fruit trees in her garden.
Tucked off the picture-perfect shores of Kangaroo Island's Snelling Beach, your table is set under the majestic limbs of the ancient Enchanted Fig Tree. Planted some 120 years ago, its bending boughs and shaded canopy now provide a magical setting for a feast worthy of a fairy tale.
At Kangaroo Island Oyster Farm Shop, treat yourself to a refined oyster tasting or a secluded al fresco lunch featuring fresh salads, local vegetables, rich smoked meats and local wines and beers.
Sleep in style and serenity
Get away from it all, staying at the stunning Sea Dragon Kangaroo Island, which offers tours, delicious cuisine, wines and more at no additional cost
Enjoy a spot of all-inclusive sustainable luxury at Oceanview Eco Villas on the rugged Redbanks coast, where Kangaroo Island Spirits cocktails and three-course meals made with local produce await. 
Get away from it all, staying at the stunning Sea Dragon Kangaroo Island, which offers tours, delicious cuisine, wines and more at no additional cost.
Two years after bushfires wreaked havoc at the award-winning Southern Ocean Lodge, this luxury retreat is set to reopen in time for another influx of starry guests and adventurers in 2023. Another new arrival is the fascinating WanderPods, an At Wander project of four minimalist yet stylish pods nestled on the northern bluff.
For a spot of history, Seaview Motel in the centre of Kingscote was the first motel on the island. Originally built in the 1920s, it has now been refurbished into a modern coastal retreat and is the perfect place from which to explore.
Whether flying from Adelaide or hopping on the SeaLink ferry from Cape Jervis to Penneshaw, combining these two dazzling destinations is easy. From vibrant city lights to star-studded island skies, atmospheric laneways to picnics with kangaroos, adventure awaits in Adelaide and on Kangaroo Island.
Find out more and book your holiday at audleytravel.com
Source: Read Full Article