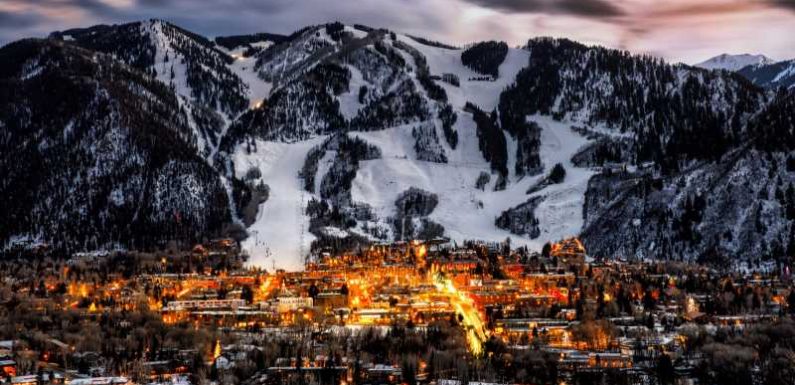 © Photo by jdross75 / Shutterstock
Where to Go Skiing and Snowboarding in Colorado


Photo by jdross75 / Shutterstock Head to Aspen for an upscale experience.
Colorado is so spoiled for ski resorts it can be hard to know where to start. The best bet is to consider what else—aside from skiing and snowboarding—you're interested in, and the environment in which you want to do it. Love Victorian architecture and history? Breckenridge is your best choice. Got eager kids in tow? Keystone might be the one.
Here, we explore six of the top Colorado ski resorts, each an excellent place to ski or snowboard for different reasons. There are many more worth exploring, including smaller spots like the privately owned Wolf Creek near the New Mexico border (great for early season snow) or Arapahoe Basin, among the closest ski resorts to Denver and offering one of the longest snow seasons. Coloradoski.com, a nonprofit representing 22 resorts across the state, is a good resource for an overview, too.
Until COVID is behind us, you'll need to check out each resort's related information page. They're all useful sources of information to help you ski safely during the pandemic. Vail's, for example, lays out the rules (wear a mask, and stay home if you feel sick) as well as the resort's health and safety protocols for the 2020–2021 season, including how social distancing is being managed and any changes to ski school schedules. It's worth reminding ourselves to travel responsibly wherever we end up in Colorado.
Aspen
Best for: The sheer range of slopes across several mountains
Skiing in Colorado doesn't get much better than this: The Aspen region harbors a mind-boggling array of skiing options across four distinct mountains spanning some 5,527 acres—all accessible from two towns and with one lift ticket. Downtown Aspen itself sits at the base of Aspen Mountain (also known as Ajax), the original ski slope that dates back to 1946 and has hosted World Cup finals (in 2017)—fittingly, as it was founded by Olympics ski racers. It's especially good for more experienced skiers, who can slalom right down to the five-star Little Nell hotel, which is celebrating its 30th anniversary this year. (The area's newest hotel is the W Hotel Aspen, and we also loved the fun family-friendly Limelight.)
Over in Snowmass Village, a short shuttle bus ride away, Buttermilk is home to the Hideout Children's Center and the spot to get little ones started on skis. It also plays host to ESPN's Winter X Games and has plenty of trails for grown-ups. Snowmass is also a huge all-rounder, with 94 trails and a Treehouse Kids Adventure Center, while Aspen Highlands features the quietest slopes and a different experience every time you ski down its 1,040 acres of terrain. Snowmass is packed with condos and rental homes, all a few minutes' walk from the lifts, as well as a branch of the Limelight that opened in 2018.
How to get there: Fly to Aspen/Pitkin County Airport, a 15-minute drive from the town center, or Denver International, which is a four-hour drive away.
Vail
Best for: The largest of all the Colorado ski resorts, it's tops for finding new ski routes
Vail is not just Colorado's largest ski resort—spanning some 5,317 acres, it's one of the biggest in the world. The sprawling terrain includes the Mid Mountain region, encompassing both gentle beginner runs and a daunting mogul run at Look Ma. Golden Peak, meanwhile, is where you'll head for lessons, and Northwoods Bowl, Game Creek Bowl, China Bowl, Sun Up & Sun Down Bowl, Siberia and Mongolia Bowl, and Blue Sky Basin complete the seemingly inexhaustible options.
The villages of Vail, meanwhile, include quaint Vail Village itself, but also Lionshead, with its nod to all things Bavarian, West and East Vail, and Cascade. They're largely pedestrianized, prettier than most ski towns, and offer an array of dining options. Hotel options include the Four Seasons Vail and the Arrabelle at Vail Square, a ski-in, ski-out option right by the slopes.
How to get there: Eagle County Regional Airport is less than an hour away by car. Denver takes about two and a half hours.
Video: On top of the world! See visitors enjoy visitors in world's tallest outdoor lift in China (RUPTLY)
NYC restaurant requires diners to take $50 rapid COVID test

RUPTLY


Drone footage captures thick fog blanketing Bosphorus Bridge

RUPTLY


Scientists develop 'magnetic spray' that turns objects into millirobots

RUPTLY


High-tech toilets to 'cut off the spread of coronavirus' go on display at Shanghai Expo

RUPTLY


Sarcophagi and statues dating back 2,500 years unveiled in Egypt

RUPTLY


Ruinous restoration of century-old Spanish sculpture goes viral for 'Potato Jesus'

RUPTLY


Dutiful drove! Reindeers seen respecting road rules in northern Russia Copied from page

RUPTLY


Engineer designs roll of disposable and recyclable masks amid COVID-19 pandemic

RUPTLY


Mexican masked wrestlers grow marigold to survive COVID hardship

RUPTLY


King of the mountains – meet 69-year-old rock climber Andrei Didukh

RUPTLY


Abandoned luxury cars wait for new owners in Dubai scrapyard

RUPTLY


Tokyo designer makes cyberpunk masks with a Japanese twist!

RUPTLY


Visit the world's only black cat cafe in Japan's Himeji

RUPTLY


IKEA opens its first-ever second-hand store in sustainability push

RUPTLY


Colourful 'container town' lights up the sky in Shenyang

RUPTLY


The universe inside an airplane! World's first planetarium aboard Japanese jet

RUPTLY


NYC restaurant requires diners to take $50 rapid COVID test
NYC restaurant City Winery requires customers to take a $50 rapid COVID-19 test before entering the premises. The hospitality industry has been hit hard by the pandemic and winter presents more challenges, so City Winery decided rapid testing could be a solution.


RUPTLY



Drone footage captures thick fog blanketing Bosphorus Bridge
Thick fog blanketed Bosphorus Bridge in Istanbul on November 24. Drone footage captured the mesmerising scenes, where early morning fog obscured the iconic landmark.


RUPTLY



Scientists develop 'magnetic spray' that turns objects into millirobots
Scientists in Hong Kong have developed a magnetic spray that can transform small objects into millirobots. The coated objects are controlled through magnetic fields and millirobots can move on a variety of materials, including sand, wet surfaces, and even skin.


RUPTLY


© Photo by Sean Pavone / Shutterstock
Many of Colorado's ski resorts, like Breckenridge, are as visually appealing as the surrounding mountains.


Photo by Sean Pavone / Shutterstock Many of Colorado's ski resorts, like Breckenridge, are as visually appealing as the surrounding mountains.
Breckenridge
Best for:

Those who like a little history with their winter fun
One of the most charming towns by a Colorado ski resort, Breckenridge is an alluring mix of gold rush history, Victorian architecture, locally owned businesses, and friendly locals. There's an arts district to explore, too—and après-ski options abound.
Of course, you're in Colorado for the actual skiing, and Breckenridge offers five main peaks stretching as high as almost 13,000 feet and some legendary high alpine terrain. There are lots of ski and snowboard lesson options and slopes aplenty, all with striking mountain backdrop views. A number of comfortable lodges make up the area's signature property collection. Don't miss the unique Ullr Fest, a party that honors the Norse god of snow and returns in December 2021 after a COVID-enforced hiatus.
How to get there: Fly to Denver International, then drive two to three hours.
Telluride
Best for: Quieter slopes and a stunning mountain backdrop
Telluride is a little harder to reach than some of the other Colorado ski resorts, but it's worth the effort. Not only is it one of the most picturesque places to ski in Colorado—with a Wild West–feeling town set among imposing, 13,000-feet peaks—but it's also riddled with long, satisfying runs, including the aptly named See Forever run.
Your time here will be split between the towns of Telluride and Mountain Village, which are connected by a scenic gondola. The town is just 12 blocks by 8, but it packs in plenty of art galleries, boutiques, restaurants, and historic buildings. Mountain Village, meanwhile, is only a few decades old and feels more European. Here hotel options include the Inn at Lost Creek and the Madeline, an Auberge Resorts Collection hotel.
How to get there: Telluride has a tiny airport (Telluride Regional Airport) perched on a plateau at an elevation of 9,000 feet, but most visitors fly to Montrose Regional Airport, a 90-minute drive away, or Denver, which is seven hours away.
Steamboat Springs
Best for: Unwinding after the slopes in a hot spring
Up in northern Colorado's Yampa Valley, at about 6,900 feet, Steamboat Springs is a little closer to sea level than other Colorado ski resorts, making it a great choice for anyone who suffers from altitude sickness. It's also home to several natural hot springs, whose toasty waters make a relaxing alternative to boozier après-ski options. Try Old Town Hot Springs, which has all the steamy spa options you'd expect plus waterslides for the kids.
Up in the snow, meanwhile, 169 trails over almost 3,000 acres have provided ample practice for 98 Olympians. Stay at the Steamboat Grand or one of many condos.
How to get there: Fly to Yampa Valley Regional Airport (some 45 minutes away) or Denver (about three or four hours out).
Keystone
Best for: Teaching the next generation of skiiers and snowboarders
Keystone is justifably one of the most popular Colorado ski resorts. Spread across three peaks all over 11,000 feet—Dercum Mountain, North Peak, and the Outback—it's a true all-rounder. The A51 terrain park will keep daredevils busy on rails, jumps, and half-pipes while mini skiiers learn to snowplow at Camp Keystone. To escape the crowds, intrepid skiiers and boarders can discover 1,000 acres of "hike-to-terrain," or take a Snow-Cat for $10 to save their legs for the downhills. Night skiing is hugely popular here, too.
As you'd expect, in non-COVID times, the après-ski scene thrives, and hotels and lodgings are spread across several distinct areas. Try River Run Village to be within shredding distance of the slopes or the quieter Mountain House, the original mountain base with fine views of Keystone Mountain.
How to get there: Denver International is 90 miles and two hours away.
>> Next: The AFAR Guide to Après-Ski
Source: Read Full Article