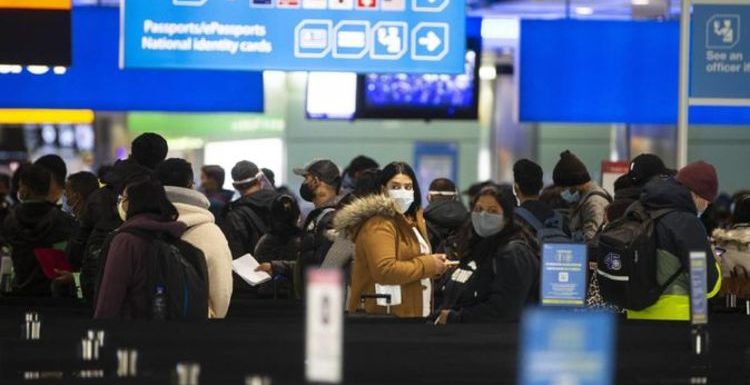 India: A look at deadly mucormycosis fungus epidemic
When you subscribe we will use the information you provide to send you these newsletters. Sometimes they'll include recommendations for other related newsletters or services we offer. Our Privacy Notice explains more about how we use your data, and your rights. You can unsubscribe at any time.
Travel destinations have been divided into three categories within the UK: red, amber and green. The colour differentiation signals which countries are safe and unsafe to travel to, although much criticism has been aimed at the Government about the existence of 'amber', which many see as futile and confusing for people to follow. Travel restrictions imposed on the industry have been crippling for airlines and others, who have been subject to ever-changing rules and almost constant travel reviews that strike off countries with short notice.
Tourism and aviation bosses are now urging the new Health Secretary, Sajid Javid, to ease Covid travel restrictions in a bid to boost the economy and save jobs.
In a joint letter, they issued a plea to the Secretary of State to expand the green list of foreign countries to which Brits can go to without having to isolate on return.
Currently, there are just 16 countries deemed 'green', mainly comprised of Caribbean and Mediterranean islands, and all subject to change at very short notice.
The letter, written by Airlines UK head of trade Tim Aldersdale, noted that the UK is the third most internationally connected country in the world and that the travel industry rakes in about £53billion in domestic spending every year.
The written plea reads: "The pandemic has been a catastrophe for our industry and the wider economy."
It adds that while the international travel sector accounted for 1.5million jobs pre-pandemic, "hundreds of thousands of jobs have now been lost", direly warning that "many more are at risk".
The 14 signatories to the letter include chief executive of the Association of British Travel Agents Mark Tanzer, director of Tourism Alliance Kurt Janson, and Prospect Union general secretary Mike Clancy.
Pleading for financial support, the letter continued: "We implore you and your cabinet colleagues to act decisively to save jobs and businesses, and to set the industry on the road to recovery in a risk-based manner."
The written document compared Britain's approach to travel compared to other countries who have managed to ease restrictions – even with lower vaccination rates.
They added: "We are encouraged that the Government has confirmed an intention to relax rules for fully vaccinated people travelling from amber destinations, and to remove statements discouraging travelling to these places.
"However, these changes must be implemented quickly – at the latest alongside the lifting of domestic restrictions in July – if they are to make a meaningful difference to the UK travel industry."
Mr Javid, who is entering his second week in the job, has said his priority for travel is "to see that we can return to normal as soon and as quickly as possible".
DON'T MISS
National Trust: The A-Z of places to go and things to see this summer [INSIGHT]
Dad's outrage as he's quoted £71,000 for week-long UK family holiday [REPORT]
Camping and caravan: Key days of the week offer best August options [ANALYSIS]
When will India be removed from the red list?
India is unlikely to make it onto the green or amber list any time soon due to the fact the COVID-19 situation there is still quite bad.
As things stand, the seven-day case rate in India is 22.17 per 100,000 people.
The number of vaccinated individuals is also very low, with a tiny 5.92 percent of the subcontinent's population double vaccinated against the virus compared to 27 percent with a first dose.
However, rather than the restrictions on travel to India being UK-decided, it's actually part of an agreement to restrict travel on both sides.
The Foreign Travel Advice for India reads: "All regularly scheduled international flights remain suspended.
"However, under a bilateral agreement between the UK and Indian governments, a limited number of flights between India and the UK continue to operate."
For a country to move onto the green list, these factors are considered:
Percentage of population vaccinated
Rate of infection
Prevalence of variants of concern
Access to reliable scientific data and genomic sequencing
Source: Read Full Article