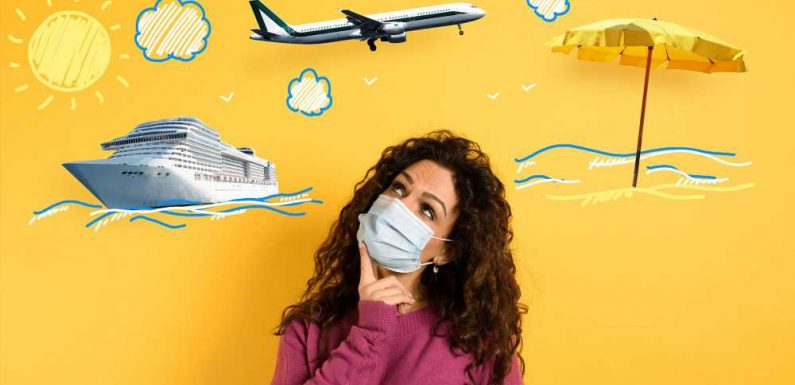 Though a significant slowdown in bookings has yet to materialize, travel advisors report that the rapid spread of the delta Covid variant has raised new concerns from clients about what options are available to them should destinations begin to impose new travel restrictions or protocols.
And, likewise, the industry as a whole is feeling rising concerns about yet another layer of uncertainty on travel's road to recovery.
At Virtuoso's 33rd annual Virtuoso Travel Week conference, held Aug. 8 to 13 in Las Vegas, Misty Belles, Virtuoso's vice president of global public relations, told attendees that the consortium's preliminary July booking data reflected a "slight impact" from the variant but that delta-related pullback has been "minimal" thus far.
Eric Hrubant, president of New York-based CIRE Travel, said that while he has yet to see clients cancel a trip or hold off on booking due to delta, "there does seem to be a level of concern."
"That said, people don't seem to be concerned enough not to travel," added Hrubant. "They do, however, want to know all the variables and explore contingency plans as part of their normal planning process, should certain countries go back into lockdown."
With delta also proving to be very highly transmittable and reports of unusual breakthrough infections among the fully vaccinated, Hrubant has found it important to emphasize to clients that a negative Covid test is still required to reenter the U.S.
"We're making it very clear to everybody that even if you've been vaccinated, you can still test positive for Covid and then have to quarantine for 10 days before you can retest and come back to the U.S.," Hrubant said. "We just want them to be aware, so it's not a shock if it happens, and we have some kind of Plan B we can jump on."
Lackluster response to border reopenings
Daniel Scher, a travel consultant with Strong Travel Services, a Dallas-based Virtuoso agency, reports that while he also has yet to receive any delta-related cancellations, the variant's surge may have contributed to a lackluster response to recent border reopening news.
"I was predicting a huge jump forward with the U.K. recently opening up, but now, with this new variant kicking around the U.S. and parents worried school starting and how that will play out, it seems nobody's been in a big hurry to get out there," said Scher.
Like Hrubant, Scher agreed that heightened concern around testing has resurfaced, with his focus shifting toward minimizing the number of tests a traveler may need to take during a trip.
"We're trying to get people to travel to just one place and then get them there nonstop and avoiding any connections," Scher said. "It's about keeping it simple right now, while also talking to the client about a backup plan and making sure they've got some kind of [insurance] coverage should they be quarantined for whatever reason."
Too soon to tell
Josh Bush, CEO of Philadelphia-based Avenue Two Travel, a Virtuoso network agency, has seen some unevenness in his bookings in recent weeks, though it remains unclear to him just how much of that can be attributed directly to the delta variant.
"Two or three weeks ago is when we started to see kind of a speed bump, with booking pace at that point off by about 20% from the previous two or three weeks," Bush said. "But then this past week, we were back to a pre-pandemic run rate. So, between two down weeks and one good recovery week, how much of that is delta-related and how much is just the booking pattern as kids return to school? It's a little too soon to tell."
As delta's spread has led to Covid spikes across the globe, Bush is bracing for yet another possible wave of lockdowns and policy changes. His solution for some clients has been what he calls "trip stacking," which involves planning two or three different types of trips for the same dates, ensuring that should trip A suddenly become unfeasible, clients will still have trip B or C to fall back on. 
Then, thanks to flexible booking policies, clients can reschedule their plans and perhaps consider their original itinerary or other backup trip plans for a later date.
"It's a combination of looking at various types of travels, such as a cruise, a European vacation and maybe a sun-and-sand destination. As things get closer to departure, if, say, the cruise gets canceled or shifted, I have that Hawaiian backup trip [ready]," explained Bush. "We hold that space knowing that terms are flexible, and we're not ultimately canceling any trip, just changing the dates associated with them."
Bush estimated that around 10% to 12% of Avenue Two's clients are opting for trip stacking, with that share representing what he calls the agency's "best customers" accounting for the bulk of the company's revenue.
"These are the people that were planning trips and trying to travel last year," said Bush. "This is a strategy for somebody whose overwhelming value is around travel, and we know that they're going to follow through on not just one but two or all three of those trips." 
Source: Read Full Article