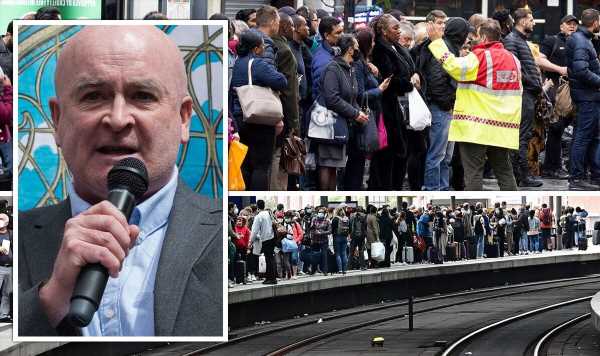 Train strikes: UK 'should be automated like France' says caller
We use your sign-up to provide content in ways you've consented to and to improve our understanding of you. This may include adverts from us and 3rd parties based on our understanding. You can unsubscribe at any time. More info
Three major rail strikes, the biggest in the UK for more than 30 years, took place last week as the National Union of Rail, Maritime and Transport workers staged walkouts over pay and working conditions. Industrial action last week cancelled around four out of every five trains running across England, Scotland, and Wales.
The RMT strike involves 40,000 signallers, maintenance and train staff working for Network Rail – which is responsible for infrastructure such as track, stations and level crossings – and 13 train operators.
Transport Secretary Grant Shapps has accused the union of "damaging people's lives"
RMT general secretary Mick Lynch has said his union would continue "working constructively with the companies to strike a deal".
When are the next train strikes?
Currently, there are no new train strikes scheduled across the UK – but that could certainly change.
Mr Lynch has said more strikes are likely but will be down to consultation with members and whether a settlement is reached.
He said: "If we don't get a settlement, it's extremely likely there will be."
The RMT has also suggested that strikes on the railways could continue until Christmas.
Talks between rail bosses and union negotiators broke down on Wednesday, with both sides accusing the other of the problem.
The RMT says Network Rail is threatening to cut safety-critical jobs as part of its modernisation programme – a characterisation rail bosses have rejected.
Union members also want a salary rise of seven percent and have already rejected a Network Rail offer of a two percent rise.
DON'T MISS
Travel Chaos: 'Think this is bad, wait for the school holidays' [INSIGHT]
'Absolute rubbish' Passengers rage as travel chaos blamed on Brexit [REPORT]
Tourists urged to ditch expensive watches for cheap copies [ANALYSIS]
Mr Lynch praised strikers on the picket line last week, saying the numbers who turned out had exceeded expectations.
He said: "Our members will continue the campaign and have shown outstanding unity in the pursuit of a settlement to this dispute.
"RMT members are leading the way for all workers in this country who are sick and tired of having their pay and conditions slashed by a mixture of big business profits and Government policy.
"Now is the time to stand up and fight for every single railway worker in this dispute that we will win."
The Government has insisted the new conditions rail workers are being asked to accept are vital to modernising the railways.
A Department for Transport spokesperson said: "These are desperately needed reforms that modernise the railway and put it on a sustainable footing for passengers and taxpayers.
"Unions have shut down big parts of the rail network, hitting local businesses and unfairly cutting people off from hospitals, schools and work.
"However, early data shows that unlike in the past, many people now have the opportunity to work from home, so we haven't even a rush to the roads, as traffic has instead gone online, which means the unions aren't having the overall impact they might have hoped."
Source: Read Full Article