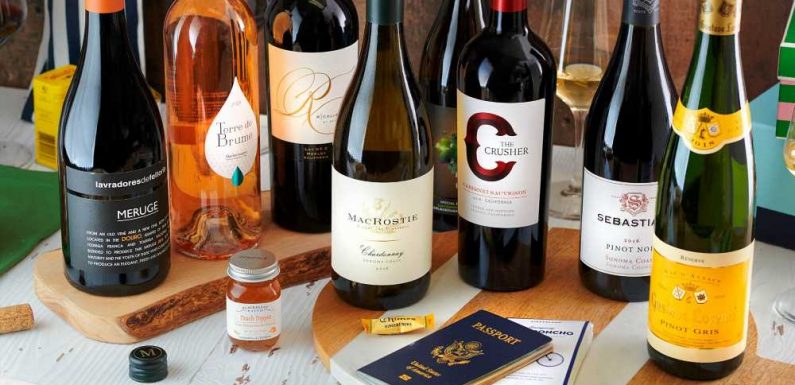 Not everyone pays much attention to the label on the tiny bottle of wine you order on a plane. But if you've ever enjoyed a glass on an American Airlines flight and thought about hunting down the bottle after you land, the company's new wine club makes that a whole lot easier.
Launching today, Flagship Cellars (operated by Vinesse Wines) will mail subscribers wines from American Airlines' revolving collection, claiming to be the first U.S. airline to offer its onboard wines to customers at home. "Each year, a dedicated team of wine experts carefully reviews nearly 2,000 bottles to select those that will join the award-winning American Airlines wine program," the airline's announcement says. "For the first time ever, travel and wine enthusiasts can enjoy these premium wines by having them delivered straight to their door with American's new Flagship Cellars at-home wine experience."
Members can choose pre-selected one-off variety packs, create their own box, or share their preferences and then have three sommelier-selected bottles sent monthly for $99.99. The airline also says it's able to offer its "ultra-premium" wines at a lower price point. (It should be noted that the program's availability may vary by state.) As an added bonus, American Airlines AAdvantage members are also eligible to earn two mileage points for every dollar purchased.
"For wine lovers around the world, wine provides a deeper connection to the places they enjoy visiting," said Alison Taylor, Chief Customer Officer at American. "We created Flagship Cellars to provide more opportunities for customers to enjoy our Flagship wine even if they aren't flying in one of our premium cabins."
Some of the touted bottles mentioned in the announcement include Roserock Drouhin Pinot Noir Eola-Amity Hills 2015 (Willamette Valley), Hall Merlot Napa Valley 2015, and Deutz Brut Classic Champagne. American has been called the top airline for first- and business-class wines in North America every year since 2015 by Global Traveler. And considering how flying affects our sense of taste, it might be an interesting at-home experiment to compare what some of these vintages taste like on the ground and in the air. Find more information at vinesse.com.
Love a great deal? Sign up for our T+L Recommends newsletter and we'll send you our favorite travel products each week. 
This story originally appeared on foodandwine.com
Source: Read Full Article