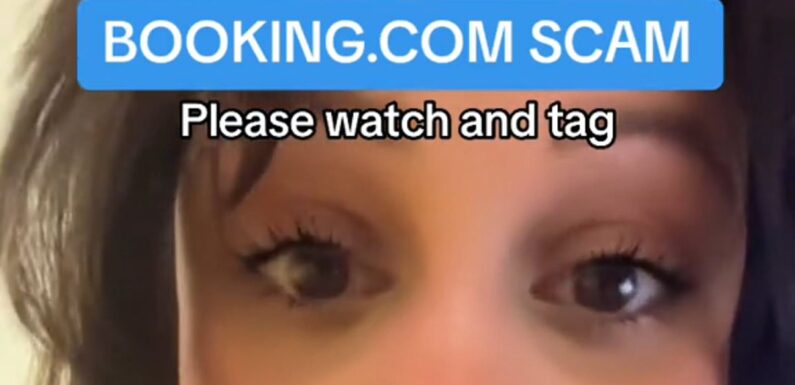 Warnings over 'scam' Booking.com emails asking travellers to provide bank card details or risk having their hotel reservation cancelled after customers lose 'thousands of pounds'
Booking.com customers are being warned to ignore 'scam' emails which ask them to confirm their hotel payment by providing their bank card details or risk having their reservations cancelled.
Holidaymakers have revealed how they have received emails sent from [email protected] that threaten to cancel their upcoming stay unless a payment is made within 12 hours.
Notifications of the dodgy email have also appeared in the company's app on mobile phones, it has emerged.
Have YOU been targeted by this Booking.com 'scam'? Email [email protected]
One TikTok user described how she was scammed out of £2,000 after falling for it, while another said: 'I think I am quite wary and I am quite on the ball with these things, but this one had me fooled'. Other vloggers have made recent similar warnings on social media.
Booking.com strenuously deny they have been hacked and instead suggested the messages were sent following breaches in the email systems of its partner hotels. The hotels deny that this could have happened at their end.
TikToker nandinigotbored (pictured) was scammed out of £200
TikToker Lara Battigelli (pictured) also almost got scammed out of £2,000 by the travel website
TikTok user Nandini said: 'This hotel has messaged you click here and there will be a copy of it in your email as well. 
READ MORE – The £99 'Ultimate Mystery' holiday: How this sunny snap convinced TOBY WALNE to gamble on a last-minute trip… so where did he end up? 
'I clicked on it and it opened up the actual Booking.com app. This didn't scream anything unusual to me as normally if you have booked a room but haven't paid up front they will ask you to put in the details of a card that is valid for check-in and again it is in the official booking.com app, so there is no need to think this is odd.' 
It also told her she would not be charged for this transaction, however she quickly realised soon after that she had been charged £200.
Another TikToker, Lara Battigelli, also almost got scammed out of £2,000 by the travel website. 
She said: 'I almost got scammed by Booking.com and it was a really sophisticated scam that came in through the app and I almost fell for it. I work in tech, I am used to seeing how they come in but this one came in as a message through the hotel I had booked for my Honeymoon.'
Lara mentioned that she thought the 12 hour deadline was a bit odd, and as a result delayed confirming any payment. She said how she later saw other users on TikTok talking about the scam.
Multiple customers have been tagging the holiday booking website on X to express their frustration. 
Serena Chang wrote: 'Really frustrating experience with Booking.com – scammer infiltrated their site and sent messages through their site. 
'Lost a lot of money. Booking.com seem unable to help, they just paste responses that don't respond to my query.
Thankfully she saw the scam on TikTok before she confirmed with her card details
Another user said: 'I got hit with the same scam yesterday for €219. The fraudsters have got inside Bookings.com messaging system so it look like the message is from them. They have known about it for at least 3 days. Just watch their share price tank!'
Rod Strother said: 'I recently got scammed through the platform. Got a message saying hotel needed update of my credit card details which I provided only to have bank say they suspected scam. Booking.com refuse to take responsibility for what looks like data leak.'
A Booking.com spokesperson told MailOnline: 'Ensuring that our platform is safe and trustworthy for our partners and customers is a top priority for us. 
'Some of our accommodation partners have unfortunately been targeted by very convincing and sophisticated phishing tactics, encouraging them to click on links or download attachments outside of our system that enable malware to load on their machines and in some cases, lead to unauthorised access to their Booking.com account.
'While this is not a breach of Booking.com's backend systems, and likely a coordinated effort by attackers to commit fraud against both guests and accommodation partners by targeting them with phishing emails, we are acutely aware of the implications of such scams by malicious third parties to our business, our accommodation partners and unfortunately to our customers, who can fall victim to professional scammers.'
Source: Read Full Article