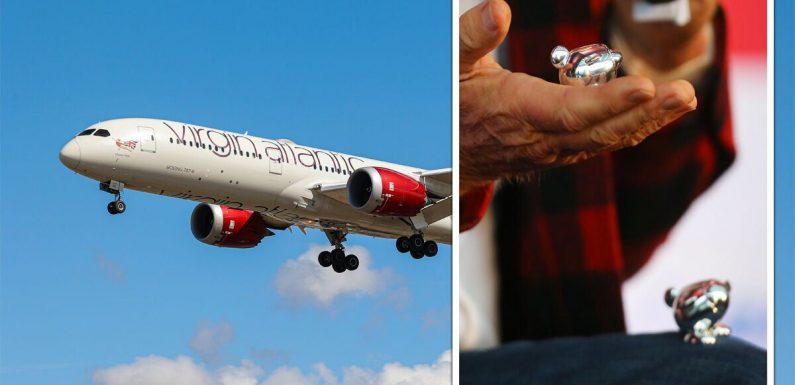 Virgin Atlantic allows air crew to wear uniform expressing gender
We use your sign-up to provide content in ways you've consented to and to improve our understanding of you. This may include adverts from us and 3rd parties based on our understanding. You can unsubscribe at any time. More info
Virgin Atlantic likes to entertain its customers. The popular airline has come up with a quirky new plan to stop customers stealing its silverware.
On the airline's flights, travellers outside of economy are offered quirky salt and pepper shakers with their inflight meal.
The funky kitchenware is designed to look like cartoon planes with little feet and come in silver, gold and black.
However, the popular items often go missing from the plane as light-fingered travellers sneak them home as souvenirs.
Virgin Atlantic has now shared its cheeky plan to stop tourists taking off with their salt and pepper shakers.
The airline shared a photo of the iconic shakers on Twitter and said: "Caught red handed?
"If you've walked away from one of our flights with a 'new' salt and pepper shaker, take a peek at their feet and you'll be in for a surprise."
The cartoon shakers now have the words 'pinched from Virgin Atlantic' emblazoned on the bottom of their feet.
Guilty passengers shared their own accounts of stealing the shakers underneath the tweet.
One person said: "I might or might not have black, silver and gold! Looking forward to 'borrowing' some more in under five weeks!"
Another person added: "They may have accidentally fallen into my bag whilst tidying up after dinner…eight times!"
However, one person said they've been given the shakers by a flight attendant at the end of their flight.
They wrote: "I was given these, a set of mugs and a drinking glass by a flight attendant on my flight recently – thank you!"
A quick search on eBay brings up many of the popular shakers with travellers attempting to sell them.
Listings range from around £9 to £36 for a pair of shakers that the seller claims are limited edition.
Upper class passengers on Virgin Atlantic are usually welcomed onboard with a glass of champagne or sparkling wine.
Guests can also help themselves to snacks from the plane's bar if they get hungry during the flight.
Sweet and savoury packaged snacks are on offer as well as fresh fruit for passengers who want to stay healthy.
The lucky passengers will enjoy a four course meal if their flight is serving lunch or dinner or a hearty breakfast on a night flight.
Travellers in Upper Class can also take advantage of the extra bits menu if they're still feeling hungry.
The airline's cutlery is also popular with passengers and some of it may find its way off the flight.
However, passengers may have to be more careful in future if they don't want to be identified as having "pinched" something.
Source: Read Full Article