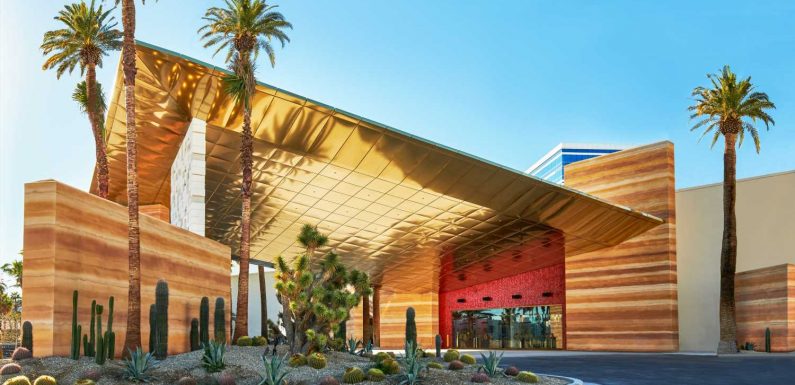 When Peter Morton opened his hard-partying Hard Rock Hotel and Casino in 1995 on Paradise Road, a mile east of the Las Vegas Strip, it was dubbed a Vegas resort for a new generation. And that generation made some of the city's wildest (and perhaps haziest) memories standing in lines stretching from the casino to the  notorious Rehab pool party, where cabanas could go for $10,000 and making it rain—dollar bills, Champagne—just meant it was Sunday. It was permanent spring break, where you could sidle up to your rock idol at the Center Bar and revel in the general lawlessness that was Sin City in the early aughts.
What you'll now experience in the same space, which recently opened as Virgin Hotels Las Vegas after closing in February 2020, is markedly different—a resort, you might say, for a new generation.  Gone is the motorcycle owned by Nikki Sixx of Motley Crue and Britney Spears' "Baby One More Time" schoolgirl outfit. In their place: desert-inspired décor, from a spare, Moroccan-inflected reception room and the tented Studio 54-meets-the-Kasbah inspired Shag Room lounge, to towering Saguaro cacti in planters along the periphery of the casino. "I'd like to think that we took it further from the original [Desert Modern] design intent, to a recognition and respect of the planet," says Richard 'Boz' Bosworth, owner of Virgin Hotels Las Vegas. "You're arriving to the sights and sounds of the desert. It's the gems you see, the earth tones, the feeling of Gaia. We're even toying with the idea of bringing in a Joshua Tree."
Which is to say that in a city full of themed resorts meant to transport you to Venice, Lake Como, Egypt, and New York City, Virgin Hotels Las Vegas seeks to transport you to right where you are—the middle of the Mojave Desert.
When I checked into Virgin in early April, the hotel was in the middle of a soft opening. It hadn't yet opened its five-acre backyard area with a 17,000 square foot event lawn (set right over the old Rehab pool party spot) and multilevel, Mykonos-inspired Elía Day Club. Nor had it opened 24 Oxford (which replaces the live music venue Vinyl) or The Theater (the 4,500-person venue, plus VIP lounge, that replaces The Joint). Restaurant and bar spaces like Kassi Beach House, Baby! by Clive Collective, Todd English's Olives, and indoor/outdoor sports betting and entertainment space Money will all open over the summer. 
The day club and pool will also open by the end of June, but don't expect the Vegas resort pool model you know. Unlike other resorts, the intent for Virgin was to design a resort pool with a promenade of restaurants and cafes, and even convention spaces that function as 'Hospitality Suites'—rooms that open onto the pool to be used for events like meetings, as described by Bosworth. "It will resemble something you might have seen in your travels to islands or destination resorts," Bosworth says. He teases that it will be purpose-built for a music festival crowd.
Virgin's partnership with its casino operator, Mohegan Sun—the first Native American sovereign nation to enter Vegas's resort corridor—is a point of pride for the new hotel. "It makes a statement, as it relates to how we're trying to respect the desert and its culture," says Bosworth. When I entered my room (or "chamber," in Virgin parlance), a thoughtful note and small dreamcatcher lay on my pillow to wish me goodnight. 
Those who have stayed in a Virgin hotel will recognize the signature bed with its built-in corner lounger, and my King Corner Chamber also featured lots of tech outlets, a dual-sided television that efficiently split it into lounge and sleep areas, and eclectic, gallery-hung art. I appreciated the reasonably-priced mini-bar drinks and snacks (not quite "street priced," but closer than other resorts).  It's all part of the resort's promise not to nickel and dime. You won't find surprise resort fees or self-parking fees, the former rising along the Strip in years, the latter waxing and waning depending on local backlash against upping prices in America's last, great free-for-all parking city.
Virgin has kept the some of the former hotel's restaurants, with brothers Michael and David Morton transforming their MB Steak into the new One Steakhouse, but unlike so many Las Vegas resorts, Virgin doesn't seem to have been seduced by big names. For instance, chef Kris Yenbamroong's Night + Market, whose Los Angeles locations have a cult following for their modern street food, is a personal Bosworth favorite. "We're catching some [chefs] on the way up that will become celebrities, and the reasons that we pursued them is that they're good at what they do and they match our vibe," Bosworth says. Another nice note: Though so much from the decor to the ambience has changed, the staff largely hasn't. When Bosworth acquired the property he was committed to asking Hard Rock staff to move over to Virgin. Eighty three percent did so, and meant that, even through the pandemic, the team did not have to worry about emerging post-pandemic without a job.
Since the hotel's central pulse hadn't yet opened when I arrived, I did get the sense that, while busy, the vibe was more subdued than it would be once the backyard pool complex, with its music fest vibe and day club open. But the feeling you're in a hotel that is resetting the pace for, yes, a new generation of Vegas visitors—cosmopolitan, well-traveled, knowledgeable—is here.
Book now: Doubles from $119 per night, expedia.com
All listings featured in this story are independently selected by our editors. However, when you buy something through our retail links, we may earn an affiliate commission.
Source: Read Full Article