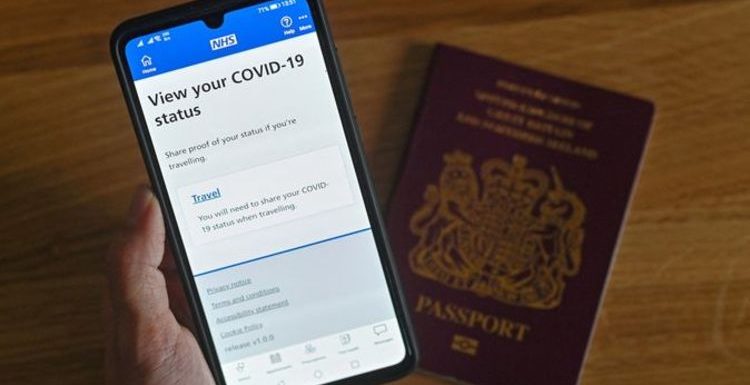 Nicola Sturgeon discusses Scotland's restrictions
When you subscribe we will use the information you provide to send you these newsletters. Sometimes they'll include recommendations for other related newsletters or services we offer. Our Privacy Notice explains more about how we use your data, and your rights. You can unsubscribe at any time.
Scotland has launched its own 'vaccine passport' for international travel as the country gears up for travelling abroad. The passport will give travellers from Scotland proof of their vaccination status in the form of a letter.
How does Scotland's vaccine passport work?
A "vaccination status letter" can be downloaded online from the NHS Inform patient portal, or requested in the post via a Freephone Covid Status Helpline.
The service is open to those planning to travel to a country where a proof of vaccination status is required.
At present, there are no countries that require proof of vaccination from Scottish travellers, but the situation is likely to change as more countries open up.
The service has been brought in to take the pressure off GP practices having to issue letters to patients individually.
The system differs from the English one, where an NHS app – separate from its contact tracing app – can show vaccine status if enabled by a GP.
As more people are vaccinated, the system will be replaced by digital Covid status certificates – which will include vaccination and testing data to be used for outbound international travel.
Chief medical officer Dr Gregor Smith said people should be cautious and only travel if necessary.
He said: "Given the risk of returning with infection, and especially of introducing new variants of the virus, we continue to be highly cautious about international travel.
"Everyone should continue to limit their travel abroad and while I understand the need for some people who want to reunite with family, when it comes to holidays, my advice continues to be play it safe and staycation this summer.
"For those that do need it, this new service will provide people with a record of their vaccination status for outbound international travel.
"They should only access their record if they are planning to travel within 21 days and it is a requirement of their destination."
DON'T MISS
EU to allow fully vaccinated Brits to travel without restrictions [REPORT]
Dr Hilary forecasts June 21 plan to go ahead despite Indian variant [INSIGHT]
Indian variant symptoms: What are the signs of the new Covid strain? [EXPLAINER]
How do I get Scotland's vaccine passport?
You can access your Covid-19 Vaccine Status online, by logging on to www.nhsinform.scot/covid19status.
You will need to create an account if you don't already have one.
Alternatively, you can phone the Freephone Covid Status Helpline on 0808 196 8565.
What are the travel rules for Scotland?
International travel is now permitted for Scots, using the same traffic light lists as England.
Green list countries currently include:
• Australia
• Brunei
• Falkland Islands
• Faroe Islands
• Gibraltar
• Iceland
• Israel and Jerusalem
• New Zealand
• Portugal (including the Azores and Madeira)
• Singapore
• South Georgia and South Sandwich Islands
• St Helena, Ascension and Tristan da Cunha
Source: Read Full Article