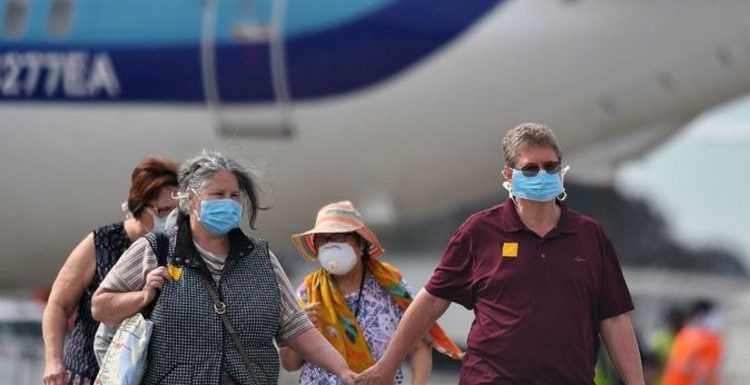 The crisis-hit tourism industry will be rejoicing this week as a glimmer of hope is on the horizon – after months of coronavirus travel bans, Britons are finally allowed to travel again. Travellers can now visit 12 countries on the government's green list, including Portugal and Israel, without quarantine on return, and many more with an isolation period on return.
How likely are you to catch Covid on the plane?
Your chances of catching Covid on the plane are very low, experts say.
This is because the air is circulated so regularly inside the cabin – a legacy from the days when people were allowed to smoke on planes.
Most planes have something called a high-efficiency particulate air filter (Hepa).
This system can capture smaller particles than ordinary air-conditioning systems, including some viruses.
When you subscribe we will use the information you provide to send you these newsletters. Sometimes they'll include recommendations for other related newsletters or services we offer. Our Privacy Notice explains more about how we use your data, and your rights. You can unsubscribe at any time.
Fresh air from outside the plane is mixed with air already in the cabin.
Dr Julian Tang, a clinical virologist at the University of Leicester said to the BBC: "Planes are probably the safest environments on the planet because they have this massive air change rate of 20-30 air changes per hour."
That compares to about two to four air changes per hour in a typical office and four to six per hour in common areas in hospitals.
However, social distancing is hard on planes, so it's still important to wear a mask.
What are the rules for international travel?
The rules for international travel depend on whether you're heading to a green, amber or red list nation.
Green list
If a country is on the green list, holidaymakers can visit without having to quarantine on their return.
However, the list is short, with currently only seven countries – Portugal, Israel, Iceland, Brunei, Singapore, Australia, and New Zealand – and a small number of overseas territories (Gibraltar, the Falkland Islands, the Faroe Islands, South Georgia and the Sandwich Islands, St Helena, Tristan de Cunha and Ascension Island).
Of these, only Portugal and Iceland are currently accepting tourists from the UK.
The list will be reviewed every three weeks. Countries can be added or removed at short notice.
Amber list
You can travel anywhere on the amber list, but you will have to quarantine at home for 10 days on your return.
Environment Secretary George Eustice said on Tuesday that people could go to amber-list countries to visit friends.
However, the Prime Minister later caused confusion when he said that people should only visit if "they absolutely have to for some pressing family or urgent business reason".
Thousands of people are reported to have already headed for amber-list destinations such as France, Greece, Spain and the US since the ban was lifted.
Meanwhile, the BBC has spoken to travellers who say holiday companies are refusing to refund or exchange bookings for amber-list destinations because travel there is technically legal.
Red list
Red-list countries are those the UK government says are at high risk from Covid – especially from new or emerging variants of the disease.
Transport Secretary Grant Shapps said they should not be visited "except in the most extreme of circumstances".
Dozens of countries are now on the red list, including India, Pakistan, Turkey, Brazil and South Africa.
If you have been in one in the last 10 days, you can only enter the UK if you are a UK or Irish national, or UK resident.
Source: Read Full Article