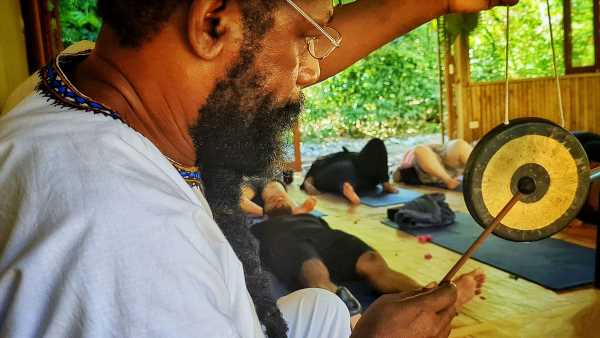 The Rockhouse Hotel in Negril has debuted a weekly Psilocybin Sound Bath, a two-hour wellness session that incorporates the healing powers of plant medicine with breathwork and sound therapy.
Psilocybin, also known as "magic mushrooms," are legal in Jamaica. Rockhouse will offer the wellness class in partnership with Patoo Chocolate, a local Jamaican brand that offers chocolate bars crafted with Jamaican cacao and infused with a unique local strain of indigenous psilocybin fungi. The optional microdose, according to the resort, is designed to create a slightly altered state of consciousness, which is enhanced by a breathwork and energy session guided by a meditation instructor and an immersive, live sound bath that work together in harmony. Sound baths involve listening to live musical instruments to relax the body and calm the mind.
The class is conducted at the newly opened Rockhouse Farmhouse, which is located in the organic garden adjacent to the hotel, and at the its new hydroponic greenhouse.
The cost for the session is $50, and it is open to all. Registrations can be made by calling +1-876-957-4373 or emailing [email protected].
Source: Read Full Article