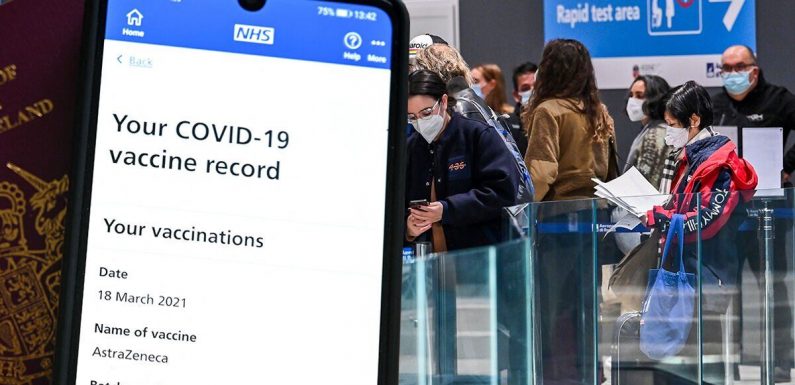 Flights: Student discusses how he 'fast-tracked' to first class
We use your sign-up to provide content in ways you've consented to and to improve our understanding of you. This may include adverts from us and 3rd parties based on our understanding. You can unsubscribe at any time. More info
Tourists visiting the US from most foreign countries, including the UK, can only do so if they can show evidence of being fully vaccinated. On top of this, regardless of vaccination status, all arrivals must also show evidence of a negative coronavirus test taken no more than one day prior to travel.
However, as more countries around the world begin to drop their Covid entry requirements, there is mounting pressure on President Biden.
What are the current requirements for UK tourists visiting the US?
Currently, only passengers who are fully vaccinated are permitted to enter the US for the purposes of tourism.
According to the Foreign, Commonwealth and Development Office (FCDO): "Most fully vaccinated foreign citizens can enter the USA.
"The US authorities will accept any COVID-19 vaccine approved for emergency use by the World Health Organisation or approved by the US Food and Drug Administration (FDA). These are the AstraZeneca, BIBP/Sinopharm, Covishield, Janssen, Moderna, Pfizer-BioNTech and Sinovac vaccines.
"In addition, those who have received the full series of an active (not placebo) COVID-19 vaccine AstraZeneca or Novavax COVID-19 vaccine trials are considered vaccinated."
The USA will accept the UK's proof of COVID-19 recovery and vaccination record and proof of COVID-19 vaccination issued in the Crown Dependencies. Your final vaccine dose must have been administered at least 14 days prior to travel.
Regardless of vaccination status, all adults entering the US must also show evidence of a negative COVID-19 test result taken no more than one day before travel.
Fully vaccinated travellers do not have to quarantine, but are "recommended to take a viral test within three to five days of arrival in the US."
The vaccine rule does not apply to children aged 17 and under, though those aged between two and 17 must take a Covid test before travelling to the country.
DON'T MISS
Signs a hotel room is infested with bed bugs [EXPLAINER]
Holidays at risk for millions of Britons – passport 'shambles' [COMMENT]
Tourist tax is 'driving away' Britons from Benidorm and Alicante [REPORT]
The FCDO adds: "Children 17 and under who are not fully vaccinated are exempt from the quarantine requirement after arrival in the US but must take a test three to five days after arrival and should self-isolate should any symptoms develop or if they test positive."
Children under the age of two are exempt from vaccination, testing and quarantine rules.
All air passengers to the USA are also required to provide contact information to their airlines before boarding.
Only those with an exemption as set out by the US Government, or US Citizens, nationals or lawful permanent residents are able to enter the country unvaccinated.
Is the US likely to lift its Covid requirements soon?
The US has not confirmed a set date for lifting Covid requirements for tourists.
In a statement, the Centers for Disease Control and Prevention (CDC) said: "We are always reviewing our guidance and new science that becomes available."
However, there is an indication that the White House is not yet ready to deviate from the current public health advice just yet.
On April 18, the White House described a federal judge's decision to block President Biden's plan to extend mandatory mask-wearing on planes, trains and other public transport as "disappointing".
This means masks are now optional as far as the US transit authority is concerned, though they are still recommended by the USA's public healthy agency advice.
Source: Read Full Article