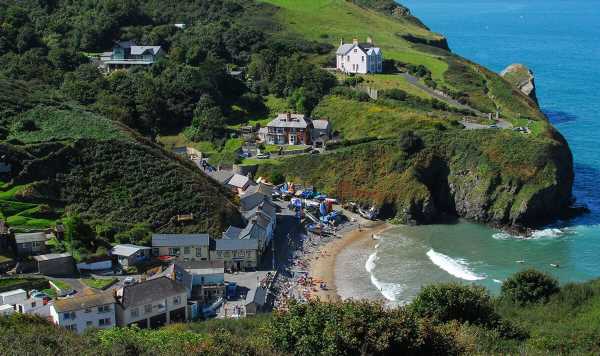 Robin Hood's Bay: A look at picturesque seaside village
Summer is just around the corner. Focus hard enough and you might just get a whiff of the suncream.
While Britons have traditionally flocked abroad to soak up the sun, in recent years, many have decided to stay closer to home or try somewhere in the British Isles.
The great 'staycation', as it was dubbed, was rolled in because of the coronavirus pandemic. And while that may now be a thing of the past, the habit of holidaying domestically remains.
Britain has some of the most beautiful coastline towns and villages you could dream of. And on a hot summer's day, the scent of fish and chips in the air, a stick of rock in hand, can't be beaten.
Here, Express.co.uk takes a look at what the Telegraph has named the 18 best seaside villages in the UK.
Llangrannog, Ceredigion
Well known to anyone who went to school in Wales for its school camps, Llangrannog sits on the west Welsh coast, just below Aberystwyth.
A pretty little village, the main beach is popular, with surfers lapping up the waves.
Wait until low tide, and you'll be treated to a walking path that reveals a second, hidden beach.
Pub grub, ice cream and quick bites to eat are all on offer in this gem of Wales.
Crail, Fife
You may mistake the fishing cottages for a bygone era of plentiful supplies and a tight-knit community.
But all of that still exists in Crail, north of Edinburgh.
Set on the East Neu of Fife, the journey itself offers gorgeous and breathtaking views, looking out to the North Sea.
The harbour offers great views of the sea, spots to eat ice cream and the opportunity to watch the boats return.
There are also plenty of tearooms, galleries and even a heritage centre to explore. 
Beer, Devon
Beer has perhaps some of the best views of England's south coast.
Situated on the Jurassic Coast World Heritage Site and its picturesque cliffs, including Beer Head, it forms part of the South West Coast Path.
Colourful fishing boats bring mountains of fish back to the port, much of which is served fresh at many of the local restaurants.
The village's history is rich and it was once used as a base by the notorious smuggler Jack Rattenbury.
Carnlough, Co. Antrim
The stunning backdrop of Glencoy, one of the Nine Glens of Antrim, at the northern end of Carnlough Bay between Garron Point and Park Head, graces this village.
Settlements at Carnlough are believed to date back to 6,000 BC.
Renovation works have made the harbour popular among those who love to do nothing but fish all day.
Don't miss…
Safest country for solo tourists is a 'bucket list place'[REPORT]
The UK's most popular hike has a 'perfect atmosphere'[LATEST]
Travel expert shares convenient airport parking tip to save money[ANALYSIS]
We use your sign-up to provide content in ways you've consented to and to improve our understanding of you. This may include adverts from us and 3rd parties based on our understanding. You can unsubscribe at any time. More info
Cromarty, Highlands
Nestled at the tip of Black Isle, Cromarty has sea on both sides.
Moray Firth sits to its south, while Cromarty Firth is to its north.
Formerly established as a port for the importation of materials to feed local industry, history is dotted everywhere in Cromarty.
Clovelly, Devon
Clovelly clings to a cliff overlooking Bideford Bay, a 400ft drop and not for the faint-hearted.
In one of Devon's most famous villages, donkeys, which used to be the locality's main method of transport, are now used as fun rides for children.
Be prepared for a hike if you want to walk down to the seafront and back, and if you fancy trying some freshly caught fish, head to the Red Lion Harbour Restaurant.
Portree, Isle of Skye
Sitting on the eastern side of Skye, Portree is the capital of the Inner Hebridean island.
Ben Tianavaig is to the south, Suidh Fhinn to the west and Ben Chrachaig to the north, meaning the village is surrounded by hills.
This place has everything you could hope for and more.
Bamburgh, Northumberland
This village's highlight is an 18th-century castle, dropped right in the centre of it, perhaps the only village in Britain that can lay claim to such a historic feat.
A dune-fringed beach makes way for crystal clear waters, which have become some of the best surfing waters in North East England.
With plenty of tearooms and a museum to take in the 1838 Forfarshire shipwreck, you won't get bored in Bamburgh.
Gardenstown, Aberdeenshire
The salty Scottish air characterises this lovely little village on Scotland's east coast.
A pod of resident dolphins in the Moray Firth means revellers may well strike lucky and see a majestic animal that once roamed the British Isles shores.
Plenty of walking trails, abundant wildlife and the calm of the ocean await.
A whole host of other sleepy seaside villages peppered around Britain make the list, including:
West Lulworth, Dorset
Portloe, Cornwall
Blakeney, Norfolk
Walberswick, Suffolk
Mousehole, Cornwall
Tobermory, Isle of Mull
Portmeirion, Gwynedd
Hope Cove, Devon
Staithes, North Yorkshire
Polperro, Cornwall
Source: Read Full Article