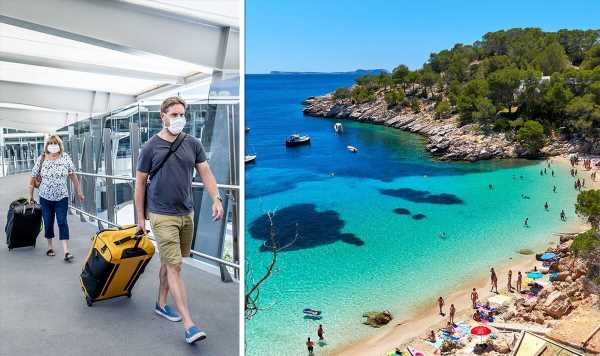 We use your sign-up to provide content in ways you've consented to and to improve our understanding of you. This may include adverts from us and 3rd parties based on our understanding. You can unsubscribe at any time. More info
Spain's Tourism Minister Maria Reyes Maroto made an announcement on Thursday saying there will be an imminent change to the current rules for all holidaymakers wanting to travel to the country from outside the EU, including Britain.
This means Britons without a Covid vaccination certificate or Covid pass could be allowed in Spain in a matter of days.
Maria Reyes Maroto said during a radio interview: "It's going to be a matter of days before we eliminate a restriction that could be discouraging tourists from outside the European Union from visiting us.
"We are going to stop demanding the Covid certificate and allow people to enter with a negative Covid test."
However, unvaccinated Britons would have to present a negative Covid test to enter the country.
She added: "The world sees us as a safe destination and 92 percent of the Spanish population is vaccinated.
"Tourism is recovering here at rates that would have been difficult to imagine in January.
"Today that recovery is a reality.
"Tourism is the lever for economic growth this year."
Non-jabbed Britons have been unable to travel to Spain for a long time and it was thought the ban would remain in place until at least June 15 following a new extension.
However, it seems the rule could be lifted before then and in time for the Platinum Jubilee bank holiday weekend.
Currently, Britons must be fully vaccinated to travel to Spain unless they have recently recovered.
To count as fully vaccinated, Britons must have had their second jab less than 270 days ago or have a booster vaccination.
At least 14 days must have passed since the date of the last vaccination to travel to Spain for a holiday.
Children between the ages of 12 and 17 can travel to Spain if they are unvaccinated if they have a negative PCR result.
Unvaccinated British adults can only travel to Spain if they have proof of a recent recovery certificate.
The mandatory use of face masks in Spain in public indoors was lifted last month following the ending of other Covid restrictions including limits on business opening hours.
Additional reporting from Natalia Penza
Source: Read Full Article