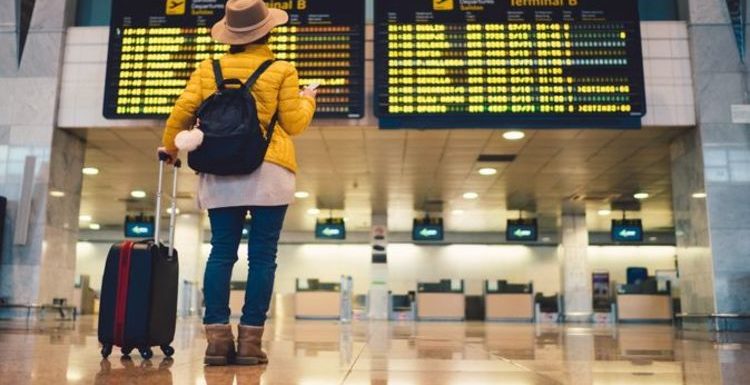 Travel companies 'furious' over new restrictions says Calder
We use your sign-up to provide content in ways you've consented to and to improve our understanding of you. This may include adverts from us and 3rd parties based on our understanding. You can unsubscribe at any time. More info
The new Omicron variant was first identified in South Africa and scientists fear it could be more transmissible and resistant to vaccines. The UK has already introduced travel bans on six African countries but is reportedly planning to bring in further restrictions.
According to The Times, ministers think that introducing strict travel restrictions now could save Christmas in the UK.
They are hoping to avoid a lockdown and decrease pressure on the NHS during the festive period and colder months.
A government source told The Times: "We want to restrict travel to avoid restrictions at home. The PM and most of the cabinet are in that place now."
Omicron cases have been identified in several southern African countries and an unvaccinated woman has tested positive with the variant in Belgium.
The woman had travelled to Belgium from Egypt via Turkey and tested positive on November 22.
Sajid Javid told MPs: "We are concerned that this new variant may pose substantial risk to health.
"Early indications show this variant may be more transmissible than the Delta variant, and current vaccines may be less effective against it.
"It may also impact the effectiveness of one of our major treatments, Ronapreve."
Travel to and from South Africa, Botswana, Namibia, Zimbabwe, Lesotho and Eswatini has been banned by the UK.
The US has also introduced a travel ban for the same countries as well as Mozambique and Malawi.
The UK is likely to ban travel to and from Malawi and Mozambique in the next few days.
It is now thought that further travel bans are likely to try to stop the spread of the Omicron variant.
Travel industry bosses have said the reintroduction of the red list is a "hammer blow to consumer confidence" before the peak winter sun holidays.
A senior aviation source said there were "serious jitters" across the travel industry due to the new variant.
They said: "There is now a massive question mark over Christmas. It is clear the red list will expand and that will have a massive knock on."
Paul Charles, CEO of The PC Agency tweeted: "Instead of flight bans and hotel quarantine, UK Government should simply reinstate pre-departure tests and add PCR tests on arrival in UK airports for those coming from the six African red list countries.
"This would enable targeted testing alongside keeping travel going. That should be the policy to deal with new variants when they emerge."
The new variant comes as many EU countries including Germany and Austria struggle with another wave of Covid.
While the WHO has said Omicron is a "variant of concern" officials have said they "don't want people to panic".
They said: "This is why researchers are doing this work. We have seen a growth advantage…we need to compare it against other variants."
Source: Read Full Article