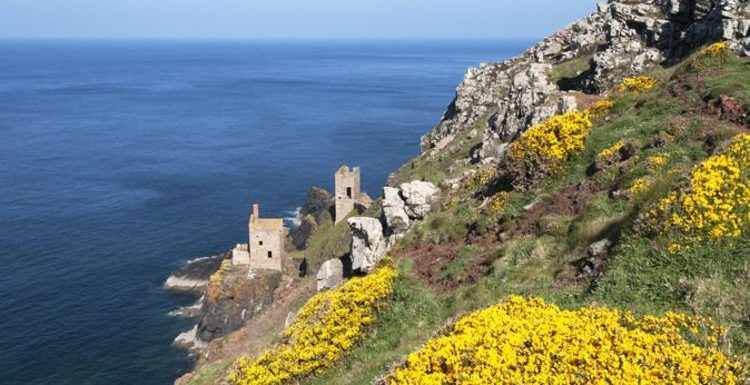 Jonnie Irwin teases new A Place In The Sun filming location
We use your sign-up to provide content in ways you've consented to and to improve our understanding of you. This may include adverts from us and 3rd parties based on our understanding. You can unsubscribe at any time. More info
Following in the footsteps of famous screen characters is a pastime for many, with attractions like the Warner Bros Studio Tour bringing in Harry Potter fans over and over again, and themed tours booking up all around the country.
Joining an Outlander or Game of Thrones tour is not for everyone, however.
For visitors who would like to see filming locations at their own pace, Perrys has released a new tool.
Mapping film and TV locations easily accessible around the UK, the new tool can help plan a visit to iconic sites linked to well-known series and films.
The TV & Film Staycation Locations spotlights places that are the perfect starting point for a wider exploration of a region, from a castle in Scotland to Central London, via Belfast and a Welsh beach.
Popular film and TV featured include Bridgerton, Doctor Who, The Dark Knight Rises and Game of Thrones, among others.
The full list of film and TV locations that Perrys highlights in its new tools are:
Skyfall
Key filming spot: Glen Etive in Glencoe, Argyll, Scotland
Trainspotting
Key filming spots: Princes Street, Edinburgh Airport in Edinburg
Line of Duty
Key filming spots: Belfast City Hall, Invest NI, Royal Mail HQ, BT Headquarters in Belfast, County Down
Game of Thrones
Key filming spots: Castle Ward, Inch Abbey in Downpatrick, County Down
Harry Potter
Key filming spot: Alnwick Castle in Alnwick, Northumberland
Mary Queen of Scots
Key filming spot: Hardwick Hall in Chesterfield, Derbyshire
Theory of Everything
Key filming spots: Kings College Chapel, Kitchen Bridge in Cambridge
Love Actually
Key filming spots: Selfridges, Oxford Street, Grosvenor Chapel, Somerset House, Trafalgar Square in London
The Holiday
Key filming spots: The Tillingbourne stream, St James Church in Shere, Surrey
Bridgerton
Key filming spot: Painshill Park in Cobham, Surrey
Maleficient
Key filming spot: Ashbridge Estate in Berkhamsted, Hertfordshire
The Vicar of Dibley
Key filming spots: St Mary the Virgin Church, The Bull and Butcher Inn, Windmill Cottage, Chiltern Hills in Turville, Buckinghamshire
Gladiator
Key filming spot: Bourne Wood in Farnham, Surrey
Downtown Abbey
Key filming spots: Church Street, Lacock Abbey in Lacock, Wiltshire
Star Wars: The Force Awakens
Key filming spot: Puzzlewood in the Forest of Dean, Gloucestershire
Sex Education
Key filming spots: The Chalet Symonds Yat, The River Wye, The Saracens Head Inn in Symonds Yat, Herefordshire
Doc Martin
Key filming spots: Fern Cottage, Doydens Castle in Port Isaac, Cornwall
Poldark
Key filming spots: The Crowns, Wheal Owles, Levant Mine in St Just, Cornwall
Doctor Who
Key filming spots: Tredegar House, Victoria Place, St Woolos cemetery, Duffryn High School in Newport, Monmouthshire
The Dark Knight Rises
Key filming spot: Henrhyd Falls in Brecon Beacons, Powys
Robin Hood
Key filming spot: Freshwater East Beach in Pembroke, Pembrokeshire
Source: Read Full Article