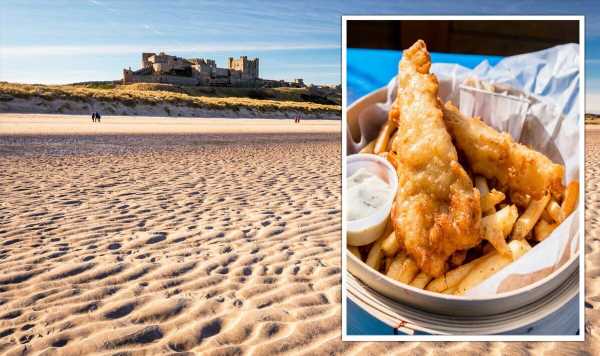 The history of fish and chips explained
We use your sign-up to provide content in ways you've consented to and to improve our understanding of you. This may include adverts from us and 3rd parties based on our understanding. You can unsubscribe at any time. More info
The British seaside is one of the coolest places in the UK to wait out the heatwave. New research has found the region with the best fish and chips.
Parkdean Resorts ranked regions based on the price of fish and chips, the size of portions and the percentage of excellent reviews on Tripadvisor.
Best fish and chips in the UK (Parkdean Resorts)
North East
Yorkshire and the Humber
North West
Wales
Scotland
East Midlands
London
South West
West Midlands
South East
The North East was the resounding winner and is the area where the UK's best fish and chips can be found.
The average price of a battered cod in the North East is just £5.57 while almost 60 percent of people ranked chippys in the area as excellent.
Bamburgh beach is one of the best rated beaches in the UK and could be the perfect spot to enjoy a fish and chip supper.
Tourists have many stunning beaches to choose from with Northumberland's coastline ranked as one of the most beautiful in the UK.
| | |
| --- | --- |
| Holiday: Robbers unlikely to steal' valuables hidden in simple item | |
Yorkshire and the Humber ranked in second place and an average haddock costs just £5.80 in the region.
Over 60 percent of people rated the fish and chips in the region as excellent on Tripadvisor.
Tourists could head to Whitby to enjoy a day by the sea in Yorkshire, an easy journey from Leeds or Hull.
Scarborough is one of the UK's favourite seaside towns and offers tourists excellent fish and chips as well as arcades and shops.
The North-West had the third best ranked fish and chips in the UK with just under 60 percent of people ranking the meal as excellent.
A portion of cod was just £5.69 in the North West while haddock was slightly more at £5.82.
One of the UK's busiest seaside resorts, Blackpool is known for having a delicious range of chippys.
For a quieter spot, tourists could head to the Wirral Peninsula to enjoy unspoilt beaches and picturesque dunes.
While the South West and East have many popular beaches, their fish and chips didn't rank highly in the ratings.
The meal is far more expensive in the south on average with haddock averaging around £6.47 in the south west.
London also didn't rank well in the scores and has the most expensive fish and chips with the average cost of haddock a whopping £8.02.
However, Londoners can always escape the city for the day and travel to another region to enjoy a fish and chip supper.
Source: Read Full Article