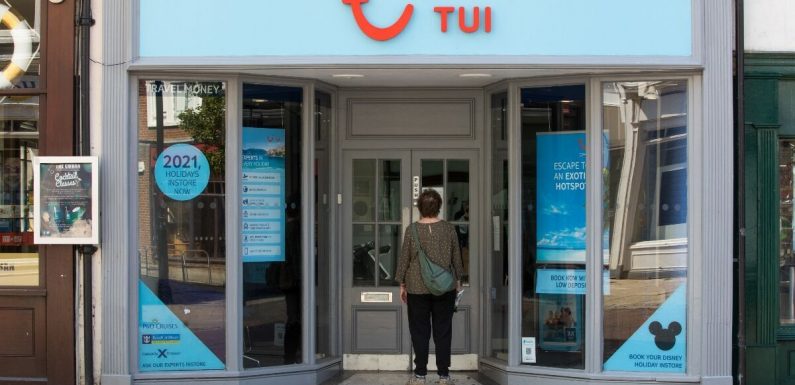 Martin Lewis issues advice on travel and refunds
We use your sign-up to provide content in ways you've consented to and to improve our understanding of you. This may include adverts from us and 3rd parties based on our understanding. You can unsubscribe at any time. More info
TUI is one of the UK's most popular holiday companies and many British passengers are expected to fly with the airline this year. However, passengers have been advised to bring their own food.
TUI's statement said: "We can confirm that unfortunately due to staff shortages with our catering supplier, there may be limited food and drinks services available onboard TUI Airways short and mid-haul flights over the coming days.
"Customers may therefore want to bring their own food and soft drinks onboard (no alcohol permitted.
"Any soft drinks over 100ml will need to be purchased after you have passed through security.
"Please note this disruption does not affect any long-haul flights to Aruba, Costa Rica, Cuba, Dominican Republic, Jamaica, Mexico, Orlando and St Lucia and meal services on these flights will continue to operate as normal.
"Please be assured we are continuously monitoring the situation and working closely with our suppliers to limit the impact to the onboard service for our customers.
"We are directly contacting all customers impacted. We're very sorry for any inconvenience caused."
Customers who will be impacted by food shortages should have been contacted by the airline ahead of their flight.
Long-haul passengers should not be affected by the issues and will not need to bring their own food.
According to the company's website, short-haul passengers should usually be able to purchase cafe-style food.
This includes hot and cold snacks as well as a full bar service with options such as shortbread biscuits and crisps.
Passengers should be aware they will not be able to bring any bottles over 100ml through security.
Any larger drinks will need to be bought after security from one of the airport's shops.
The travel industry has been hit with severe staff shortages over the last few weeks which have caused chaos for customers.
Passengers at Manchester and Heathrow airports have faced delays due to issues in staffing at both airports.
British Airways and easyJet have cancelled many flights per day as the airlines struggle to cope with employee sickness.
During the pandemic, many travel workers left the industry and may have since found other work.
In April, TUI advised its passengers to travel to the airport earlier than usual due to security queue delays.
Passengers for Manchester airport were advised that check in opens three hours before a short-haul flight.
It advised passengers not to arrive at the airport before the three hour slot as they would not be able to check in.
Britons are advised to check their bag for liquids and remove shoes and jackets for a smooth security experience.
Source: Read Full Article