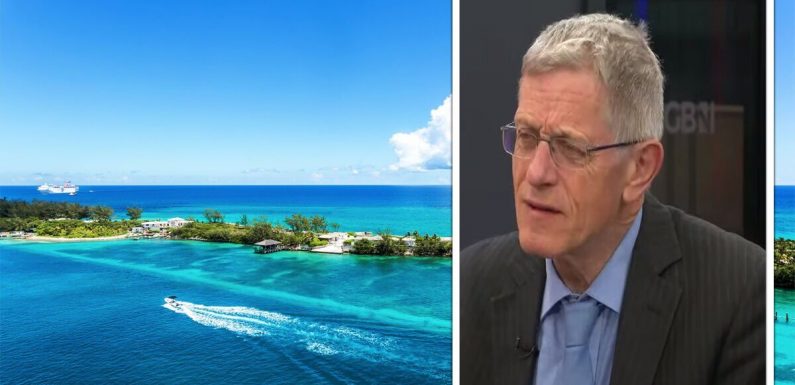 The Travel Show: Simon Calder shares his money saving tips
We use your sign-up to provide content in ways you've consented to and to improve our understanding of you. This may include adverts from us and 3rd parties based on our understanding. You can unsubscribe at any time. More info
Police in the Bahamas are investigating the deaths of three American tourists which may have been caused by a faulty air conditioning unit. Simon Calder told Eamonn and Isabel on GB News how tourists can protect themselves from similar risks.
Simon said: "What we know about this tragedy is that it was at the Emerald Bay resort and Sandals has told me that with great sadness, 'we can confirm the passing of three guests on May 6'."
He said that Sandals is supporting the investigation and the family and said "safety was the most important thing for their guests".
Eamonn asked Simon if he had any more information on the tragic incident at the Sandals resort.
Simon said: "We are thousands of miles away and there will be experts on the site. There are reports that seem to be coming from the health minister that it was some kind of problem with a toxic coolant leaking.
"We have no idea if that is the case of course, and there will be investigations continuing. "There are very sad, kind of echoes of the tragic case that we found about in August 2018, when a British couple from Lancashire were very sadly found dead at the Aqua Magic Hotel in Hurghada in Egypt.
"Again, effectively there was an inquest that was held and the conclusion was mixed.
"Although the British safety experts said there seemed to be some kind of toxic substance that had leaked into their room possibly by the air conditioner."
Susan and John Cooper passed away within hours of each other at the Egyptian resort in 2018.
Eamonn said that tourists wouldn't think to check the air conditioner and asked Simon: "What do you do when you're checking into your room?"
Simon said: "These things are fortunately so rare, it's something I simply don't worry about.
"The first thing I do in any hotel is work out exactly where the fire exits are and how I'm going to get out in an emergency.
"That's a much more significant risk. The way that these things work is that of course every country has its own rules that have to be followed.
"But above all that, the package travel regulations in the UK mean that if you are going with a British company, TUI, Jet2, Virgin Holidays or whoever, they have a duty of care absolutely to make sure that you are going to be safe.
"So they will actually go round with their own very rigorous safety inspections but ultimately very sadly there is no way to be absolutely sure what the condition of the equipment is and if there is one in a million faults that happens, it's very very difficult to prevent that completely."
Isabel said she always took a carbon monoxide detector on holiday after hearing stories about incidents.
The investigation of the Bahamas deaths is still underway and police said victims showed "signs of convulsion".
Sandals has said: "A health emergency was initially reported and following the protocols, we immediately alerted emergency medical professionals and relevant local authorities to provide support and investigate the situation.
"We are actively working to support both the investigation as well as the guests' families in every way possible during this difficult time."
Source: Read Full Article