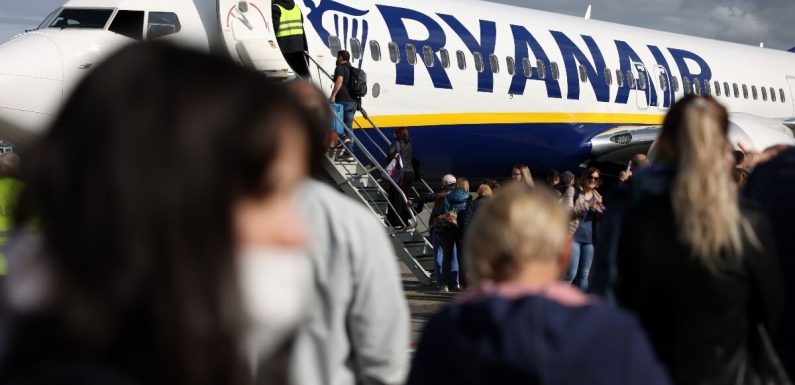 Simon Calder outlines five tips for booking a staycation online
We use your sign-up to provide content in ways you've consented to and to improve our understanding of you. This may include adverts from us and 3rd parties based on our understanding. You can unsubscribe at any time. More info
The EU announced yesterday that face masks will no longer be mandatory in flights and airports from May 16. However, it is still encouraging passengers to wear one.
Ryanair CEO, Eddie Wilson, said: "We welcome this rule relaxation from EASA and the ECDC effective from Monday May 16.
"From that date, face masks will be optional on all Ryanair flights except those flights to/from the 15 EU states where masks remain mandatory on public transport.
"We expect these states to relax their face mask rules over the coming days in line with these new health guidelines from EASA and the ECDC.
"Intending passengers can check the latest EU face mask regulations on the Re-Open EU website."
15 countries where Ryanair passengers have to wear a mask
Austria
Cyprus
Czechia
Estonia
France
Germany
Greece
Italy
Latvia
Luxembourg
Malta
Netherlands
Portugal
Spain
EU authorities are encouraging passengers to keep wearing masks as a precautionary measure.
EASA executive director, Patrick Ky said: "From next week, face masks will no longer need to be mandatory in air travel in all cases, broadly aligning with the changing requirements of national authorities across Europe for public transport.
"For passengers and air crews, this is a big step forward in the normalisation of air travel.
"Passengers should however behave responsibly and respect the choices of others around them.
"And a passenger who is coughing and sneezing should strongly consider wearing a face mask, for the reassurance of those seated nearby."
Vulnerable passengers are also advised to keep wearing a mask on planes to protect themselves.
Face mask rules will vary across European destinations and passengers are advised to check before travel.
Britons must wear a face mask on public transport in Spain as well as visiting medical or healthcare facilities.
Portugal no longer requires tourists to wear face masks in shops and restaurants although people should still exercise caution.
Tourists in Greece must wear a face mask in all indoor spaces and must wear an FPP2 mask on public transport.
In the UK, passengers are not required to wear face masks in airports or on planes but airlines may have their own rules.
Passengers should check their airline's rules before flying as well as those in their destination.
Source: Read Full Article