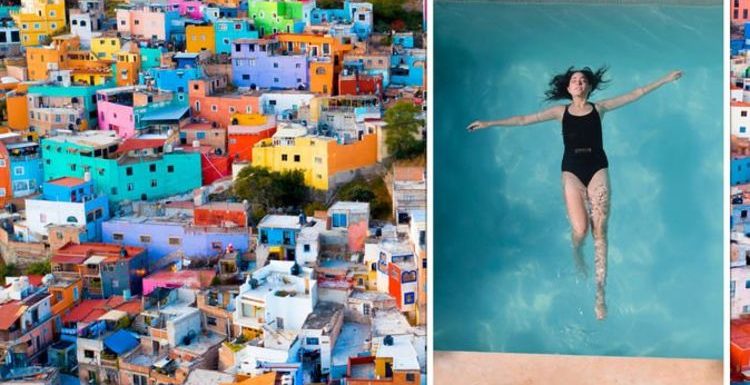 Mexico: Archaeologists discover 'treasure trove' under Chichen Itza
We use your sign-up to provide content in ways you've consented to and to improve our understanding of you. This may include adverts from us and 3rd parties based on our understanding. You can unsubscribe at any time. More info
There are few places left in the world where holidaymakers can enjoy hassle-free travel. The world seems to be closing up again, with many countries partially re-closing their borders, or re-introducing travel restrictions and requirements for visitors.
One country which is not going to follow the dash for borders' closure is Mexico.
Mexico's deputy health secretary has said some of the measures taken around the world were "disproportionate".
"It has not been shown to be more virulent or to evade the immune response induced by vaccines," he said in a Twitter post on Saturday.
"Travel restrictions or border closures are not very useful measures. They affect the economy and well-being of people."
Mexico is one of the few countries without travel restrictions.
'Everything on your doorstep': Expat life in Andorra
Promising winter sun, beach and plenty of culture to discover, the country may be the best and safest bet for holidaymakers wanting to plan hassle-free holidays.
Before the Omicron variants, the UNWTO Travel Restrictions Report found a fifth of the world was completely closed off to tourists.
The report also found four countries which had completely lifted travel restrictions, Colombia, Costa Rica, Dominican Republic and Mexico.
Costa Rica, while not putting in restrictions at its borders has announced proof of vaccination will be required to enter businesses.
The country's tourism association said businesses "may admit only persons who are verifiably fully-vaccinated (Moderna, Pfizer-BioNTech, AstraZeneca (and) Janssen)" from January 8.
"Unvaccinated tourists 12 years and older will not be allowed to enter commercial establishments as of January 8."
The new restrictions come in as the world was slowly reopening again.
Australia and "fortress New Zealand" recently announced their plans for their borders to reopen to foreigners.
Australia has already reacted to Omicron by pausing its next phase of border reopening.
The Asia Pacific region was found by the UNWTO report to be the least open to tourism.
Europe was the most open global region, but the next report may see this status changed with the range of new restrictions being put in place all over the continent.
The President of the EU Commission, Ursula von der Leyen tweeted: "The
EU Commission will propose, in close coordination with Member States, to activate the emergency brake to stop air travel from the southern African region due to the variant of concern B.1.1.529."
Travel has since been banned from southern Africa.
UNWTO secretary general, Zurab Pololikashvili, said: "The safe easing or lifting of restrictions on travel are essential for the restart of tourism and the return of the social and economic benefits the sector offers.
"The trend towards destinations taking evidence-based approaches to restrictions reflects the evolving nature of the pandemic will also help restore confidence in travel while helping keep both tourists and tourism workers safe."
Travel has been predicted to be impacted until 2024.
Source: Read Full Article