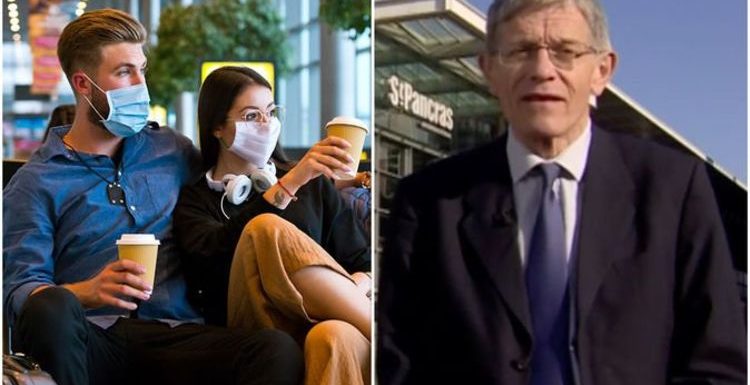 Simon Calder says consumer confidence 'destroyed' by travel rules
We use your sign-up to provide content in ways you've consented to and to improve our understanding of you. This may include adverts from us and 3rd parties based on our understanding. You can unsubscribe at any time. More info
Last-minute rule changes have become common when it comes to international travel, causing chaos for hopeful holidaymakers. Back in May, the Government rapidly removed green list status for Portugal, sparking a flurry of Britons desperately trying to get home before the quarantine rules came into place. Most recently, late on Friday evening, Secretary of State for Transport Grant Shapps revealed the Government would be axing its quarantine exception for double-jabbed travellers heading to France – despite the nation being categorised as "amber".
As a result, many double-jabbed Britons who were due to visit France may have to rethink their plans if they hope to avoid 10 days of mandatory self-isolation.
It's this constant uncertainty that has led travel expert Simon Calder to warn Britons against pre-booking overseas ventures.
Speaking on his Travel Radio podcast 'Your Travel Questions Answered' alongside Paul Charles, CEO of the PC Agency, he said the "anticipation" of a holiday was rapidly turning to "apprehension".
Mr Calder slammed the last-minute nature of the Government's most recent update regarding quarantine when returning from France.
"I was one of the many people who was due to go to France," he said.
"Luckily, I am so old school that I was about to do the traditional thing where you catch a train to the coast.
"I was going to get to Newhaven, I was going to go up to the ticket desk in the port and say I would like to go to Dieppe, please.
"And so I booked absolutely nothing partly because everything is so up in the air that not committing to things is unfortunately a good strategy.
DON'T MISS
France, Spain, Portugal, Greece & Italy: FCDO travel advice [TRAVEL ADVICE]
Holiday hell as fire in Spain forces hundreds to evacuate [INSIGHT]
Quarantine: Briton trapped in Spain hotel warns against holidays [VIDEO]
"I say this as somebody who absolutely loves and used travel agents.
"I love the anticipation of any holiday, and that is a really important component, but at the moment the more I speak to people who have got trips booked the more this wonderful sense of anticipation is being replaced by apprehension."
In agreement, Mr Charles has said the Government's approach to travel rules have become "confusing" and "ridiculous".
He said: "I think Friday evening? Eight o'clock? Government announcement? And tens of thousands, if not hundreds of thousands, of people about to go away to France on Saturday, on change over day.
"What a ridiculous time to announce it."
Mr Charles said holidays are now filled with "anxiety and financial stress, financial loss, [and holidaymakers] worrying about whether or not they're going to get their test result back in time."
He continued: "[Travellers] are worrying about whether they're going to get their test result back in time.
"Worrying about whether their travel provider will give them a refund or enable them to rebook easily."
From July 19, the Government has changed the rules to allow double-jabbed Britons to return from amber list countries without the need for quarantine.
However, they will still need to take a pre-departure PCR test and a Covid test on day two of their return.
For France, though, this is no longer the case due to concerns about the Beta variant originally detected in South Africa.
Now, the nation has been placed on the so-called "Amber plus" list, meaning they face quarantine regardless of their vaccination status.
They will also be required to book, pay for and take a PCR test on day two and day eight of their quarantine period.
In a statement, the transport secretary said: "Travel will be different this year and whilst we are committed to continuing to open up international travel safely, our absolute priority is to protect public health here in the UK.
"We urge everyone thinking about going abroad this summer to check their terms and conditions as well as the travel restrictions abroad before they go."
Source: Read Full Article