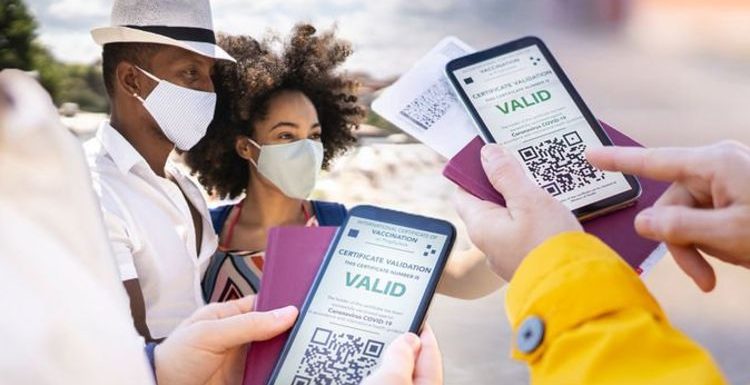 Holidays: Expert on possibility of travel for vaccinated Brits
When you subscribe we will use the information you provide to send you these newsletters. Sometimes they'll include recommendations for other related newsletters or services we offer. Our Privacy Notice explains more about how we use your data, and your rights. You can unsubscribe at any time.
The future of holidays remains uncertain for many with the Government expected to give its next update on the traffic light travel system on or around Thursday, June 24. Ahead of this, Secretary of State for Health Matt Hancock has suggested ministers are reviewing the 10 day self-isolation period for travellers who have been fully vaccinated.
While it is not clear whether or not this will go ahead, travel experts are calling for the decision to be made sooner rather than later.
One such expert is Paul Charles, CEO of the PC Agency, who believes quarantine should be removed for double jabbed Britons as of June 19 – the next scheduled "freedom day".
Posting to Twitter, he said: "Looks like we will see an announcement on Thursday that fully jabbed #UK citizens won't have to quarantine when returning from Amber-listed countries, from August.
"But a test of some kind will still be needed. Progress."
He added: "As the World Travel and Tourism Council (WTTC) is calling for, Monday, July 19 should be the day fully vaccinated UK citizens can travel overseas without needing to quarantine on their return (from non-red zones)."
The WTTC has been calling for action from the Government for some time to help reunite people with friends and family, and ultimately recover the near-obliterated travel sector.
In an open letter to Prime Minister Boris Johnson, the organisation called for international travel to be reopened "by allowing fully vaccinated citizens to travel freely without quarantine."
They also say PCR testing requirements should be removed "for vaccinated travellers coming from countries on the 'green list' and replace by a rapid test on arrival, or no test."
DON'T MISS
Holiday hotspots vaccinated Brits could visit – if Amber list binned [FULL LIST]
Flights: Jet2, TUI, Ryanair, and easyJet cancellation updates [UPDATE]
Thomas Cook chief predicts huge holiday breakthrough for summer [COMMENT]
The WTTC believe only one test on arrival should be required for those coming from countries on the amber list "instead of the current requirement of mandatory tests on day two and day eight".
This is due to the high costs which are out of reach for many people and thus "restrict" the ability to travel.
The WTTC concludes the Government should "align on a date to relaunch international travel – announce on June 24 intention to open up
from July 19, in line with the final unlocking of social measures in England."
Speaking on Thursday, Mr Hancock said he is "in favour of moving forward in this area" and replacing quarantine measures with daily testing.
However, he warned: "This has not been clinically advised yet – we are working on it.
The Health Secretary continued: "We're working on plans to essentially allow the vaccine to bring back some of the freedoms that have had to be restricted to keep people safe.
"After all, that is the whole purpose of the vaccination programme, that's why it is so important that every adult goes out and gets the jab."
However, despite calls from industry experts, Mr Hancock did not say whether or not this new direction could aid summer holidays.
He said these kinds of changes will only be brought into force "when it's safe to do so."
The Prime Minister has also given a rather bleak outlook for travel in 2021.
On a visit to a laboratory in Hertfordshire, he said Britons would face a "difficult year for travel".
Experts have also called for the green list to expand at the next review.
On Twitter, Mr Charles stated: "Higher vaccination rates, especially in Europe, are reducing 14-day infection rates to the point where it's still obvious several destinations should be on the green list."
Source: Read Full Article