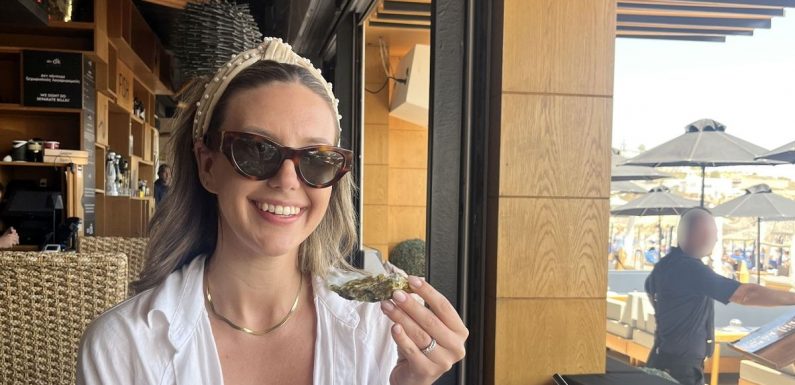 Unwitting tourists have been warned about dining at a specific Greek restaurant by Tripadvisor who say to be careful if you plan to dine at the venue.
The website added a "safety warning" to its page for Mykonos eatery DK Oyster following a mass of fuming complaints over pricing.
One woman was gobsmacked to be charged a whopping £50 for a glass of "undrinkable" lemonade – though the restaurant hit back.
Just this week the restaurant was again accused of charging very high prices without customers knowing what they were getting into, reports the Mirror.
The added warning reads: "Tripadvisor has been made aware of recent media reports or events concerning this property which may not be reflected in reviews found on this listing.
"Accordingly, you may wish to perform additional research for information about this property when making your travel plans."
Just this week Jessica Yarnall, 31, and Adam Hagaun, 30, claim they were hit with a staggering 800 euro bill (approximately £710) for two drinks, four crab legs and a salad at a notorious Greek restaurant.
The couple said they believed cocktails to be 25 euros each when they ordered, but after enjoying two mojitos, four crab legs and a Greek salad, they were handed a bill for a staggering 800 euros, they claim.
When they challenged the bill, they claim staff produced a 'shot glass' drink that they said was an example of the 25 euro mojito and informed them that their mojitos were different ones, at 100 euros per drink, the couple have said.
Hair stylist Jessica says she was left in disbelief at the shocking sum, but said staff insisted that they paid up so they settled the bill in cash and left.
On their website, DK Oyster bar – which is beside Platys Gialos beach – is described as the "destination of luxury and style" in "one of the world's top destinations".
Last year a honeymooning couple were left outraged when they were handed a 400 euro bill for a 'quick snack' after having just one beer, one cocktail and a dozen oysters at the restaurant.
Newlyweds Lindsay Breen and husband Alex, claimed that staff at the restauran failed to give them a drinks menu with prices on it before shocking them with the astronomical sum.
Recruiter Lindsay says they had just popped in for a mid-afternoon snack and were in disbelief when they realised they were being charged 400 euros for a beer, an Aperol spritz and 12 oysters
Previously Londoner Jak Kypri was enjoying a break on the Greek island when he visited the beach restaurant.
Jak said waiters didn't offer him a menu when he sat down, instead telling him what they had.
He then went on to order two tequilas, two beers and some shrimp which, when it arrived, only included "six prawns".
It left a hole in his wallet though after he was charged a whopping £360.
After he was billed, Jak asked to see the menu and saw that while the prices were higher than other restaurants on the island, they were still nowhere near the ridiculous figure he'd been handed that night.
He then alleges that staff became angry when he contested the prices.
"I told the waiter, 'no, I'm giving you 65 euros at most,' and I slammed it down on the table," he said
"They became aggressive and started crowding around me when I questioned the astronomic and unjustified prices.
"I thought, I'm an 18-stone guy, I speak Greek, I won't be intimidated."
Another visitor known as Cheryl Lamphere, 43, was on holiday in Mykonos when she claimed her group of friends were mislead, intimated, and scammed into paying over £1,300 for two dishes, salad and bread at DK Oyster.
Popular UK festival faces shutdown as cash-strapped Brits fail to buy tickets
Cheryl claims they were briefly showed the menu before a waiter rushed the group in and forced them to order as soon as they sat down.
The group ordered one plate of calamari, one order of lobster pasta, a salad, and bread at the restaurant.
In another case back in 2019, an unwitting tourist was charged £521 for just six pieces of calamari .
Earlier this week DK Oyster bar owner Dimitrios Kalamaras said Jessica's account was inaccurate, but refused to state which part he was referring to.
DK Oyster did not respond to the Daily Star when asked to comment.
READ NEXT:
Woman with 'biggest lips in world' has scores of fans offering to fly her on holiday

'I avoided beaches because my body wasn't perfect – but now I proudly wear bikinis'

'It's hard being an influencer on holiday – I can't relax without taking two pics a day'

Cheeky couple fund bucket list trip around Africa by flogging amateur porn
Source: Read Full Article