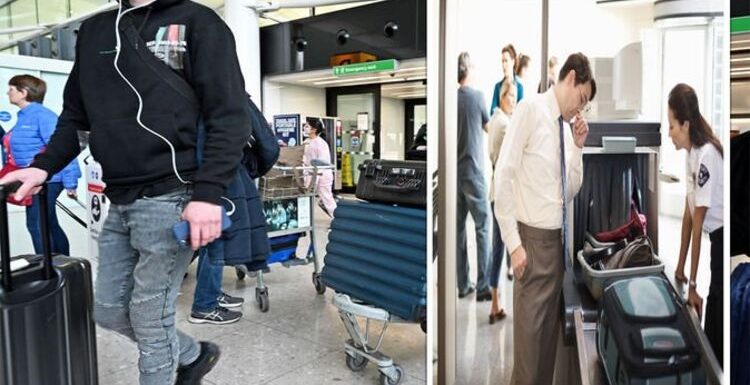 Travel: Expert warns of disruption to UK aviation
We use your sign-up to provide content in ways you've consented to and to improve our understanding of you. This may include adverts from us and 3rd parties based on our understanding. You can unsubscribe at any time. More info
Manchester Airport has seen chaotic scenes at security with huge delays. British Airways and easyJet have also cancelled a lot of flights.
Shahzad Ali, CEO at Get Licensed, said: "The airport issues are down to a number of factors, but the main one is due to a lack of security personnel.
"Staffing and recruitment issues have affected every sector as we see a return to normality following the pandemic, but one industry still catching up is security.
"This causes major issues, especially when security is vital in almost every sector from supermarkets to travel."
While tourists are limited in what they can do to avoid the chaos, Shahzad shared his top tips to get through security speedily.
He said: "Often if there is more than one security officer at an x-ray machine, chances are one is a trainee, so the line may go a little slower."
Although it might seem like a better option to go to a machine with more staff, it could actually be a slower process.
As airports rush to recruit new staff to cope with demand, there could be many more staff training at security.
He added: "Spot the right queue. Believe it or not, business travellers usually get through security quicker as they have less baggage.
"When picking a queue, try to keep an eye out for business flyers."
Business travellers might be more smartly dressed than the average tourist so could be easy to spot.
They might only have a small laptop case or handbag so aren't likely to take as long at security.
However, as the Easter holiday season takes off, most people in the security queues will likely be tourists rather than business travellers.
Shahzad said: "Make sure your clear plastic bag isn't covered up by anything in the tray.
"If it's seen to be covered or looks like it's hidden inside a bag, you are more likely to be stopped and checked.
"Make sure your clear plastic bag and belongings are separate in a tray."
Keeping the clear plastic bag containing toiletries visible in the security tray might help passengers get through the process more quickly.
Tourists should also make sure they have already ditched any liquids that are over 100ml before security.
Shahzad added: "It makes it so much easier and quicker for security if you prep your carry-on luggage and remove any restricted items.
"Wear sensible shoes (slip on are the easiest) and remove any jewellery, belts and glasses.
"Also make sure you have your liquids in a clear plastic bag. Take an extra 10 minutes to prepare your bag and make everything quicker for yourself and security."
Wearing slip on shoes and removing accessories in advance could save Britons costly minutes at airport security this Easter.
Source: Read Full Article