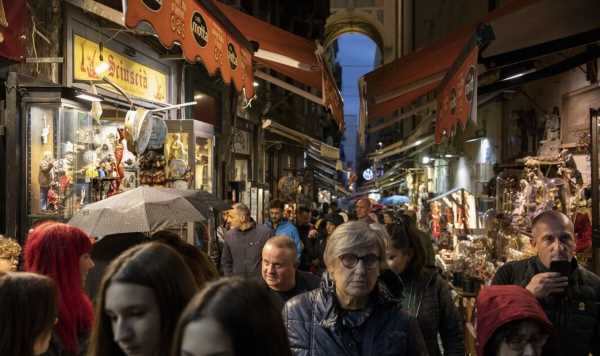 We use your sign-up to provide content in ways you've consented to and to improve our understanding of you. This may include adverts from us and 3rd parties based on our understanding. You can unsubscribe at any time. More info
Naples is one of Italy's top tourist destinations and many people travel to visit the city's Christmas markets. However, the city is set to bring in new rules for tourists.
The southern Italian city has now banned people from walking in certain directions to control the crowds.
Tourists will have to follow a one-way system on some of the city's ancient roads to stop overcrowding.
Naples' 'decumani' or ancient roads date back to Roman times and can get extremely congested.
Some of the worst overcrowding occurs on San Gregorio Armeno, which displays ornate Nativity scenes during Christmas.
The street's souvenirs are popular with tourists as they can be purchased with different celebrities featured.
The council told CNN: "The streets are mainly without sidewalks and are visited by high numbers of tourists in the Christmas period, leading to situations of exceptional crowding, because of the vast foot traffic."
It added that the overcrowding was a "risk for public and private safety" and compromised citizens' safety.
The one-way system was previously used during the Covid pandemic when people needed to social distance.
Naples isn't the only Italian destination to bring in strict tourist rules with several hotspots introducing unusual new restrictions.
Sorrento, on the Amalfi coast, introduced a new dress code banning tourists from walking around topless or in bikinis.
The Amalfi coast also brought in a summer numberplate system to control the number of cars on the scenic coastal roads.
Venice is set to bring in a charge for daytrippers in a bid to control the number of tourists entering the city.
The charge is expected to be introduced in 2023 and will see visitors pay to explore the city for the day.
Overnight visitors already pay a fee to stay in Venice while cruise ships are banned from the lagoon.
Cruise ships now have to dock in nearby ports such as Ravenna before guests get buses or trains into Venice.
Overtourism is a worry in many areas of the world and Fodor created a No Go list this year of destinations that need a break from tourists.
Fodor's 'No' List Tourists
France's eroding coastline
Lake Tahoe, California
Antarctica
Suffering cultural hotspots (Barcelona, Paris, Dubrovnik)
Venice and the Amalfi Coast
Cornwall
Amsterdam
Thailand (Maya Bay and Koh Tao)
Maui, Hawaii
The American West
Source: Read Full Article