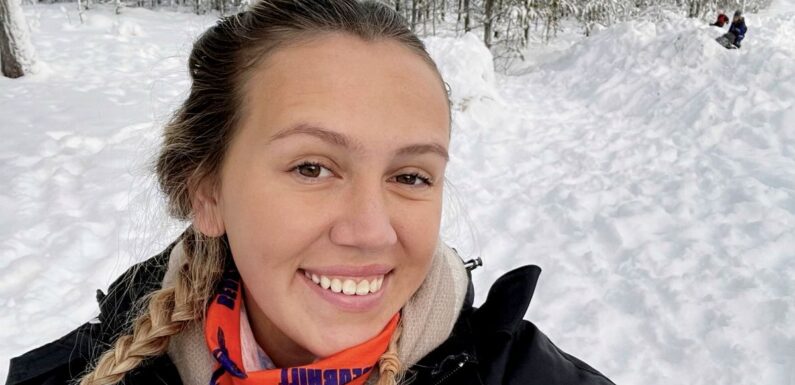 We all dream of having no bills and being able to save money to travel the world – but for one 20-year-old that's actually a reality.
Lauren Kirby, 20, has already visited 20 countries around the world, having fallen in love with travel after a sabbatical from her job in a nursery. She managed to save £6k to fund more travels after spotting an advert for a childcare rep on TikTok, which allowed her to live abroad for free.
TUI, who had hired the role, paid for Lauren's accommodation, flights, food and bills and paid her a minimum wage – about £826 a month – while she lived in Corfu. It meant she could save £2.5k which she then used to fund travels to Portugal, Finland and Mexico.
READ MORE: 'I travel with 'Mom I'm fine' sign – even diving with sharks or on deadly mountains'
READ MORE: 'I work in a haunted hotel – I've found guests' vintage cocaine kits and see ghosts'
Lauren flew out to Greece in August 2022 and spent her days on the beach and exploring the island – while being paid. She said: "I didn't have to pay my bills or anything. I saved all my wage. I had a beach side apartment and one-and-half days off." She was often able to finish earlier in the afternoon so she could enjoy full evenings.
In February 2023, Lauren went to Sharm El-Sheikh, Egypt, to work as a WHAT and saved £3.5k – as she was able to put away most of her salary. She had her accommodation covered again – and even her medical insurance – meaning she could save £3.5k to go travelling afterwards. Lauren said: "We went to the pyramids at the end."
Now she uses her savings to travel and visited 20 countries before she turned 20. Lauren, who works part-time at nursery, and lives in Maidstone, Kent, said: "I loved it. I'd recommend it. People think travelling is expensive but it doesn't have to be."
She decided to set herself a goal of visiting 20 countries before she turned 20, which she impressively achieved. She added: "I loved Portugal and Lake Bled in Finland. Everywhere is on my to do list. I'm always on Skyscanner." Lauren already has trips to Bali, LA and Australia lined up and is keeping her eyes peeled for other seasonal jobs to fund her love of travelling.
While living abroad for free isn't a possibility for everyone, the good news is that you don't need to break the bank to go exploring. For example, Athens in Greece was recently named Europe's most affordable city, boasting the likes of £1.37 beers and hotel stays from £89, making it an ideal location if you want to travel but have a tight budget.
If you are looking for a longer adventure then you may want to take notes from Hailey Learmonth, a 25-year-old from Canada who has managed to save £10,000 to travel around Australia simply by offering to look after people's pets and homes for between six days and three months.
Countries Lauren has visited
Portugal – Lisbon/ Ericeira
Greece – Corfu, Rhodes, Kos
Spain – Tenerife, Reus
Italy – Amalfi Coast, Naples, Capri, Venice, Milan, Pompeii, Ischia
France – Paris, Marseille
Hungary – Budapest
Iceland – Reykjavik
Netherlands – Amsterdam
Mexico – Playa del Carmen
Finland – Helsinki, Rovaniemi (Lapland)
Estonia – Tallinn
Austria – Vienna, Hallstatt
Slovenia – Lake Bled
Switzerland – Zermatt
Egypt – Sharm el Shiekh, Cairo
Ireland – Dublin
Scotland – Loch Lomond
United States – Florida, New York
Norway – Oslo
Wales
Source: Read Full Article