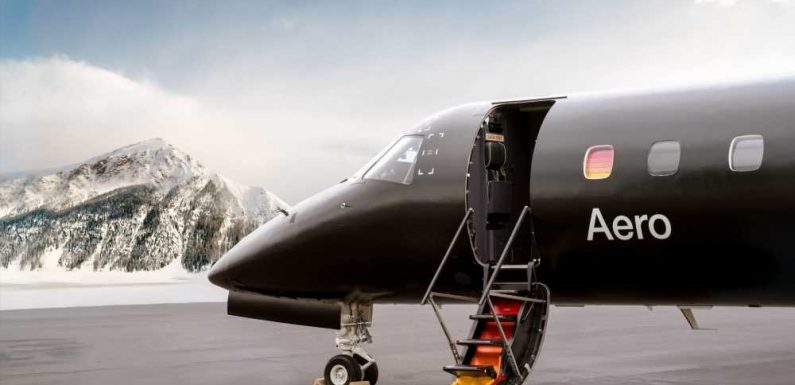 As the travel industry continues to evolve throughout the COVID-19 pandemic, privacy — once thought of as an exclusive and luxurious amenity — has become a priority for those looking for a safe and relaxing trip. 
Enter Aero, a semi-private luxury jet startup by Uber co-founder Garrett Camp. Currently offering a single route between Los Angeles and Aspen, on a sleek black plane, the airline is striking the balance between the need to adhere to new travel protocols as well as guaranteeing a seamless, A-list experience. 
Load Error
At $1,250 a flight, each trip is complete with white-glove luggage service, individualized curbside greeting, and a car service booking with your favorite snack and cocktail waiting for you. The private experience also nixes any hassle that comes along with a crowded airport. Aero customers can arrive at the private terminal 30 minutes before takeoff. 
Aero requires a pre-flight COVID-19 test and passenger capacity is set at 16. Guests onboard will enjoy seating designed for social distancing — with 2 meters in between passengers and 43 inches of legroom — minimized touchpoints, hand-stitched Italian leather seats, and suede interior walls. 
Passengers also have exclusive access to Aero's partners including W Hotel Aspen and trendy hospitality group Catch for a night out.
CEO of Aero, Uma Subramanian, also a veteran aerospace engineer, caught up with Travel + Leisure recently explaining how the company has navigated the needs of travel lovers while keeping luxury as well as accessibility at the forefront.
Video: What to Expect Air Travel to Look Like This Summer (Inside Edition)
Child Among Those Killed After Plane Crashes and Lands on Car

Inside Edition


Firefighters 'Rescue' Herd of Goats 'Trapped' on Roof in Colombia

Inside Edition


8 People Dead and Suspect in Custody After Atlanta-Area Spa Attacks

Inside Edition


New Banksy Mural on Reading Prison Wall Defaced With Dead Rival's Tag

Inside Edition


Couple Shoots Hockey Pucks to Reveal Their Baby's Gender

Inside Edition


Florida Homecoming Queen Accused of Rigging Votes With Mother's Help

Inside Edition


Baby Survives Being Shot in Head by Houston Cops as They Chased Robbery Suspect

Inside Edition


What to Expect Air Travel to Look Like This Summer

Inside Edition


Elliot Page Says Top Surgery 'Completely Transformed' His Life

Inside Edition


Woman Dead After 17-Year-Old Crashes Lamborghini SUV Into Her Car

Inside Edition


Michelle Obama Unsurprised by Meghan Markle's Reports of Royal Racial Tension

Inside Edition


Replica of 'The Mandalorian' Razor Crest on Display in Park in Russia

Inside Edition


Airline Employee Tears Up After Lost Buzz Lightyear Toy's Returned to 2-Year-Old

Inside Edition


Teen Sentenced in 'Slender Man' Case Wants Early Release From Wisconsin Facility

Inside Edition


Beauty Queen Who Was Found at Airport as a Baby Reconnects With Birth Mother

Inside Edition


Dr. Oz's Reunion With the Stranger Whose Life He Saved at Newark Airport

Inside Edition


Child Among Those Killed After Plane Crashes and Lands on Car
A 4-year-old boy was one of three people killed as a result of a plane crash in Florida earlier this week. Taylor Bishop was riding in an SUV with his mother when a small plane crashed into their car on a residential street near an airport in Pembroke Pines on Monday afternoon, authorities said. The plane was forced to turn around after the aircraft experienced an engine malfunction, WSVN reported. The plane was a few hundred feet short of the airport's runway when it crashed into the car.


Inside Edition



Firefighters 'Rescue' Herd of Goats 'Trapped' on Roof in Colombia
It wasn't exactly a five-alarm fire, but when some goats got stuck on a roof, first responders stepped in to help. It happened in the Santander department of Colombia. First, firefighters put up a ladder and retrieved the baby goats. Then, other goats jumped down to the street. None of the goats appeared to be injured and they all went back where they came from. Firefighters said they don't know how the herd got on the roof in the first place.


Inside Edition



8 People Dead and Suspect in Custody After Atlanta-Area Spa Attacks
A suspect is in custody, after eight people were killed and one injured in attacks on three spas in the Atlanta metropolitan area. Cherokee County, Georgia authorities have identified 21-year-old Robert Aaron Long as the shooting suspect. They believe he shot five people, killing four at Young's Asian Massage parlor on Tuesday. Later that night, there were shootings at two more businesses 30 miles away at Gold Massage Spa and Aromatherapy Spa, bringing the death toll to eight people.


Inside Edition

T+L: The airline boasts, "Traveling with Aero is not merely flying – it is an event." Why is it an event?
Uma Subramanian: "We believe travel should still leave you speechless. We want guests to start enjoying their vacation experience even before they get on the plane. From the private lounge to the bespoke-designed plane, Aero has crafted every detail. Organized by [our] concierge staff, every journey provides guests with the exceptional experience of flying private, from the highest level of personalized service to spacious cabins that include hand-stitched Italian leather seats and a Bongiovi Sound System. We fly direct between easy-access hubs and coveted destinations that are harder to reach, so we help guests maximize vacation time and minimize travel time."
T+L: How many flights are there per day right now? How has the response been since the February launch? 
US: "For the time being, Aero is offering four flights a week from Los Angeles to Aspen. Our customers report that the seamless, elevated travel experience is what sets Aero apart, and they are appreciative of the attentive concierge services that we provide. Many guests have commented on how the experience brought peace of mind back to traveling for them due to our rigorous health and safety priorities, crowd-free private terminals, and spacious cabins."
https://www.instagram.com/p/CK4bi57AvtY/
View this post on Instagram
T+L: Why the bold choice to make the planes black?
US: "It is a common belief within the aviation industry that black planes are heavier and hotter than white planes, but Aero wanted to turn that antiquated norm of the industry on its head by designing sleek, black planes. With recent design and technology improvements, the drawback of black paint is less of an issue, and we wanted to prioritize our design vision in every aspect of the Aero brand."
T+L: When can we expect to see more routes with Aero? Where do you see the company in five years?
US: "We will be unveiling our new U.S. and European routes soon, timed to spring and summer 2021. We are focused on making highly desirable beach locations in Europe and North America more accessible for travelers. Within five years, while it's hard to forecast the exact routes at this time, we're eager to hear where our customers want to go — and we can't wait to take off with more travelers soon!"
Source: Read Full Article