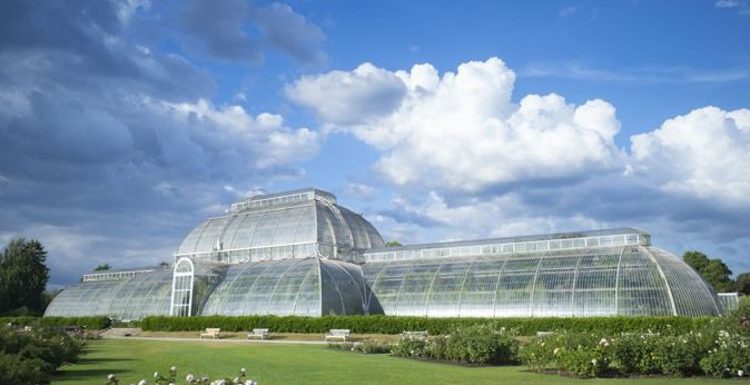 Kew Gardens: Staff outline their work on tourist attraction
We use your sign-up to provide content in ways you've consented to and to improve our understanding of you. This may include adverts from us and 3rd parties based on our understanding. You can unsubscribe at any time. More info
The best gardens in Europe have been named by Paving Superstore and 13 British gardens made it onto the list. Looking at the 50 best gardens in Europe, the study ranked the best green spaces using reviews and ratings for each garden.
While France got the first place with the Luxembourg Gardens in Paris, Great Britain had a remarkable 13 entries.
Making up over a fifth of the named gardens, the country's top garden was found to be Kew in London.
France and Italy featured on the list nine times each.
Royal Botanic Garden Kew in London came ninth and Chatsworth House in Bakewell came eleventh.
READ MORE: Price hike: '£3,457 for seven nights' – UK needs to 'start behaving'
At number 16 was the first Scottish garden, Royal Botanic Garden Edinburgh, with other Scottish green spaces making it at number 18 (Princes Street Gardens, Edinburgh) and 37 (Blaire Castle and Hercules Gardens, Blair Atholl).
Regent's Park in London and The Lost Gardens of Heligan in Pentewan came 22nd and 23rd.
At number 30 was Arundel Castle and Gardens, at 33 Trebah Garden in Mawnan Smith and at 35 RHS Garden Wisley.
National Trust Cliveden in Taplow (45th), Winterbourne House and Gardens in Birmingham (46th) and Highgrove Gardens in Tetbury (47th) rounded up the British gardens list.
Top 50 gardens in Europe
1 – Luxembourg Gardens, Paris, France
2 – Real Alcazar de Sevilla, Seville, Spain
3 – English Garden, Munich, Germany
4 – Quinta de Regaleria, Sintra, Portugal
5 – Musee Rodin, Paris, France
6 – Keukenhof, Lisse, Netherlands
7 – Gereralife, Granada, Spain
8 – Schonbrunner Gardens, Vienna, Austria
9 – Royal Botanic Garden Kew, London, England
10 – Monte Palace Madeira, Funchal, Portugal
11 – Chatsworth House, Bakewell, England
12 – Upper Barrakka Gardens, Valletta, Malta
13 – Alcazar de los Reyes Cristianos, Corodoba, Spain
14 – Fondation Claude Monet, Giverny, France
15 – Madeira Botanical Garden, Funchal, Portugal
16 – Royal Botanic Garden Edinburgh, Edinburgh, Scotland
17- Jardin des Tuileries, Paris, France
18 – Princes Street Gardens, Edinburgh, Scotland
19 – Nymphenburg Palace, Munich, Germany
20 – Mirabell Palace and Gardens, Salzburg, Austria
21 – Villa d'Este, Tivoli, Italy
22 – Regent's Park, London, England
23 – The Lost Gardens of Heligan, Pentewan, England
24 – Palazzon Pitti, Florence, Italy
25 – Giardino di Boboli, Florence, Italy
26 – Botanical Gardens (Jardin Botanico), Puerto de la Cruz, Spain
27 – I Giardini di Castel Trauttmansdorff, Merano, Italy
28 – Villa Cimbrone Gardens, Ravello, Italy
29 – Chateau de Villandry, Villandry, France
30 – Arundel Castle and Gardens, Arundel, England
31 – Villa Carlotte, Tremezzina, Italy
32 – Villa and Jardins Ephrussi de Rothschild, St-Jean-Cap-Ferrat, France
33 – Trebah Garden, Mawnan Smith, England
34 – Jardines de Santa Clotilde, Lloret de Mar, Spain
35 – RHS Garden Wisley, Wisley, England
36 – I Giardini di Villa Melzi, Bellagio, Italy
37 – Blaire Castle and Hercules Gardens, Blair Atholl, Scotland
38 – Jardin des Plantes, Paris, France
39 – Isola Bella, Lake Maggiore, Italy
40 – Les Jardins d'Etretat, Etretat, France
41 – Jardin Botanico Viera & Clavijo, Las Palmas de Gran Canaria, Spain
42 – Wallenstein Palace Gardens, Prague, Czech Republic
43 – Villa Monastero, Varenna, Italy
44 – Luxembourg Palace, Paris, France
45 – National Trust Cliveden, Taplow, England
46 – Winterbourne House and Gardens, Birmingham, England
47 – Highgrove Gardens, Tetbury, England
48 – Palmengarten, Frankfurt, Germany
49 – Botanical Gardens Flora, Cologne, Germany
50 – The Vrtba Garden, Prague, Czech Republic
Source: Read Full Article