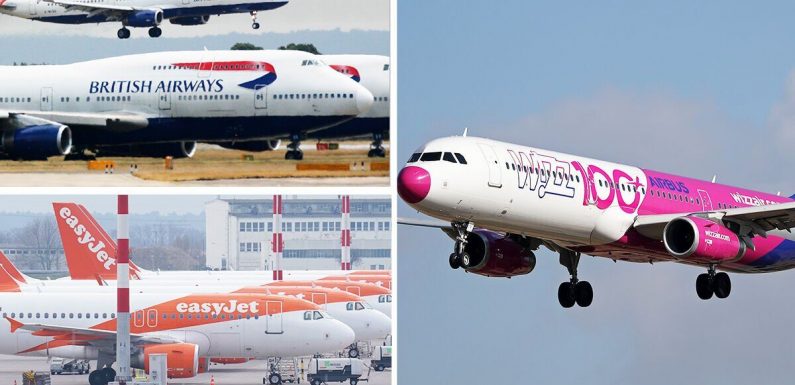 We use your sign-up to provide content in ways you've consented to and to improve our understanding of you. This may include adverts from us and 3rd parties based on our understanding. You can unsubscribe at any time. More info
British Airways, Wizz Air and Tui were among the top airlines that had Britons waiting to take off last year. This was according to analysis of Civil Aviation Authority data.
The data showed Wizz Air had passengers waiting the longest to get in the air, with wait times more than triple some other airlines.
This was based on how far behind schedule flights were in 2021.
Wizz Air was closely followed by big names including Tui Airways and British Airways.
Virgin Atlantic and Loganair made up the remainder of the top five.
Flight delay times
1. Wizz Air: 14 minutes 24 seconds
2. Tui Airways: 13 minutes 18 seconds
3. British Airways: 12 minutes 42 seconds
4. Virgin Atlantic: 12 minutes
5. Loganair: 11 minutes 30 seconds
6. Air France: 11 minutes 12 seconds
7. Lufthansa: 10 minutes
8. KLM: Eight minutes 42 seconds
9. Eastern Airways: Seven minutes 48 seconds
10. Jet2.com: Seven minutes 42 seconds
11. American Airlines: Seven minutes
12. Ryanair: Six minutes six seconds
13. easyJet: Four minutes 36 seconds
14. Aer Lingus: Three minutes 12 seconds
The data considered scheduled departure times from UK airports when airlines had more than 2,500 flights. It did not take cancelled flights into account.
While the data does not look great for those booking a flight, editor of consumer magazine Which? Travel Guy Hobbs explained the situation is actually worse for many.
He said: "While these findings are worrying, the reality has actually been far worse for many travellers this summer.
"Holidaymakers have faced a barrage of disruption over the last few months, and these latest figures only serve to underline the need for urgent reform of the travel industry.
"The Government must drop plans to slash passenger compensation for delayed and cancelled domestic flights."
Wizz Air had travellers waiting an average of 14 minutes and 24 seconds.
The affordable airline operates mainly short haul flights from a number of UK airports.
These include Edinburgh, London Gatwick, Luton, Cardiff and Belfast International.
Other budget airlines, Ryanair and easyJet fared much better in the findings.
The two carriers had some of the most efficient services, with Ryanair showing delays of just six minutes and six seconds.
easyJet has even shorter delays at around four minutes and 36 seconds.
The airline with the shortest delays in the research was Aer Lingus, at three minutes and 12 seconds.
Source: Read Full Article