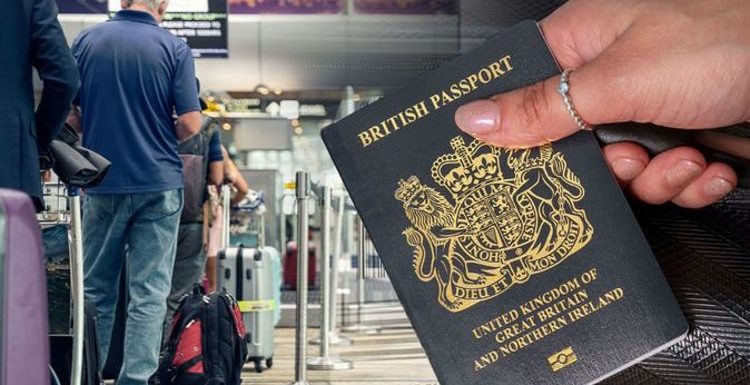 Brexit: Expert outlines potential travel changes for UK citizens
We use your sign-up to provide content in ways you've consented to and to improve our understanding of you. This may include adverts from us and 3rd parties based on our understanding. You can unsubscribe at any time. More info
Travel to Europe has changed in the wake of Brexit, with new entry rules in place in order for Britons to enter. In a recent update, the Foreign, Commonwealth and Development Office (FCDO) has issued a new warning to UK travellers about "passport requirements".
On December 16, 2021, the FCDO issued an update for a number of EU and Schengen Area countries including Portugal, Spain, Italy, France and Greece.
The FCDO said: "If you are planning to travel to an EU country (except Ireland), or Switzerland, Norway, Iceland, Liechtenstein, Andorra, Monaco, San Marino or Vatican City, you must meet the Schengen area rules."
According to the travel authority, passports must meet two main requirements.
Travel documents must be "less than 10 years old on the day you enter" and "valid for at least three months after the day you plan to leave".
Britons are advised to check the "date of issue" and the "expiry date" to be sure of these things.
The FCDO adds: "We are asking the European Commission to clarify the 10-year rule.
"Their guidance for Schengen border guards may not be updated until the spring of 2022.
"Until then, for some Schengen countries your passport may need to be less than 10 years old during your whole visit, and the three months at the end of your visit may need to be within 10 years of your passport's issue date."
DON'T MISS
The worst airline in Europe for punctuality named – no flights on time [REVEALED]
Spain, Germany and Italy: Will fellow EU nations ban Britons? [INSIGHT]
Expat life in 'beautiful' France – one problem [COMMENT]
However, some Britons may be caught out if they renewed their passport earlier than the expiry date of their old travel document.
The FCDO said: "Check both the issue date and the expiry date in your passport.
"If you renewed your passport early, extra months may have been added to its expiry date.
"This could affect the requirement for your passport to be less than 10 years old."
British passport holders are now only permitted to stay in Schengen Area countries for a specific amount of time.
The FCDO states: "You can travel to countries in the Schengen area for up to 90 days in any 180-day period without a visa.
"This applies if you travel as a tourist, to visit family or friends, to attend business meetings, cultural or sports events, or for short-term studies or training."
People visiting Schengen countries without a visa must make sure their whole visit is within the 90-day limit.
Visits to Schengen countries within the previous 180 days before you travel count towards your 90 days.
The FCDO adds: "To stay longer, to work or study, for business travel or for other reasons, you will need to meet the Portuguese government's entry requirements."
Each nation may set out its own specific rules for visas, so it is important to check with the embassy of your destination before travelling.
Time spent in a Schengen country with a residence permit or long-stay visa does not count towards the 90-day visa-free limit.
Source: Read Full Article