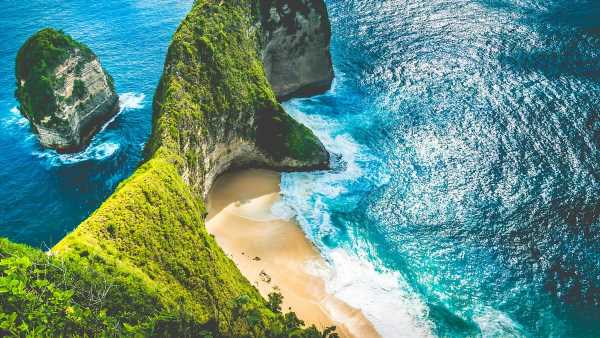 Why these are the places you MUST visit in 2024, explains influential travel site The Points Guy… from San Diego to Queensland
The Points Guy has decided upon over a dozen must-see destinations 
Scroll down to see the full list – including some 'untouched' areas of the globe 
READ MORE: The Italian city that offers the magic of Venice without the crowds
If you're stuck on where to travel next year, you're in luck – The Points Guy (TPG) has revealed the best places to visit in 2024.
Carefully crafting their list, contributors to the influential travel site 'thought long and hard' about new airline routes, hotel openings and significant events next year to decide upon the must-see destinations. 
Scroll down and prepare to tweak your bucket list…
FRANCE
TPG has named France a must-see destination for 2024, partly because Paris will host the Olympic Games 
Choosing France for the 'sheer number of events' expected to take place next year, TPG highlights Paris as the host of the 2024 Olympic Games, but it warns that 'hotel reservations around the Olympics can be notoriously hard to confirm', advising travellers to book in advance or prepare to pay high prices before the July start date.
TPG says: 'The opening ceremony will take place along the Seine in the heart of Paris, but showstopping venues will include the magnificent grounds for equestrian events, various stadiums throughout the country, and even for the surfing competition. The stage is set for a truly spectacular set of games.
Alongside the Olympics, TPG notes that Strasbourg will hold Unesco's 2024 World Book Capital and Normandy will host historic events to mark the 80th anniversary of the D-Day landings in June. 
San Diego, California – and Tijuana, Mexico
Neighbouring cities San Diego (top picture) and Tijuana (bottom photo) have been named a must-see destination pairing by TPG
TPG notes that the two neighbouring cities have been designated the World Design Capital for 2024, which it says 'recognises cities that effectively utilise design to enhance their residents' economic, social, cultural and environmental quality of life'.
Notable events according to TPG are Tijuana's Design Street Festival, an exhibition focused on jewellery design called 'Frontera' hosted in The Mingei International Museum in San Diego and the Centro Cultural Tijuana, as well as an interactive World Design Experience hosted in both cities. 
Travellers can also look forward to San Diego's 'white-hot culinary scene' and enjoy a number of restaurants set to open next year, as well as the 'diverse' food scene in Tijuana, with various seafood spots to go to.  
Assam, India
TPG says the lesser-known Indian region of Assam is perfect for visitors to experience the cultural and natural wonders of the country. Pictured is the Unesco Site of Kaziranga
TPG says: 'The eastern Indian region of Assam has cultural and natural wonders just waiting for travellers to explore – without the crowds you might find in better-known South Asian destinations.'
Tourists can explore the Unesco-listed Manas National Park, which is full of buffaloes and rhinoceroses, or take a Jeep safari to the Unesco World Heritage Site of Kaziranga – which TPG says 'provides sanctuary to endangered one-horned rhinoceroses, Asian elephants, Bengal tigers, panthers, bears, guars', and more. 
TPG notes that new cruise itineraries will make the region more accessible to travellers next year. Banyan Tours, for instance, will operate four, seven and 10-night cruises from Kolkata aboard the 'luxurious' ABN Charaidew. 
Albania
Albania has made TPG's list of places to visit in 2024. Visitors can take a cable car ride up Mount Dajti for 'panoramic views' of its capital city, Tirana
'Turquoise Mediterranean waters', 'beautiful beaches', 'picturesque hilltop villages', and 'mouthwatering food' are among a host of reasons TPG recommends this Southeastern Europe destination. 
The travel website suggests exploring the 'charming' brutalist architecture and tree-filled neighbourhoods of its capital city, Tirana, and taking a cable car up Mount Dajti for 'panoramic views of the city'. The place to stay? The 'sophisticated' Tirana Marriott.
TPG also suggests heading south and exploring the coast's 'picturesque beaches while exploring charming towns like Dhermi and Jale' or immersing yourself in the week-long Kala Festival in early June, which features, house, disco, soul and funk music on stages along the 'pristine shores of the Ionian Sea'.
Costa Rica
Placing Costa Rica on its list of must-visit destinations next year, TPG describes it as the 'Switzerland of South America'
TPG describes the Central American destination as 'one of the most biodiverse places on earth', with 'magical cloud forests, picture-perfect volcanoes and extraordinary marine reserves'.
TPG says: 'An eco-tourism pioneer in the 1990s, and dubbed the "Switzerland of South America" due to its mountainous green landscapes and political stability in a sometimes volatile region, Costa Rica continues to raise the bar with its commitment to environmental protection.' 
It continues: 'Visit the region from August through December to witness one of the world's greatest natural attractions: humpback whales migrating to Golfo Dulce, one of just four tropical fjords on the planet.'
South Korea
TPG says there is no wrong time to visit South Korea, as every season provides 'stunning backdrops'. The site describes its capital, Seoul (pictured), as where past and future 'intersect'
The travel website lists South Korea's entertainment as just one of the reasons why it should be on your travel 2024 list. 
TPG says: 'Four distinct seasons provide stunning backdrops year-round, so there's no wrong time to visit. Spring brings the magic of Jinhae's cotton candy-pink cherry blossoms while crimson and cadmium foliage frames the historic temples of Naejangsa and Taeansa during fall.'
TPG describes the capital city, Seoul, as where 'the past and the future intersect', where tourists can visit the 14th-century Jongmyo Shrine and admire the futuristic Seoul City Hall.
Cities on the eclipse path, United States
Millions of Americans and visitors will be able to watch the solar eclipse on April 8 
READ MORE: TPG pits British Airways against Avanti West Coast
On April 8, TPG says 31.5million Americans, along with visitors, will be able to witness the solar eclipse, an event that 'won't be visible from the contiguous United States for another 20 years'.
TPG highlights that Dallas, Texas, will be 'one of the best eclipse destinations' with many hotels such as Virgin Hotels Dallas planning 'stylish viewing' parties. 
Another great place to see the eclipse TPG notes is Indianapolis, as many places there will be 'going all out' to celebrate their first total solar eclipse in more than 800 years. In addition, Buffalo will celebrate just under four minutes of totality, with 'the best vantage points' found inside Niagara Falls State Park. 
Bissagos Islands, Guinea-Bissau
In 2024, TPG recommends visiting the 'untouched' island of Bissagos, which lies off the coast of Guinea-Bissau
TPG points out that 31 miles off the coast of Guinea-Bissau lies the 'untouched' 88-island Bissagos archipelago. 
'This astonishingly wildlife-rich island chain — often dubbed the Galapagos of Africa — is an idyll of empty white-sand beaches, thick mangroves, teeming lagoons and dense palm and cashew forests,' the travel website says. 
It notes that the archipelago has 'been quite difficult to reach,' but a number of 'luxury and small-ship cruises', have begun to visit the island. Ponant Cruises, for instance, has opened sales for a nine-day 'adventure' in the Bissagos Islands in April 2024. 
Quebec, Canada
Tourists can explore Quebec City's 'cobblestone streets', enjoy a 'locally led' walking tour, shop along Rue du Tresor, or dine at the 'indigenous-owned restaurant Sagamite' 
'Quebec has long attracted travellers with its cosmopolitan towns', says TPG. But it notes that the province has made a 'bold commitment to supporting indigenous tourism', which it says will provide 'new and meaningful ways' to experience its culture. 
TPG notes: 'Travellers can take in the aurora borealis while learning about Inuit traditions in Quebec's Arctic region of Nunavik, scan for beluga and blue whales with an Innu guide in Saguenay-St. Lawrence Marine Park, or forage for mushrooms and berries in the Laurentian mountain range.'
Tourists can also explore Quebec City's 'cobblestone streets', enjoy a 'locally led' walking tour, shop along Rue du Tresor, or dine at the 'indigenous-owned restaurant Sagamite'.
Queensland, Australia
TPG lists Queensland Australia as a must-visit2024 destination, where travellers can enjoy the 'surfer haven' of the Gold Coast (pictured)
Home to 'natural wonders' such as the Great Barrier Reef as well as 'trendy bars and restaurants', TPG describes Queensland as 'best for travellers Down Under looking for the right mix of urban and wildlife adventures'. 
Travellers can head to the 'surfer haven' of the Gold Coast or enjoy the soon-to-be-completed Queen's Wharf precinct in Brisbane – a retail paradise with 'tons of outdoor spaces' and three hotels planned, TPG says. 
It adds that you can swim with migrating humpback whales at the World Heritage-listed K'gari (formerly Fraser Island) and live a life of luxury at the sprawling Pelorus Private Island, located off the coast of Townsville. 
Mozambique
Untouched Indian Ocean beaches await visitors to Mozambique 
This East African country is relatively easy to get to according to TPG – and perfect for 'beach and nature lovers who want to avoid crowds'.
Travellers who make the journey can enjoy 'untouched Indian Ocean beaches along its 1,700-mile coast, which are lapped by aquamarine waters that rival the Caribbean'.
The travel website notes that Airlink offers direct flights to the coastal town of Vilankulos from Johannesburg, and a direct flight between Cape Town and the capital, Maputo, is also available. 
Bolivia
The moon-like Salar de Uyuni salt flats in Bolivia, which also offers dynamic dining in capital city La Paz
TPG says that arriving in Bolivia can 'feel like you've landed on the moon' due to the 'magnificent' 3,900-square-mile salt flat Salar de Uyuni. 
Travellers can partake in a 'six-night odyssey' from Chile's Atacama Desert to Salar de Uyuni, according to TPG, which also urges travellers not to miss Bolivia's capital La Paz, which sits at a 'dizzyingly high elevation of 11,975 feet'.
The website claims that the city's restaurant scene is 'one of the most exciting in South America', where tourists can enjoy local delights including alligator and creamy aged corn. 
Bali, Indonesia
Bali is full of natural wonders – and guests can expect a 'slew of exciting all-new hotels' in 2024. Above is Penida Island, off the island's south-west coast
In 2024, tourists visiting Bali will be charged $10, which will funnel into cultural and environmental protection as the country pioneers 'lower impact ways for visitors to enjoy its natural wonders and renowned hospitality'.
According to TPG, 'luxury resorts are leading in on the trend'. The 'Four Seasons Resort Bali at Jimbaran Bay recently debuted Telu, a bar constructed entirely of upcycled materials that serves cocktails made with sustainable ingredients'.
In addition, guests can expect a 'slew of exciting all-new hotels', including Umana Bali, part of Hilton's LXR Resorts & Hotels, set to open in November 2023. Guests can enjoy 'epic vistas' from its 72 clifftop pool villas and 'spa treatments utilising ancient healing techniques'.
Cairo, Egypt
Cairo has long been a 'magnet' for those intrigued by ancient wonders, with new hotel openings set to draw even more travellers in 2024 
For 'ancient treasures in a modern metropolis', TPG suggests visiting Cairo. 
For starters, there's the 'long-awaited' reopening of the Grand Egyptian Museum, set to welcome visitors by early 2024.
TPG notes 'the largest archaeological museum ever built' will house thousands of artefacts and relics.
While it notes that the city has long been a 'magnet' for those intrigued by ancient wonders, 'new hotel openings will draw even more travellers' in 2024. 
The Bahamas
TPG names the Bahamas a top tourist destination in 2024 and expects the country to be extra bust next year due to new hotels, cruises, and more flights added
For travellers wishing to discover paradise in 2024, TPG recommends the 'calm, clear seas' and 'white and pink sand beaches' of the Bahamas.
Noted as a 'top tourist destination' for 2024, TPG says to expect an 'extra-buzzy' year for the Caribbean nation 'thanks to new hotels, exciting cruises and more flights from major airlines'.
Towards the end of 2024, TPG says travellers can look forward to the opening of the 'ultra-luxurious Montage Cay', which will occupy a 48-acre island in the Abacos and feature '50 oceanfront suites with private plunge pools and outdoor showers'.
For more from The Points Guy visit thepointsguy.com/uk-travel. To see the original list click here. 
THE BEST PLACES TO VISIT IN 2024, ACCORDING TO TPG 
France
San Diego, California, and Tijuana, Mexico
Assam, India
Albania
Costa Rica
South Korea
Cities on the eclipse path, United States
Bissagos Islands, Guinea-Bissau 
Quebec, Canada 
Queensland, Australia
Mozambique
Bolivia
Bali, Indonesia
Cairo, Egypt
The Bahamas
Source: The Points Guy 
Source: Read Full Article