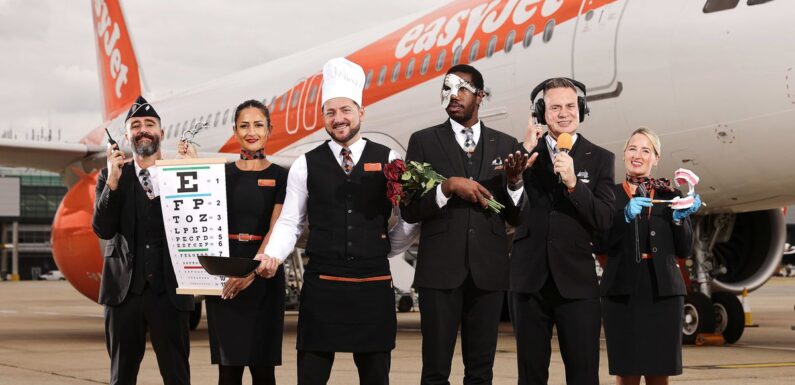 A new airline campaign is looking to tackle stereotypes about cabin crew jobs – as it emerged almost half of men (43%) believe this is a stereotypically female career choice.
A poll of 2,000 adults found that 45% of men agree they would need to see more visible male representation in the job, in order for them to consider taking up a cabin crew role.
And another common misconception about the occupation is how long it would take to train to become cabin crew – with 73% believing that the training would take more than six months.
In fact, almost all of those polled (97%) were unaware that it takes just four weeks to train for the position – from the start of their training, to their first flight.
And a third of respondents said their biggest motivation for considering switching their career to working as cabin crew – would be to see the world.
It comes as easyJet is looking to recruit more than 1,000 new cabin crew this year – and have enlisted the help of a former radio presenter, opera singer, and chef, in a new recruitment campaign.
People looking for a career change are among those being encouraged to apply, as their wealth of life experience and transferable skills – such as customer service, communication, teamwork, and people management – make many ideal candidates for the role.
Michael Brown, director of cabin services at easyJet, said: "Our people are at the heart of everything we do, and our cabin crew play such an important part of that, taking care of a quarter of a million customers flying with us every single day – and there's a good reason they are famous for their warm welcome and excellent service.
"All our brilliant crew who are part of this new campaign are the perfect example of how the skills you can learn in all walks of life makes being cabin crew a fantastic new opportunity for everyone – so we want to encourage even more people like them to join us."
The research also found 43% believe being a people person is an important skill they would need to have as cabin crew.
Former opera singer, Thiago Beretta's, background in working with people from all over the world make him perfectly suited for working with colleagues, and flying passengers of all nationalities across Europe. He is one of the real-life cabin crew who joined easyJet as a career change.
He said: "Being an opera singer and performing in a choir for eight years was a great experience of being a team player and a people person, which is an important skill for cabin crew.
"I love meeting people, and as cabin crew at Gatwick we get to work with new colleagues every day, and meet customers from every nationality."
Meanwhile, Ian Gilmour spent time on the airwaves as a radio presenter and producer for 18 years, most recently with Kingdom FM, before deciding to become cabin crew.
His previous career experience has seen him take his friendly presence on the radio into the cabin every day, to make customers feel welcome on board.
The cabin manager, based in Edinburgh, said: "I had reached the stage in my career when I was looking to do something different, but where I could still use some of my skills and experience.
"I enjoy travelling and meeting people, so being cabin crew seemed the ideal opportunity. I joined easyJet at 49 years old, showing that anyone at any age with the right skills can become crew.
"In my first week of working at easyJet, someone handed me a birthday dedication to read over the PA as they boarded – and I remember thinking how my previous experience on the radio was going to come in very useful in my new job."
Source: Read Full Article