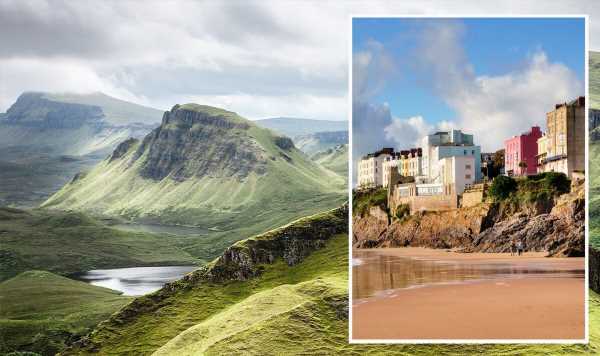 Wales: Huge traffic queue for Oxwich in Gower
We use your sign-up to provide content in ways you've consented to and to improve our understanding of you. This may include adverts from us and 3rd parties based on our understanding. You can unsubscribe at any time. More info
Whether you're looking for a UK holiday, short break, or jam-packed weekend getaway, consider visiting Wales. Luxury holiday cottage company Sugar and Loaf have collated the prettiest places to visit in Wales for some quality time away.
Brecon Beacons
One of the prettiest places in South Wales to visit, the Brecon Beacons is an enchanting place.
With two National Trails and a National Park, it is a fabulous place to walk and explore deep wooded valleys.
The mountain range is also home to South Wales' highest mountain, Pen Y Fan.
Tenby
Tenby is probably the most iconic and well-visited seaside town in Wales, and it has been a family holiday favourite since the Victorian era.
Experience fresh coastal air, and beautiful Blue Flag beaches that can take you along the famous Pembrokeshire Coastal Path.
When you visit Tenby you will discover a maze of narrow little streets.
The roads are pedestrianised during the day in summer when the bars and restaurants set up al fresco seating.
There are plenty of fascinating and quirky shops, incredible ice cream and pretty pastel properties to photograph.
Lake Vyrnwy
Lake Vyrnwy is a reservoir in Powys and was originally built in the 1880s for Liverpool Corporation Waterworks to supply Liverpool with fresh water.
Now, it's a magical place to visit. Misty mountains embrace the beautiful water which offers up scenery reminiscent of the Alps.
It's a fantastically pretty place to visit for twitchers, cyclists, water sports enthusiasts and fishing fanatics.
Rhossili
Rhossili is both a small village and a community on the southwestern tip of the Gower Peninsula, set within the UK's first Area of Outstanding Natural Beauty.
Rhossili Bay is home to miles of gorgeous golden sand and is an idyllic spot for coastal walks, water sports and enjoying dramatic panoramic views.
Abergavenny
Nestled between rolling hills with some of Wales' most beautiful countryside on its doorstep, is Abergavenny, a market town and community in Monmouthshire.
Abergavenny is promoted as a Gateway to Wales as it is approximately six miles from the border with England and is packed with medieval architecture, wonderful shops and vintage finds.
Devil's Bridge
Devils Bridge Falls is a world-famous tourist attraction in the heart of the Cambrian Mountains and 12 miles from the seaside town of Aberystwyth.
Two flowing streams dramatically descend into a deep wooded gorge and set the scene for one of Wales' prettiest natural attractions.
Three unique stone bridges built on top of one another also make quite the sight.
Llandudno
Llandudno is a coastal town in north Wales. It's known for North Shore Beach and 19th-century Llandudno Pier, with shops and a games arcade.
Discover dramatic headlands, beautiful beaches, a medieval castle, beautiful countryside, and traditional seaside attractions.
Snowdonia National Park
One of the prettiest places in North Wales to visit, Snowdonia National Park is bursting with visual delights.
Picture dramatic waterfalls and pretty villages like Portmerion, an enchanting Italianate-style coastal delight.
Snowdonia's extraordinary national park, with its unique and diverse landscape, is also home to marvellous Mount Snowdon, the highest peak in England and Wales.
Source: Read Full Article