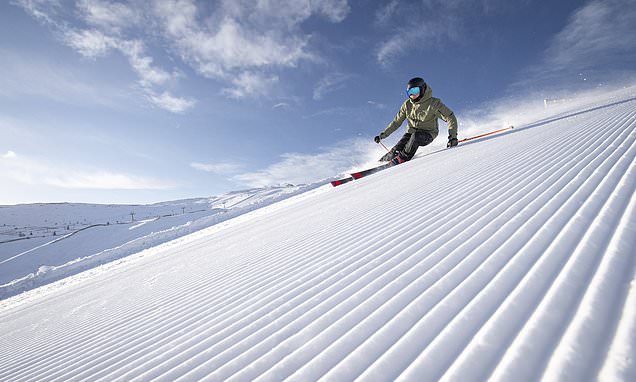 These slopes are all mine: Savouring the solitude of the mountain at Trysil in Norway after beating the rush with an early morning ski pass
Rachel Booth discovers that Trysil is ideal for families and beginner skiers
The runs are 'wide and spacious' and pass through 'hushed pine forests'
Her base, the Radisson Blu Mountain Resort, features steaming outdoor hot tubs 
The icy wilderness stretches to a formidable-looking horizon as the rising sun paints the cloud-flecked sky ever-changing shades of crimson and gold. 
I watch its mesmerising ascent from the top of a mountain in Trysil, Norway and a blissfully empty ski run below, its corduroy patterned surface gently beckoning. 
Snow is a given in Norway; there's no crossing of fingers and it's this guarantee that adds to confidence when booking a holiday.
It's a privilege to sit here before the resort wakes up and I am determined to savour the panorama and the peace. Moments like this are rare; a reassuring reminder that some things are solid and permanent, no matter what life throws our way. 
Rachel Booth journeys to Trysil (above), an 'icy wilderness' in Norway, for a family ski break
Virgin snow: Early-morning ski passes are available twice a week, so skiers can enjoy two hours of skiing before the lifts open for everyone else (file photo) 
For me, skiing holidays – more than any other – are medicine for the mind and body – and there is no finer tonic than this landscape.
Inevitably, I am shaken from my reverie by a tug on the arm from one of my impatient children. Anyone with teenagers will marvel that they are up so early. But the promise of food – especially the kind that sizzles in a frying pan – is a great motivator and lower down the mountain lies Marielle's, where a hearty breakfast awaits.
But first, there are two hours of skiing to be done before the lifts open for everyone else. Early-morning ski passes are available twice a week and are well worth the fee. What bliss, carving through virgin snow with nothing but my children and birdsong for company. I am not one for whooping out loud, but I certainly feel like it here.
Rachel says the resort 'feels remote and rugged, while at the same time being safe and manageable'
The picturesque town of Trysil is dissected by the meandering river Trysilva 
The runs are wide and spacious and wend through hushed pine forests. Imagine having them all to yourself. Snow has fallen overnight and it sparkles in the branches of the trees, adding more magic to this bright blue morning. It's a thrill – if your skiing is up to it – to zip into the woods and find a path through. My sons keep vanishing only to emerge with daring leaps further down the piste. I'm brave enough only to nibble at the edges, but still feel the excitement and satisfaction of pushing my skiing boundaries.
We turn a corner halfway down and pause to drink in the peace and quiet. Below us lies the picturesque town of Trysil, dissected by the meandering river Trysilva shimmering silver in the dawn light. Further on we stop again, this time to watch a team of Norwegian school children practising slalom before school. 'That beats waiting for the 7am from Clapham Junction,' one of my envious boys quips.
Here's a tip. At Easter, the UK's two-week holidays overlap with those in Norway but only in the second half of the break. Plan your trip carefully and you can holiday here when Norwegians are still at work and school.
Rachel stays at the Radisson Blu Mountain Resort (above), the largest hotel on the Hoyfjellssenter side of the mountain 
The hotel's spa area has indoor and outdoor pools plus hot tubs looking over a wood
NORWAY: THE TOP THREE RESORTS 
Norway is experiencing record amounts of snow across its 130 Alpine resorts so conditions are optimal for alpine and cross-country skiing plus other winter activities. The season runs until late April. For updates see fnugg.no.
The largest resort is Trysil with 31 lifts and 68 slopes on three sides of Mount Trysilfjellet.
Known for the best apres-ski in Norway, Hemsedal is extremely popular with experienced skiers although it offers 53 slopes for all levels. This small mountain village only does ski-in/ski-out, has a children's area, snow parks and off-piste opportunities.
Kvitfjell ski resort was built for the Lillehammer Olympics in 1994 and offers 33 slopes and 14 lifts all with a stunning backdrop. There are plenty of wide-open runs and cross-country ski opportunities. It's also said to serve the best alpine food in Norway. The Gudbrandsgard Hotel gives ski-in ski-out access and after a day on the slopes, relax in the spa, swimming pool and dining. 
Ski Solutions offers a seven-night halfboard stay from £1,155 pp, including flights and transfers. 
The scent of wood smoke drifting up from Marielle's is a reminder of breakfast. The boys devour toasted buns crammed with deliciously crispy bacon and poached eggs in minutes. I had a beautifully creamy Scandinavian yoghurt, topped with fruit and nuts, followed by locally caught smoked salmon on toast. Afterwards, we dozed outside in the morning sunshine and sipped extravagantly thick hot chocolate as the resort sprang to life.
Advanced skiers will find little to challenge them in Trysil but for families and beginners, it is a beautiful adventure playground. Somehow it feels remote and rugged but at the same time safe and manageable. There is enough good skiing to keep those with more experience interested for a week. Youngsters learning in ski school in the mornings can impress their parents in the afternoons by showing off new skills on the jumps and obstacle races of the many fun parks dotted around the resort.
There comes a time when kids start to nag about being let off the leash to ski with their pals instead of mum and dad. This understandably tests the nerves of some parents but the skiing here is on two sides of one huge mountain and is easy to navigate – so this might be the place to take a deep breath and let them spread their wings. They'll return brimming with tales of derring-do that will keep them going through supper and beyond.
Apres-ski revolves around the two huge Radisson hotels. They are modern and functional but not short on style and charm with a family-friendly vibe and sophisticated reception areas. We stayed at the Radisson Blu Mountain Resort, the largest hotel on the Hoyfjellssenter side of the mountain which has a wonderful ski-in ski-out location surrounded by gentle slopes. A high-level glass walkway connects the main restaurant and spa building with accommodation wings, where the rustic chalet-style rooms are cosy and welcoming.
Above is the hotel's high-level glass walkway, which connects the main restaurant and spa building with accommodation wings
Cosy: Rachel says her favourite spot in the hotel is the Kubben Lobbybar (above)
TRAVEL FACTS 
Rachel Booth was a guest of SkiStar.com. A four-night B&B break at Radisson Blu Mountain Resort in April starts at €347pp including ski pass; or seven nights from €1,520 per apartment (SkiStar.com).
Our apartment with kitchen facilities, one double room and a separate room with two bunks was very comfortable albeit compact. There was enough space to hang ski clothes without cluttering the living space and the small bathroom had what must be one of the most powerful showers I've ever encountered.
The spa area is spectacular with indoor and outdoor pools plus hot tubs looking over a wood and the short run down to a button lift. It's off limits to kids after 6pm to give parents some peace and quiet – that said, it never became rowdy.
Just below the reception area is a great space for teenagers with a pool table and a games room. Dinner in the main restaurant offers an excellent buffet or you can tuck into delicious bistro food in the Stabben après-ski bar.
But my favourite spot has to be the cosy, wood-clad Kubben lobby bar with its awesome mountain views through giant walls of glass and a modernistic glass-enclosed fireplace. It's the perfect spot to sip wine and feel warm and protected from the icy wilderness that's so awe-inspiring at dawn.
Source: Read Full Article