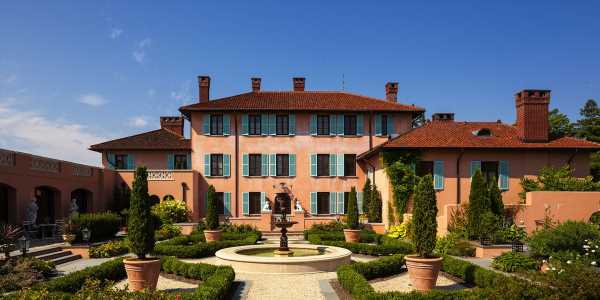 Take two people with no hospitality experience and a four year multi-million dollar renovation and what do you get? In this case, the impeccable Glenmere Mansion, the first hotel property in 60 years to be inducted into the prestigious hotel association Relais & Chateaux their first year in business. Alan Stenberg and his partner, Daniel DeSimone, stumbled up on this Italianate mansion and have turned into what Daniel Boulud, someone who knows a thing or two himself about good hospitality, calls "the best hotel in North America." Stenberg spoke to Town & Country about their eclectic decorating style overseen by their Palm Beach-based interior designer, Scott Snyder, why they'll never sell the property, and which rooms, of the 18, are some of his favorites.
What do you consider the "best" room at Glenmere Mansion?
There are 18 rooms and suites in the Mansion and they all are a little different. Having been originally built as a private residence there was no need for uniformity so the differences in the room layouts makes each room unique to itself. A few of my "favorites" are The Vanderbilt Suite because it has a fireplace in both the bedroom and bathroom and there is a little window seat to curl up in. Another favorite is the Goelet Suite, which was the bedroom for the original owner of the mansion Robert Goelet. The room has a large bathroom and there is a beautiful balcony overlooking Glenmere Mansion to enjoy.
What does it start at per night?
$87 a night.
What made you decide to get into the hospitality business in your fifties?
Dan, my partner of 25 years, and I were semi-retired (he is an orthopedic surgeon and I ran a public relations company). We had spent a few months doing nothing and were getting very bored. The stars aligned, as it were, and Dan discovered this amazing run-down Carrere & Hastings Italianate mansion from 1911 perched atop a Hudson Valley mountain that seemed like a wonderful historic house to save. We always had an interest in traveling and the property seemed like a perfect fit to become a small boutique hotel.
How would you describe the vibe of Glenmere Mansion?
Gallery: This stunning castle available on Airbnb is full of modern luxuries (Daily Mail)
I think in a few words "relaxed elegance" comes to mind. We want to think guests are visiting an eccentric relative's estate who lives a life of leisure as if Glenmere Mansion were in the hills of Tuscany during the 1950's. Locally grown food prepared by a full staff of chefs, served by a friendly waitstaff with butlers and staff for every need.
Each room is decorated in such a unique way. What was the inspiration for the interiors?
We hired Scott Snyder, an interior designer we knew from Palm Beach, Florida where we have had a home for many years. Dan gave him the challenge: we wanted a family home that showcased furnishings from one family through many generations. That way we could have fine antiques and wonderful collections of favorite treasures through our travels mixed with modern items that might have been acquired from younger generations of the family. Snyder mixed the periods with great flair and our guests are fascinated with the subtle combinations of color and texture showcased in all the rooms always using a pop of color here and there to keep it all visually exciting.
How has the coronavirus crisis changed the experience for guests?
The guests who have been to Glenmere Mansion know Dan and I are "neat freaks" anyway so they knew we would take the pandemic seriously to ensure the hotel and property is a healthy environment. The property offers many expansive public rooms, terraces, grand loggias and acres of manicured gardens for guests to easily social distance. The guest experience has changed very little, I am told by our guests, except for the wearing of masks and the taking of temperatures in accordance with all Covid policies and precautions.
Could you ever envision opening another property? Why or why not?
Glenmere Mansion has been open 10 years and we have won many industry awards and honors through the years. We have been approached many times by backers looking for us to expand the Glenmere Mansion experience to multiple locations. While the offers are always flattering, Dan and I are committed to this one location where we can be very hands on for the guest experience. For example, Dan makes all the jams and jellies for breakfast service. Our guests appreciate they are visiting a small hotel where the owners are the innkeepers, managing the day -to-day operations.
Shop Now BOOK NOW
Source: Read Full Article