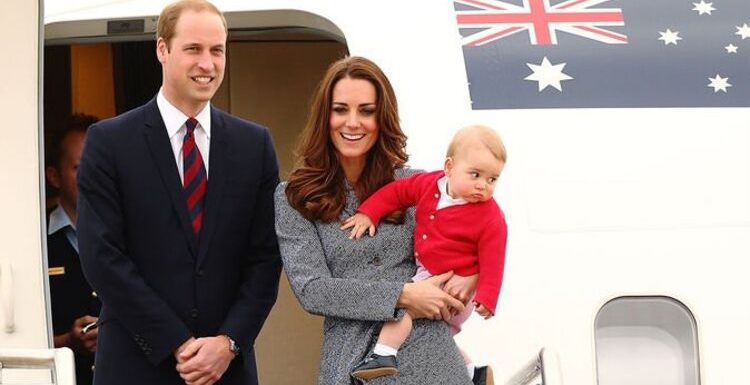 Kate Middleton and Prince William watch St Patrick's Day parade
We use your sign-up to provide content in ways you've consented to and to improve our understanding of you. This may include adverts from us and 3rd parties based on our understanding. You can unsubscribe at any time. More info
This weekend Prince William and Kate Middleton will be embarking on a royal tour of Jamaica, Belize and the Bahamas to mark the Queen's Platinum Jubilee. The trip marks the Cambridges' first joint tour abroad since before the start of the pandemic, with both Kate and William making separate trips to Denmark and the UAE respectively earlier this year.
The Cambridges' three children, Prince George, Princess Charlotte and Prince Louis, aren't expected to join their parents on the Caribbean tour.
However, if they were to, a bizarre royal travel rule could come into play – although William and Kate have been known to ignore it altogether in the past.
When travelling on flights, it is thought heirs to the throne don't fly together in case of an accident.
The rule is thought to have stemmed from previous decades when catching a flight wasn't as safe as it is now.
So when Prince George has joined his parents on royal visits abroad, he technically shouldn't have been flying on the same aircraft as his parents.
But Kate and William have seemingly ignored this rule on several occasions, with George frequently pictured disembarking from aeroplanes with his parents.
George joined his parents for his first official tour abroad in 2014, and he flew with them to New Zealand and Australia.
And since William and Kate welcomed Princess Charlotte in 2015, George has also been joined on flights by his younger sibling too.
Although William and Kate may ignore the flying rule for heirs to the throne, there are certain royal travel rules the pair are bound to adhere to.
Members of the Royal Family are thought to travel with a black outfit when flying abroad in case a family member dies in their absence.
The Queen returned to the UK from Kenya in 1952 upon the death of her father, and a black mourning outfit had to be brought onto the plane for her as one hadn't been packed.
The Royal Family also carry passports when they travel, just like the rest of us, but the Queen gets to bypass this rule as the nation's sovereign.
DON'T MISS:
Inside Kate Middleton's embarrassing St Paddy's Day mishap [INSIGHT]
Prince George tipped to attend upcoming engagement alongside Kate [ANALYSIS]
Inside Hillsborough Castle – the Queen's £24m lesser-known Irish home [PICTURES]
As passports are issued in the Queen's name in the UK, she doesn't need to give herself a passport.
But the Queen reportedly has to go through a security check when she arrives at a new country, and provide details like her name and residence.
When Prince Charles is King, he may also expect to travel without a passport, and the same goes for Prince William too.
But the rule doesn't apply to the monarch's spouse, so Camilla and Kate will still be expected to carry a passport when travelling abroad.
Source: Read Full Article