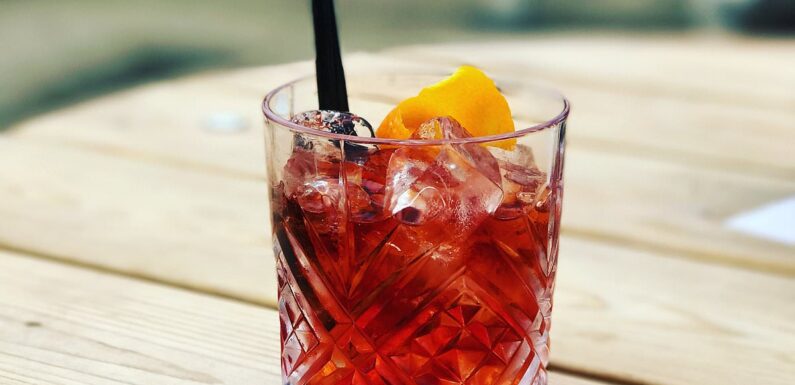 I'm a travel writer and here's why the best thing about a holiday is… drinking Campari at 11am
READ MORE: I ran the world's booziest (and craziest) marathon
It's always the same. You arrive at a gallery at about 10.30am after a late breakfast looking forward to a good two hours of testing pictures before a long lunch and, of course, find it closed.
Yes, it's Monday, you forgot, and every gallery from Sicily to Stockholm is closed. So what to do? More coffee seems just plain wrong so soon after breakfast. Tea? Surely not, moreover they will probably bring you a plastic bottle of that cold peach-flavoured sweet American stuff.
Gin and tonic? At 11am? Surely not — but it's hot and something light and refreshing would be welcome.
Something that clears the palate, but hints at the notion of an aperitif before the long lunch to come. So what about a Campari soda? No, not an Aperol spritz, under any circumstances. After all, you aren't a teenager any more. No, it has to be Campari.
But first a warning: if in Italy, dodge the ready-mixed one in triangular bottles — too strong and sickly — and instead ask for a large bottle of San Pellegrino and a long lager glass full of ice with a slice of orange, with one small measure of Campari served separately.
Ivo Dawnay celebrates the Campari soda and offers his tips on how to order a daytime-friendly version while on holiday
Fill the glass almost to the top with the fizzy water, then decant half the Campari into it and swizzle (with a straw if you must, but please remove it before drinking). 
The colour should be a little paler pink than a full-bodied Provençal rosé. And there it is: delicious, especially if served by a formally dressed waiter in a sunny square under an awning.
Now this is the life. The Caravaggios can wait, and Botticelli, too. Take a first sip, then unfold your two-day-old British newspaper and read: starting from the back, reports on cricket matches that you wouldn't even glance at if you were back at home. 
Ivo says that, if in Italy, you should avoid the ready-made Campari soda in a triangular bottle (pictured) as it's 'too strong and sickly' 
Your aim is not to get tipsy, but, like Proust's madeleine, to be transported back to other Campari sodas in other squares (and possibly with other partners who understood you better) back in your gilded youth when Aperol was unheard of.
Day dream. Then remember you still have the other half measure of Campari to drink.
Order more ice, and dilute to taste.
Source: Read Full Article