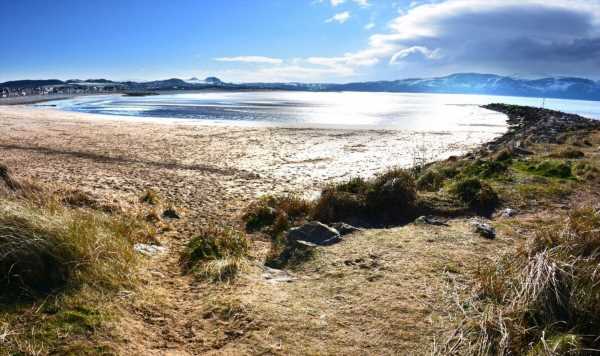 Staycations: Expert says you can save '£500' by going up north
We use your sign-up to provide content in ways you've consented to and to improve our understanding of you. This may include adverts from us and 3rd parties based on our understanding. You can unsubscribe at any time. More info
New research from Parkdean Resorts has found the best beaches in Wales for staycations. The country's most stunning beach is perfect for a coastal autumn walk.
Best beaches in Wales
Freshwater West Beach (Pembrokeshire)
Whitesands Beach (Pembrokeshire)
West Shore Beach Llandudno (Clwd)
Aberystwyth Beach (Ceredigion)
Shell Island (Gwynedd)
Abersoch Beach (Gwynedd)
Aberporth Beach (Ceredigion)
Tywyn Beach (Gwynedd)
Portmeirion Beach (Gwynedd)
Barmouth Beach (Gwynedd)
Wales' best beach was Freshwater West Beach on the stunning Pembrokeshire coast.
A Parkdean Resorts spokesperson said: "With an astonishing 341 million views on TikTok, Freshwater West is the top beach destination in Wales according to TikTok viewers.
"Known as surfers paradise, the beach combines sand and rocks to please every traveller alongside its astonishing views."
A visitor wrote on Tripadvisor: "Wow! One of our favourite beaches from our visit to Pembrokeshire.
"Beautiful soft golden sand, nice waves if you want to surf. Would definitely recommend this beach."
The gorgeous Pembrokeshire beach is backed by dunes with a rocky reef at its southern end.
It has featured in two films, Ridley Scott's Robin Hood and Harry Potter and the Deathly Hallows.
The beach is especially popular with Harry Potter fans as it's the scene of favourite character, Dobby's death.
Another Pembrokeshire beach took the second spot. Whitesands beach has beautiful white sand.
A Parkdean Resorts spokesperson said: "Taking second place is Whitesands Beach. The fine white sands make this beach an absolute beauty which is probably why it scores so high for video content on TikTok with 17.2 million views.
"The beach has excellent water quality with a tonne of watersports to choose from."
West Shore Beach in Llandudno took third place and is one of the quieter locations to make the list.
Aberystwyth Beach had an impressive nine million views on TikTok and boasts a traditional seafront.
It's one of the best places on the list to enjoy seafood and the perfect spot for a windy autumn walk.
Shell Island in stunning North Wales is close to Snowdonia National Park and took the fifth spot on the list.
Gwynedd had the most beaches in the top 10 and could be the ideal location for an autumn staycation.
Source: Read Full Article