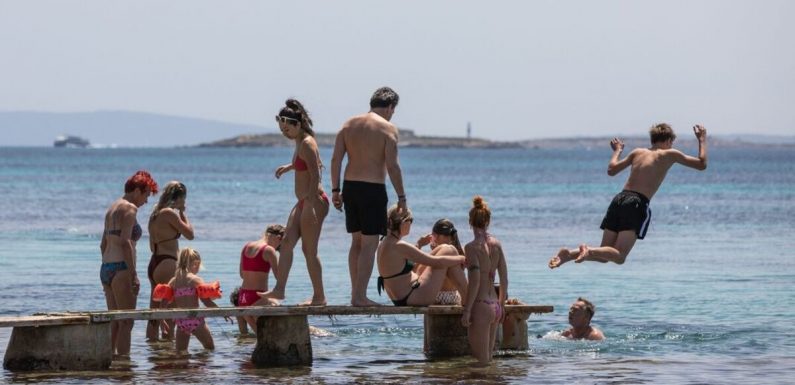 Richard Tice hits out at demand for child-free air travel
We use your sign-up to provide content in ways you've consented to and to improve our understanding of you. This may include adverts from us and 3rd parties based on our understanding. You can unsubscribe at any time. More info
Several parties in the Balearic Government in Spain have said that the time has come to raise tourist tax. Tourists already pay a tax to stay on the islands, including Majorca, Menorca and Ibiza.
One of the suggestions would see the tax increase from four euros (£3.57) a night for luxury accommodation to six euros (£5.35).
The parties in favour believe that a rise in the tourist tax would help to control overcrowding in the summer.
It is also hoped that an increase in fees would put off party focused tourists who visit Majorca for resorts such as Magaluf.
However, the proposed rise has provoked anger among some residents and tourists who think it would put visitors off.
Jason Moore wrote in Majorca Daily Bulletin: "Don't even think about it. Any rise in the controversial levy would be stupid to say the least."
The tax was originally designed to be spent on protecting the environment and improving the Balearics' tourism offer.
However, recently some of the money has been earmarked to spend on housing which has proved controversial.
President Armengol defended the use of tax income for housing saying: "It is very good that the tourist helps."
Moore said that tourists might not mind paying the tax as long as it's spent on tourism projects or the environment.
They may not feel the same if the money is spent on agriculture and housing projects in future.
Many tourists are already feeling the pinch from the cost of living crisis and an extra tax could put some visitors off.
The tax has yet to be raised yet but the Government is planning to charge summer tourists more to visit.
Spain has several tourist taxes in place which vary depending on region and the type of accommodation a tourist chooses.
Usually the tax is included in the cost of accommodation or in the price of a package holiday to the Balearics.
Campers and people staying in hostels pay the lowest rate while those in luxury accommodation pay the highest.
Earlier this year, a proposed tax in the Valencian region provoked fury in Benidorm and the town's Mayor vowed never to apply it.
The potential tax in the wider Valencian region would be optional and local councils could choose whether to apply it.
Malaga has also debated introducing a tourist tax although some politicians feel it's not the time.
Closer to home, Wales has held a consultation on introducing a tourism tax. Under the proposed plans even Welsh people would need to pay the levy to visit another part of the country.
Many hospitality owners are dismayed by the plans which they think could put people off visiting Wales.
Source: Read Full Article